2014 — 20 November: Thursday
My initial cuppa has already vanished1 during the drafting of my reply to an amusing overnight email from a chap who'd spotted one of my many "mistooks" deeply buried in one of my interminable book lists. This one had only been there for somewhat over eight years. Now that's my kind of web browser. I was fascinated, too, by the web trail that had brought him into 'molehole' ("following a Google surfing accident") as I don't often get to hear about that particular info. Nor, I suspect, would Google Analytics divulge it, though I don't doubt they could. He had heard, on BBC Radio 4, that Michael Buerk was reported as 'on another assignment':

Google'd Michael Buerk - > Daily Mail article - >
sidebar feature Kate Moss - > at China Tang - >
Wiki 'frequented by Tony Blair' - > Wiki to Carole Caplin - >
Wiki to Anji Hunter - > Wiki to Lord Browne - >
FT article - > Nghi Nguyen - >
Sydney Herald article - > Warren cup - >
google images - > molehole!

I have a lunch date though, since it's my shout this time, I first need to top up the appropriate coffers. (I try to keep as much as possible out of my current account for as long as possible in this strange era of minute interest rates.) One day, I shall forget, and end up splattered in red ink.
Last night's choice...
... of viewing turned out to be the long-neglected "Paperback Hero" with "Wolverine" as an Australian outback truck-train-driving writer of romantic novels...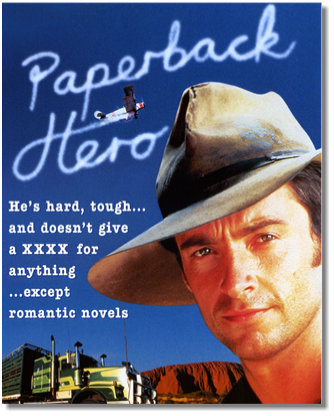 92 minutes of amiable film unlikely to strain the brain, but where's the harm in that? And a nicely-appropriate use of the "American Typewriter" font (even though he actually wrote in pencil on random scraps of paper). [Pause] Breakfast next, methinks.
Another gadfly
Apparently he talked, non-stop, for an hour. Source and snippet:
Since our economy has shifted to what I call a surveillance economy, but let's say an economy where algorithms guide people a lot, we have this very odd situation where you have these algorithms that rely on big data in order to figure out who you should date, who you should sleep with, what music you should listen to, what books you should read, and on and on and on. And people often accept that because there's no empirical alternative to compare it to, there's no baseline. It's bad personal science. It's bad self-understanding.
You think? :-)
I was amused to see Suzanne Moore quoting my single favourite line of chainsaw-related dialogue from "Heathers" in her 'take' on the latest batch of "Hunger Games". (Link.)
I honestly thought...
... I'd succeeded in palming off a couple of my surplus DVDs ("Four Weddings" and "Groundhog Day", both replaced by Blu-rays) on to Len two months ago but I'd reckoned without the strength of his anti-Hugh Grant feelings. So, back they came. However, Pauline was just returning from walking young "Ebony" safely past the Home of the Neurotic Barking Barney (on the corner) as I arrived back at Technology Towers after my post-lunch chat and cuppa, so I was able to pass them straight along to her instead to watch on their new 42" TV. Result!
Can you believe, the sun set over an hour ago and it's not even 17:30? November is a horrid month. It was pretty cool out there, too. The lunch at the Indian place in Colden Common made up for it.
Earlier today...
... I shut my front door politely, but firmly, on a pair of smiling Jehovah's Witnesses as soon as they gave me a slight conversational pause — they have remarkable lung capacity — in which to do so. Perhaps they were simply exhibiting "confirmation bias" by seeking out like-minded chaps they (thought they) could inculcate their weird beliefs in? Having just read what Wikipedia has to say on the topic, with a detour to Michael Shermer...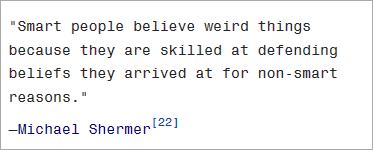 ... (he of the book "Why People Believe Weird Things" that I read some 17 years ago) I'm no wiser but considerably better-informed.
It's probably...
... better if this leaves my little household now that I've unearthed it:

Amazing what (still) lives in my kitchen! Mind you, recall the scene in "RED2"? Marvin, having discovered a 30-year-old cache of food, starts to eat a Moon Pie. When Sarah pulls a face he says, "It's OK, they didn't have sell-by back then". There is, as a chum pointed out to me a week ago, a horrible logic to that.
Footnote