2013 — 17 January: Thursday
I live in hope.1 I very much hope my dear friend's medical scan today shows her problem to be curable. I quite hope the outside temperature deigns to rise above zero. I certainly hope another friend's damaged knee — the one that's currently enclosed in the support bandage I nipped out to buy for him the other evening — improves in time for our planned lunch tomorrow. And (given my own horror of Dr Fang) I sympathetically hope another's dental session isn't too traumatising. I also hope I remember to change channels before the just-promised burst of Wagner assails me.
Calling VB6753193...
... I still harbour a faint hope my latest tiny little A/V toy shows up in its big, red, Forceful Parcel van today — sooner rather than later. So far, its tracking number had completely failed to bring a smile of recognition to the lips of the Parcel Force web site no matter how artfully I cut'n'pasted it into the search field thereon. But, a few minutes ago, it suddenly popped into existence...

... and, indeed, seems to have been sitting around in a van since the wee small hours.
My attitude...
... towards snow has changed over the years. I now shudder when I see the stuff. I'm shuddering now. [Pause] Just inspected a small snowflake trapped on a cobweb — to be more precise, on one of the cobwebs — outside my kitchen window as I brew another cuppa to ward off the winter chill. Afternoon proceedings have just commenced. Lunch will probably be the next item up, as it were. I am not only now even more multi-layered, clothing-wise (it's down to 19.4C where I'm sitting) but have just finally closed the living room window and left the kitchen one open a mere fraction. Brrr.
I am far too old...
... and cynically wise ever to expect a new combination of hardware and software to work perfectly "out of the box". Particularly in the wacky world of the protean interactions between Windows software and domestic A/V hardware. So, when today's new thing came along, I plugged it in, and expected an indeterminate period of pain of uncertain severity. But it immediately and unfussily made itself known to my network, my plasma screen, and my A/V system before seeking out and installing a firmware update across the external network and then (more or less) opening straight up for business. That came as a very pleasant surprise.
My (late) lunchtime listening was therefore a repeat (via the WD Live TV) of Sunday's BBC 6Music Cerys special on drumming, merely to take the 'radio' section of the BBC's network iPlayer out for a leg-stretching stroll round the block a few times. I then went on to establish that it finds and plays back my hi-def video files perfectly from a local USB hard drive, as it does my hi-res MP3s. All without any reference to that 200-page manual.
There remains a mild issue2 with access to files stored on my Buffalo NAS RAID array box upstairs. The new toy is strangely insistent on getting me to log into said array. As the Buffalo is all about network file storage rather than any form of media serving, that's only going to end in tears. Still, it understands just about every type of media file you could wish to fling at it: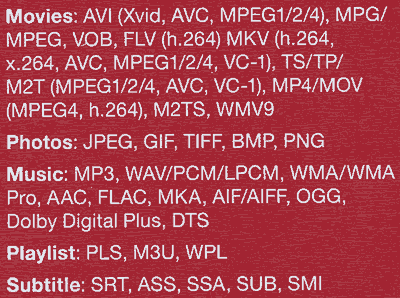 My verdict so far, therefore, is:
Fine with Internet-delivered files and services
Fine with USB-delivered local A/V files
Probably going to be fine with files shared over my LAN from BlackBeast3
May turn out to have a problem with files held on my NAS
No hdcp hand-shaking issues with the Kuro 60" plasma, or my little hdmi switchbox
No loss of audio (I'm cunningly using the optical SP/DIF digital audio output as well as the hdmi A/V output) when I switch the plasma screen on or off
I've updated my A/V system diagram and other notes. I'm not using its built-in Wi-Fi, by the way, as I generally prefer to keep my flying bits more tightly constrained, as it were. Wired LAN is perfectly OK.
Did I mention it's remarkably dinky? I've parked it atop my full-width Sony minidisc recorder...

Having just heard...
... Gideon Coe play an annoyingly familiar, but obviously long-unheard, and very beautiful, solo guitar piece I was amazed to find it was a live session recording of a version of "Dance of Death" by John Fahey. "What else have I got in my little library by him?" wonder I. Shock, horror! Precisely one track. You guessed it... "Dance of Death" in the (much) shorter version used on the Zabriskie Point soundtrack — a desperately dull failure of an Antonioni film made in 1970, but somewhat enlivened (in my opinion) by three Pink Floyd tracks. Off I go to the Amazon MP3 store in search of more from Mr Fahey... (successfully).
Footnotes