2010 — 18 May: Tuesday
Having spent some of the evening pondering the feasibility of storing some of my books (and bookcases) out of the way in the garage for the duration of the pending plumbing upheavals, I then deferred the decision by turning to Janet Aylmer's variant of Pride & Prejudice — "Darcy's story". I found a thank-you note still stuck in it from one of the young ladies at IBM to whom I'd lent it some five years ago. It's proved more entertaining than anything being broadcast on TV, and more cheerful than the repeat showing1 of poor Stephen Fry's fascinating attempts to grapple with his diagnosis of "bipolar" disorder.
Here's hoping for suitable walking weather in a few hours from now... G'night.
Why is it, do you suppose...
... that new rules to permit more flights through airborne volcanic ash remind me of the radiation assumption planning described by Christopher Hinton in the 1950s? He was giving a lecture at Strathclyde University:
To our dismay, this showed that the site did not comply with the safety distances specified by the health physicists. That was easily put right; with the assumption of a 99% containment the site was unsatisfactory, so we assumed, more realistically, a 99.9% containment, and by doing this we established the fact that the site [Dounreay] was perfect...
Mind you, in our overcrowded Little Britain, when it comes to siting nuclear facilities away from people "a remote location is defined as one with fewer than 600,000 people living within ten miles". I have nothing against nuclear energy. I have everything against nuclear weapons and radiation contamination. And I've seen all too many incidents of human error at work. Profits are generally regarded as more important than people, I suppose. (Why is that, by the way? I must be very naïve.)
It looks like reasonable walking weather at 08:22, and that all-important first cuppa has more or less woken me up. Double plus good. This made me smile. And this ("the filthiest possible episode of The Archers" says Peter Bradshaw) looks delightfully promising, given its superb pedigree. I bought the book some while ago while on one of my very earliest ash-scattering expeditions (non-volcanic, I promise) :-)
Somewhat later
The walk (around Axford and Ellisfield's bluebell woods) has been walked. Mike photographs his lady friends...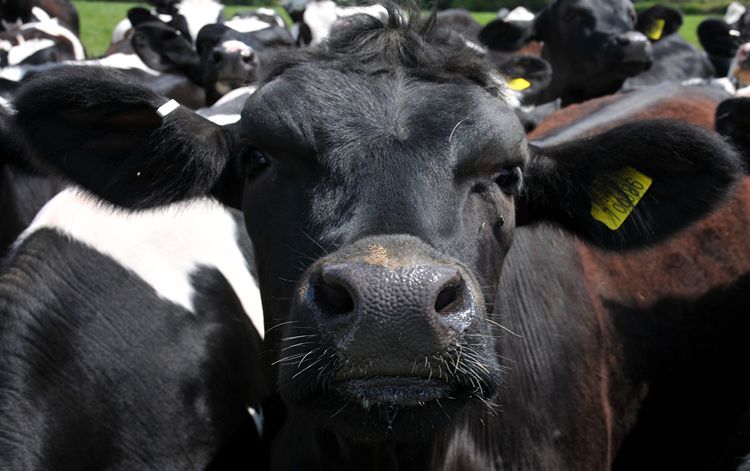 ... regardless of species barrier conventions. This lady was one of a herd that were quite skittish as we walked through, but then all followed us to the fence as we escaped. Cows are very curious creatures.
Lunch munched. A shower showered. Further household supplies Waitrosed. An afternoon icecream and cuppa consumed at two separate Hampshire emporia. And now it's 18:34 and just about time to sort out the evening meal. It's the only way I know of stopping the tum from rumbling. [Done]
Ian Curtis has been dead for 30 years! Good grief, Christa, where has all that time gone?
Footnote