2010 — 19 May: Wednesday
Sooner or later, somebody wiser than me1 is going to have to try to explain to me how the Dire Straits album "Love over gold" can possibly be 28 years old — and still sound so good. As for the mystery that is Pink Floyd's underrated gem from 1970 ("Atom Heart Mother")...
The chap who worked some powerful audio magic on bits of that (Ron Geesin) went on to record at the same studio in the Bracknell South Hill Park centre that I subsequently used in 1975 during my short and thoroughly unillustrious career as half of a double act recording training scripts2 I'd written to teach the world how to program the ICL 1900 Series mainframes in their assembler level language. (We also tried, but failed, to reach an amicable agreement with CBS about my wish to use a short fragment of Walter [now Wendy] Carlos' music as a theme tune.)
Anyway, as you may now suspect, it was a pleasantly audio-biased late evening after I'd earlier soaked in the bath finishing "Darcy's story" while the water got rather cool. It's now 00:39 and the dishes remain as yet undone. I'm such a lazy slob. G'night.
Sunny start
A blast from the 1979 Proms: Arvo Pärt's "Cantus in memoriam Benjamin Britten". Composed two years earlier, it was getting its first broadcast performance, it seems. I recall (accidentally) popping Mr Britten's date of death (4th December 1976) into the first edition of my "Chronicle of CICS" one more time, and two years earlier, than was strictly necessary. Nobody's perfect. It's 09:48 and there's book-packing and carting to be done.
Returning (briefly) to the topic of death, I was blissfully unaware of this site. I stubbed my virtual toe against it while following a link in a forum seeking to discover whether a set of elderly newsreaders (including our Ken2) was still with us. (And that, for any trivia buffs, is the first time I've ever had two references to a single footnote on the same web page! Of course, it breaks the "no duplicate labels" rule in the SHTML, but who's counting?)
Having just delivered...
... my first seven loaded cartons of books into — I hope — safe storage hands, I'm in "feet-up" mode while the kettle does its boily thing. I note that Big Bro may be in Brunei, but still worries about my close encounters with cows (see yesterday's photo):
Cows are very curious creatures... indeed they are. Intelligent as well and capable of opening gates from time to time. If spooked of course they will jump or crash thru a fence... they are heavy and can do much harm to free walkers who turn their back on them!!! Beware!
But does he know, I wonder, where a cow hides her clitoris? I hardly dare ask :-)
In other wild life news, this little chap was to be seen over the road earlier today: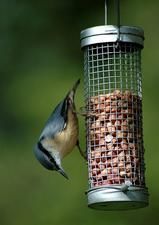 My spy tells me it's a nuthatch (aka "pecky little blighter").
My next mission...
... should I choose to accept it, is to pack another six cartons before Mr Storage goes home. (Not that he needs to be there, as I have a private code for the entrance and my very own padlock.) He wants to see some written evidence of my address (why are utility3 and credit card companies deemed more honest in this respect that my own good word?) to finish off his paperwork trail.
Thank you, Professor Paulos...
... for handing me my next (usually-attributed-to) Einstein quote on a plate, as it were:
Not everything that can be counted counts, and not everything that counts can be counted.
My next six cartons are ready to rock'n'roll, so let's get it over with. Back soon! [Pause] Apparently, tomorrow is the 43rd anniversary of BBC Radio's rather silly decision to ban "A day in the life" (by that little-known pop combo The Beatles, of course) from our pure airwaves. Amazing. What a thing to do during the summer of Love, heh? Right; one more set of six cartons, and that's quite enough book-toting for one day. It's 16:16 and getting quite warm out there.
Oh, my aching back
Just watched the second of the two programmes showing Stephen Fry delving into the potential treatments people with bipolar can have. He would no more "push a button" to cancel his condition than almost everyone else he met. They all value the manic phases too much to give up the depressive episodes. Amusing to see him drooling over a Mac Mini while a CBT practitioner tried to dissuade him. What goes on in this electrochemical jelly between our ears is both fascinating and deeply weird.
And now some delicious Gershwin piano roll played back on a modern electronic device. Cool. (Christa and I attended an evening concert at the Museum of Mechanical Music in Cornwall back in September 1975 where we heard some Rachmaninoff material.)
Workplace reviews
Can't remember the last time I had a workplace performance review in which I didn't have momentary fantasies of strangling the manager doing the review. These were, to put it kindly, almost invariably farcical charades, yet so much in IBM depended on them. Very weird indeed. There's a piece on them, and many comments, here.
I still remember on one fatuous occasion being criticised by my manager "for lunching with the wrong people". I didn't bother to ask why IBM had hired the wrong people as my lunch companions. Instead I made use of the equally farcical "Open Door" programme, which [theoretically] offered a method of complaining, level by level, all the way to the Chairman of the Board. I didn't get anywhere near that far. In fact, I didn't get anywhere :-)
Footnotes