2010 — 8 May: Saturday
As I said, the message of "Contact" is an uplifting one. The opening three-minute shot pulling away from the planet out to (and beyond) the Milky Way remains awesome, too. One of the better Blu-ray choices. Now it's back to Earth at 09:19 with a nice hot cuppa and the heartening news that we still have no guvmint, softened as usual by Brian Matthew's musical choices. Our transatlantic cousins may have elections damaged by the occasional hanging chad but we've managed to hang Parliament itself. Cursory inspection of the graphic...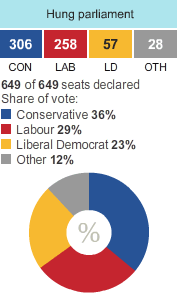 ... clearly shows up the flaws inherent in our brain-dead non-proportional system of representation. With 23% of the votes, the chaps I regard as the least-bad guys ought to end up with more than 9% of the MPs, surely? Meanwhile Sauron's mob gets 36% of the votes and 47% of the MPs. What a stinky system to try to label as democracy.
Odd thought: Dad would have been 93 today. Dear Mama is already, of course — I remain a stripling of 58! :-)
Hasn't got a prayer... dept.
This well-fed but frankly rather miserable-looking chap, a noble Lord if you please, and now retired...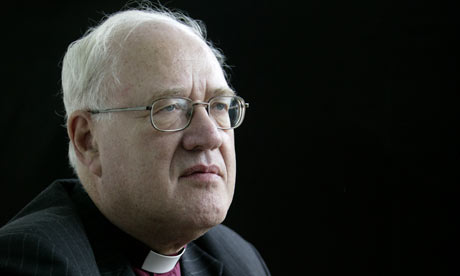 ... from the "job" of being archbish of Canterbury and chatting to his imaginary friend, wants to enforce the saying of prayers to said imaginary friend before council meetings in Bideford. Remind me not to go to live in north Devon.
Kitchen battles
Making toast as a spiritual exercise, heh?
As he recognizes that he cannot protect the members of his family from their melancholy thoughts and moods, Rosenblatt learns that he can at least serve them, and with his diligence and his wit keep their world continuous and intact. For the mourner, though I can hardly imagine mourning my own child, there are no higher ambitions than continuity and intactness. And so the battle for meaning is fought, and occasionally won, in the kitchen.
I prefer croissants. But now I have to go do battle with some breakfast plums and nectarines that will benefit from stewing.
In other news, it seems that Clan of the Cave Bear may have been nearer the mark than previously thought. (Source.)
Later
As I digest my delicious light lunch (rather later, perhaps, than was entirely wise — I'm having altogether too good a time playing with my new server) I observe (at 14:14) that it's gloomy, cold, and showery out there in the unreal world. Hatches battened, therefore, and prepare to throw on another layer of clothing. Or resort to firing up the plasma gas fire and decamping downstairs.
Shary Flenniken
I've mentioned my admiration for this wonderful, Seattle-based, artist, cartoonist, and all-round good gal. Indeed, had British Airways managed to get its act together at the back end of 2004, Christa and I were all set to spend a fortnight over there, mostly to visit with her. Anyway, here's a tiny sample (admittedly with its URL cunningly obfuscated) of a tiny part of one tiny area of my vast "intranet" now up and running — indeed, sprinting — on that new server. Compare and contrast with the rather feeble default web page that was the only evidence of intelligent life on said server as recently as a week ago! :-)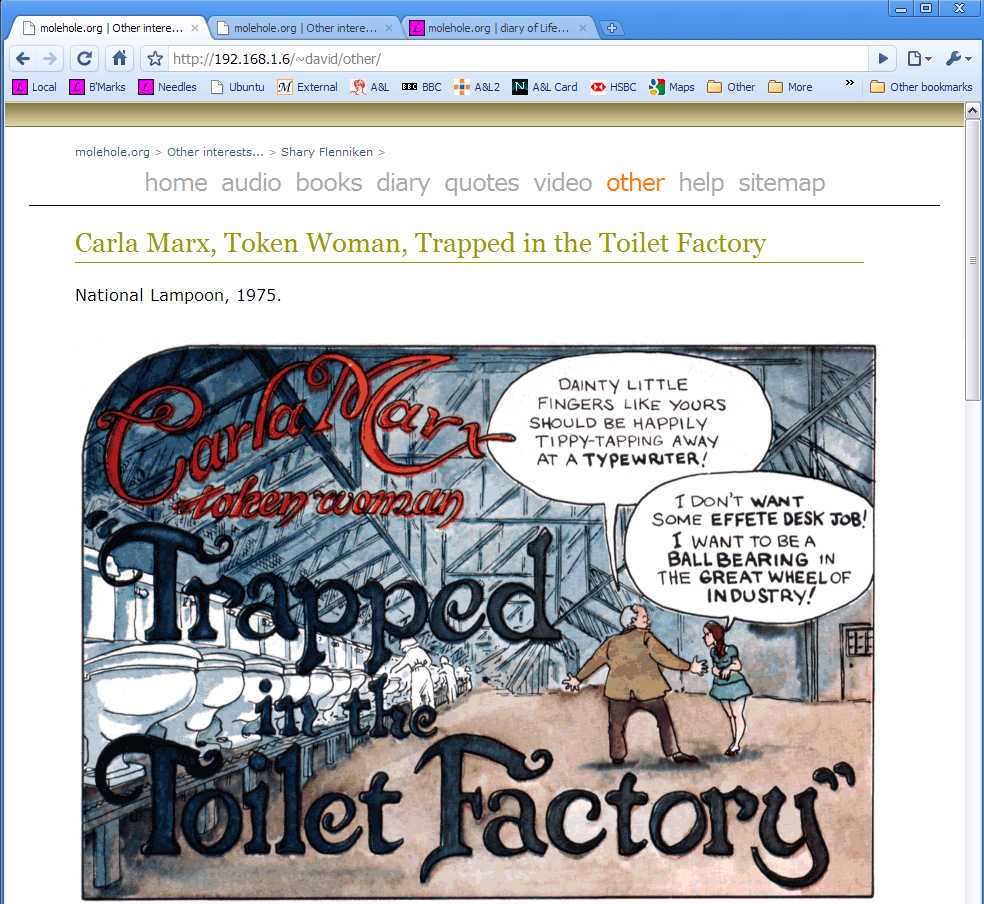 Recall this interesting lady's considered advice: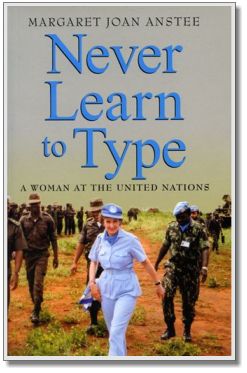 It can't be just me... it's cold, dammit! In fact, 17C here in the study. Let's see if hot coffee helps. It's 17:36 and has been remarkably drab outside, as far as I can tell.
Pardon?
It's 20:03, the evening meal is done and dusted, and — given the dearth of broadcast material other than tedious rehashes of the hanging parliament — I'm currently doing some systematic heavy lifting on another part of my nefarious little web site. A lot of these files have been lying fallow since I moved over to the Texan server back in August 2007 (at which time it's fair to say I had plenty of more pressing concerns and demands on my time).
I also have my electrostatic headphones on (they keep the ears warm!) with some ineffable Pink Floyd really rather loud so, if you call, you'd better ring the bell pretty hard.1 I find it's the only way to work...
Time (22:58) for a change of scene.
Footnote