2008 — 26 October: Sunday
Tonight's picture of Christa dates from 1982, and shows her marching after Peter past one of our neighbour's gardens. Whether Stroph and Lin recognise their garden is another matter: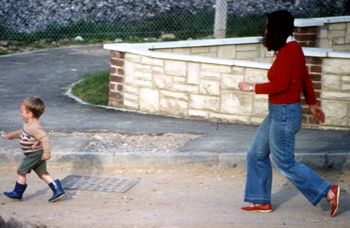 Christa and Peter marching past Stroph and Lin's front garden, 1982
Once again it's after midnight. In fact it's 01:04 and counting. I'm now listening to Bob Harris after tonight's film, which was directed by Nicholas Hytner (who he? Think "Madness of King George", "History Boys"). I watched "The object of my affection" based on the book by Stephen McCauley that I bought back in 1995 though (irritatingly) it took me a while to find it so I could scan the cover. It's one of those awkwardly-sized trade paperbacks, so it had to go on a shelf somewhere out of sequence... Nice film.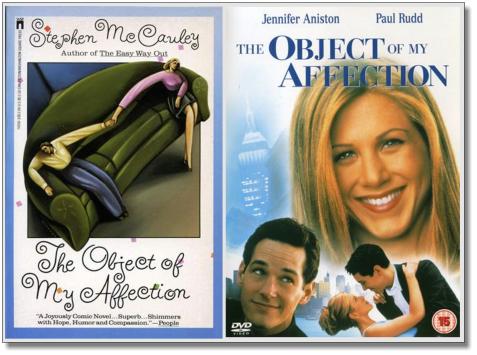 The weather seems unlikely to allow for a walk later today, but I live in hopes of getting down into the New Forest on Monday or Tuesday. Let's hope my cooked sausages keep for an extra day or two! G'night.
It's been pouring...
... but is now (09:17) merely drizzling. Horrid stuff. I fear I stayed awake too long finishing the Wodehouse quotes and enjoying Ned Sherrin's "memorial" service reporting. Still, I'm retired, you know, and there's some lovely Schubert tinkling away. Time for an initial gloom-dispelling cuppa.
<Sigh> — it's 12:56 and the weather remains quite dire. (Mind you, the BBC is currently suggesting a snowflake or two for next Wednesday according to my chum Mike.) I shall pop a little something into the tum and then contemplate the rest of the day. I've been spending the morning working my way through one of the last photo albums. It's an odd experience revisiting pictures from the 1970s and early 1980s. They simultaneously bring back plenty of happy memories and contrast a bit sharply with my 21st-century status as a most reluctant widower.
But then the musical choices of Marcia Schofield in this week's "Private Passions" have not always been joyous! Though they did prompt me to order a couple of Arvo Pärt pieces from Amazon.
The more I hear people (that's if politicians and economists are indeed people) seeking to fix blame for, and suggest solutions to, the global financial crisis, the more I'm struck by the thought that nobody appears willing to admit in public that the entire engine is driven by greed and fear, neither of which yields to any easy rational analysis. Meanwhile, it may only be relatively gentle drizzle, but it's non-stop and has now filled the buckets buried in the bog garden to the brim and beyond. I've just had to switch on the light, too. It's only 15:06 dammit!
In later news...
A rain-sodden afternoon gives me time to order some tasty music, to edit some PVR recordings before archiving them, and to ponder if there's anything more blatantly hypocritical than the sight and sound of a politician sporting a red poppy while suggesting there is no alternative to any of the armed conflicts that UK troops are involved in around the world.
If Christa were still alive, I can safely predict her opinion, too. But we'd probably both settle down in time to try the new Dickens adaptation. I certainly haven't read "Little Dorrit" though Christa may well have done. Oh well. It's 18:17 and time for an evening meal.
Distant sunshine... dept.
I've just been invited to spend some time at Christmas with my cousins in the Frozen North — this is an excellent wheeze, even if I do face being humiliated by their prowess on the Wii. I can feel myself cheering up as I type!
Saint Pilling has spoken (in the context of random DTP file corruption under Windows):
Beyond that, I hope everyone knows that bytes in files on Windows change randomly, and it's not the sort of system to run nuclear power plants, or keep important data on