2008 — 25 October: Saturday
Whoops! It's already after midnight. Tonight's picture shows Christa during one of her holiday visits to Germany doing her dutiful aunt act with one of Georg's boys. I fear I'm not sure of the "where" or the "when" (I wasn't there with her) but she still looks happy, so I'm not worrying about it: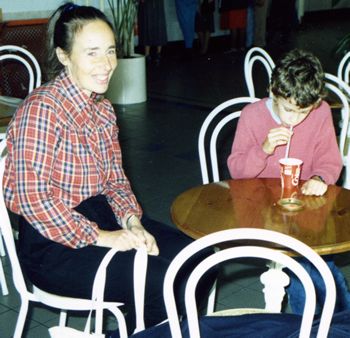 Christa and a nephew in Germany
Bourne again... (again)...
... I first watched the third film of the trilogy by myself when I first got the DVD about ten months ago. Sadly, Christa never got to see this episode, though she'd enjoyed the first two outings. So last night I repeated the exercise — it's the weakest of the three, but still pretty good.
G'night.
Sun is still shining...
Somehow it's become 10:30 without consciousness playing much part in things. Excellent! A mood dissipated only slightly by a piece of nagging snailmail suggesting that the Panasonic DVD PVR I bought last December needs £49 spending on it, per year, (or a mere £3-25/month if I pay by direct debit) to ensure its insured replacement when it breaks down. Sadly, the cover doesn't include frozen food spoilage.
Time for lunch?
I've been scanning another set of old prints (from 1986) and, when I next look up, it's suddenly 13:20 and the tum is feeling distinctly in need of a refill. I've also been out to buy the items I forgot to buy yesterday, and have one more trip to make today, to the hospital where Christa's nurse Jane has been waiting patiently but for far too long for a picture card of my Best Girl.
Right. All done (at 15:45) and dear Mama has been rung into the bargain. Same old, same old, I fear, but at least her situation is basically a stable one. Swung by Len on the way back so now also have the missing season #2 of Boston Legal for the long winter evenings, which kick in (of course) just about immediately after we change all the clocks back to GMT (or whatever they call it these days).
Time for a change
At 21:33 I'm about ready for a cuppa and a change of scenery. So I think I shall wander downstairs and give the PC a chance to cool down for a bit.