2008 — 27 October: Monday
Good grief! I just went to put the chain on the front door for the night, only to discover that I'd never taken it off during the day. Ho hum. It's just a minute or so after midnight, but I'm going to call it a day. Tonight's picture, from September 1974, shows me and my nubile lady (at that point, my fiancée) at her parent's house in Meisenheim. We were standing on part of the patio — by the fine wall painting: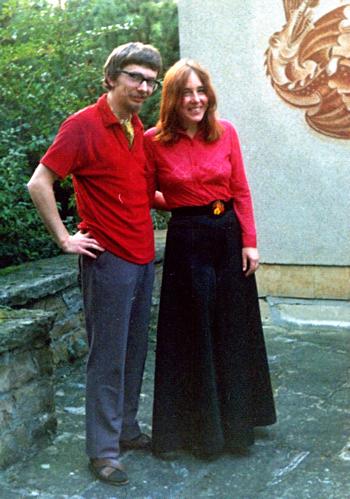 Christa and David in Meisenheim, September 1974
We were married (by special licence at Maidenhead Registry Office) within a week of our return to the UK. (We had discovered that neither of us could face the prospect of a full-blown religious ceremony in the local cathedral at Christmas, let alone the nightmare logistics or cost of such a gathering, so we talked it over and chose to risk upsetting1 both sides of the family equally!) I think it's called "starting off as you mean to go on"... G'night.
Good grief!
While hesitating to criticise another country's choice of vice presidential candidate, there's something to be said for allowing (in this case) her own words to condemn the choice... Here she is with her ignorant opinion on the money wasted in basic scientific research:
Where does a lot of that earmark money end up anyway? [...] You've heard about some of these pet projects they really don't make a whole lot of sense and sometimes these dollars go to projects that have little or nothing to do with the public good. Things like fruit fly research in Paris, France. I kid you not.
As Myers says: "This idiot woman, this blind, shortsighted ignoramus, this pretentious clod, mocks basic research and the international research community." Is she truly unaware of the genetic knowledge so far gained from Drosophila? What would CP Snow say? As a qualified journalist, she could and should at least check the material in her speeches before unleashing it.
Time for a walk in the fresh air and sunshine! It's 09:37, the packed lunch is packed, the breakfast has been loaded, the necessary shopping put on "hold" until later and I merely await my lift. We're off down to the New Forest for a change as we shall once again be a walking trio. I note my main co-pilot set off a few minutes ago in one variety of "Smart" and I gather he may well return in another — he wants one with a sunroof.
Later that day...
We fitted in the walk (going widdershins to make it seem like a new one) and then coffee and biccies while examining a home-grown, but not entirely successful, solution to the recording of HD satellite transmissions. Now, at 16:18, the postponed shopping has been done, the black bin is out ready for tomorrow, there's a fresh cuppa sitting here with my name on it, and the rain looks as if it's just about to start. Good timing so far. By the way, I enjoyed the first hour of "Little Dorrit" yesterday evening though it's not shaping up to be one of the lighter-hearted sagas. It looked very good via the HD satellite channel, though it was about three seconds adrift from the mainstream digital terrestrial transmission.
A neat summary...
... of an aspect of the human condition.
We like to think we go through life as rational beings. Much of economic theory is based on the notion that humans make rational choices (which may mean that economists don't get out much). In 1982, some economists came up with a little game to study negotiating strategies. The results showed that rationality is subservient to more powerful drives — and demonstrated why human beings so easily conclude they are being wronged.
Well worth reading. Meanwhile, the dark has descended (it's 17:39 and essentially pitch black out there) and the evening meal remains unplanned. I have no shortage of choice but am currently feeling lazy. Wonder if economists can account for that aspect of humanity?
"Bother!", said Pooh
I'd almost convinced myself I was contending with bees, rather than wasps, above the garage door. No such luck: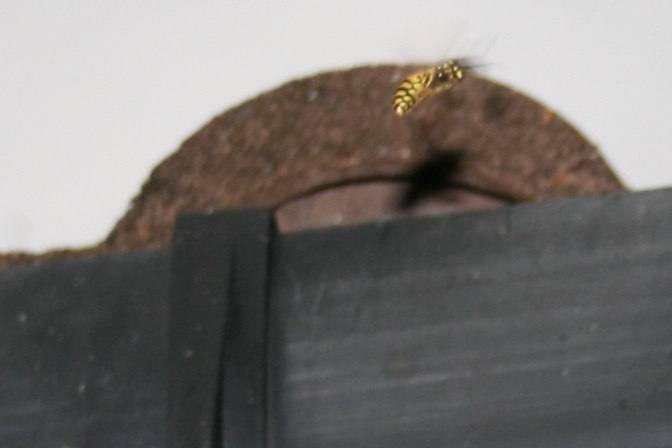 Big Bro's spraying has had no apparent effect. Still, soon be time to catch "Have I got news for you?". Been a busy chap tonight: hair washed, hair cut, dishes done, spelling of "Drosophila" silently corrected. What a life, heh?
Compare and contrast... dept.
Today's walk matched the one captured here back in January. Click the pic.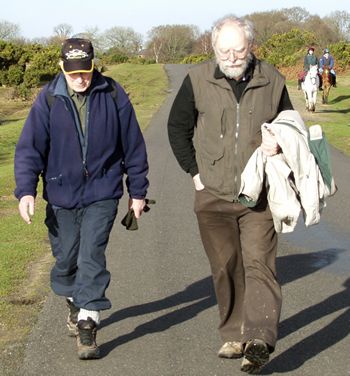 Ten months apart
Footnote