2007 — 14 August: Noli Tintinnare
Please don't ring for a while. The sick bowl was deployed again last night (though, as far as I could tell, for a purely "normal" upset tum) so we both need to catch up on our beauty sleep more than somewhat.
This afternoon
The higher-tech Hunter-gathering has been sorted, and indeed mostly popped into the freezer. Black marks all round, however, for failing to notice that they failed to include the bananas I specified and paid for. Sadly, Her sickness is continuing, so I am once again sitting waiting for a GP to call back, so I can tell him all that I've just finished telling one of the triage nurses. I did learn, however, that said nurse has been handling cases of gastro-enteritis practically all day, so that is almost a relief in a strange sort of way.
Very reassuring phone call from one of the GPs. Keep taking the anti-nausea meds. (If one comes back within 30 minutes, pop another!) Drink little sips rather than large gulps. Eat a little "on-demand". Watch for wooziness (a sign of dehydration). Call tomorrow in the morning if things aren't getting better. Oh, and the likeliest cause?1 Delayed reaction to the Chemo. I tell you, I'm learning enough to write a book. Over to the bungalow for a very welcome tea-break, and a cat flea (probably from yesterday's hedge-pig).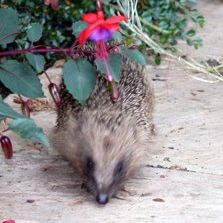 This evening
We have both fed. Let's see what happens next! Now, time to put out the green bin. Quite why plastic milk cartons are deemed recyclable whereas plastic trays that held microwavable "ready meals" are not continues to baffle me. But then, the more I know, the more baffled I tend to become. It must be a form of neural entropy.
Footnote