2007 — 21 Mar: is that a daffodil, David?
I've decided to post one of my recent Canon pics from the back garden. First, a little thumbnail so as not to overtax my poor little Celeron server. No processing, just some cropping. Bet you can't tell what the background is.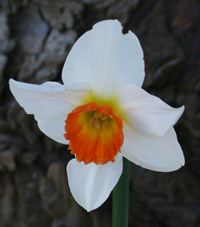 If you want to take a closer look be aware that it's a mite chunky, as files go.
Film 2007 department
Having enjoyed Casino Royale two nights ago, She who must be adored asked to see the original (David Niven) version last night, but tired of it just a few minutes after I did. I still enjoyed the wonderful theme tune performed by Herb Alpert & the Tijuana Brass, however. But I wonder if it really struck the makers as a good idea at the time. After all, as William Goldman said: "No-one ever sets out to make a bad movie." It certainly demonstrates some of the problems that can arise with multiple directors. Let alone a multiplicity of writers. If IMDB is accurate, it enjoyed five directors and ten screenwriters (yet the writers included Wolf Mankowitz, Joseph Heller, Terry Southern, and Billy Wilder). A rich stew indeed.
So instead I watched Adam Elliot's Harvie Krumpet which is an engaging oddity; the claymation tale of a hardy immigrant to Australia who fled Poland after the death of his parents, and upon whom (in a mere 22 minutes or so) falls a sizeable subset of the trials of Job. Laced with bittersweet humour and deemed unsuitable for children, which strikes me as ridiculous.
New Forest Horse Whisperer
I can't make it today, as chum Len is coming over for lunch and a natter, but my neighbour is off to forget the Budget by looking for his spouse's New Forest pony "Dolly" for picture-taking purposes this morning. I shall zoom out with him and my new zoom lens at the next available opportunity. Watch these pixels.
Once upon a time... department
My Epson flatbed scanner obviously either blows its tiny mind, or has a major change of heart, when I up the scanning resolution a tad too far on one of my old slides. But I find the entirely unexpected result mildly entertaining — and certainly don't yet know any deliberate way of arriving at it. I wonder if Junior remembers this occasion (circa 1985) at all?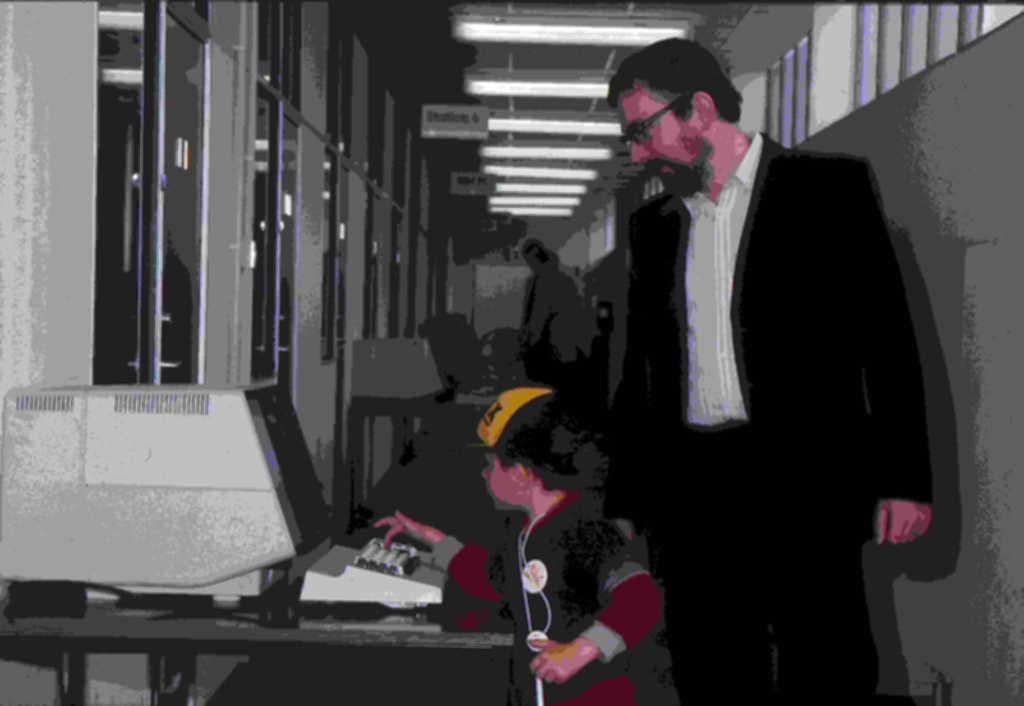 Is the film "Helvetica" type casting?
More details here!
Leave 'em laughing
This is an entertaining read and video. (Blink, and you'll miss the picture of the R2-D2 MIT hack in Part 2.)
Day 138