2007 — 20 Mar: Dr Fang, we meet again
High on my list of loathed activities is my regular trip to the dentist. I always liked the cartoon that showed a patient who, with what can best be described as a firm grasp of the dentist's reproductive kit, is saying "Now, we're not going to hurt one another, are we?" (He just reworked a minor chip in a back molar that, when it first went critical back in 1990 or so, sent me helplessly into a Saturday session at Southampton's emergency dentist. Not my finest hour, trust me.)
Humpty Helios is back together again (well, apart from one1 tiny screw). It's very annoying to be forced to "void the warranty" by "breaking the seal" that was a bit of paper stuck over the 19th screw holding the top and bottom covers together, by the way, just to remove one errant DVD. It remains to be seen whether I shall re-admit Mr Helios2 to the A/V stack. If I have to take his lid off whenever a DVD misbehaves because some idiot decided not to bother with the good old "stick a paperclip in this tiny hole to eject a disc in extremis" standby, then I can quite see our relationship rapidly becoming a fraught one. Software control is a fine thing for precisely as long as the software runs without encountering a bug. But when it stops you performing a simple, purely mechanical action, you (I) can be tempted to break the hardware on the nearest hard object.
Besides, using the Pioneer 575A with its component output set to progressive scan seems to do just as well, even if I do have to sit through the charmless FBI warning. Also, the lip sync is definitely3 better.
Has anybody seen my bonus?
I took it out for a stroll to the shops a couple of times to stretch its legs and, dammit, it's just about evaporated. Two of us may have set out, but only one came back!
Further details had better wait until after a night's sleep as I've suddenly realised it's getting on for 01:30 — aah, the joys of retirement, even when it's rotten weather.
My Foppish ways
I don't know much about the Fopp chain of stores but I do know bargain DVDs when I see them. In no particular order, but much-helped (or at least encouraged) by my expiring bonus, I have recently acquired (many but admittedly not all from Fopp):
Casino Royale although it's on offer in our local Asda (aka Walmart) at £7 and they still make a profit (I assume)
Fahrenheit 451 which I missed when it was on FilmFour a few months ago
Frida that is, Frida Kahlo, whom I wished to know more about
Harvie Krumpet which — I missed this — won the 2003 Oscar for best animated short film. I assume Nick Park wasn't in the running that year!
In my father's den which, if all else fails, seems to hold out the hope of some ravishing NZ landscapes
Me and you and everyone we know another of these "intersecting lives and relationships" pictures, but with a seeming twist
Mirrormask from the writer of Sandman and one of its major illustrators, plus the Jim Henson studio. I'm hoping this is another Tim Burton-like experience
The Moguls just look at that cast lineup! Let alone the plot. Its US title is "The Amateurs" by the way
The other side of the bed a 2002 Spanish sex comedy that did quite well on the Indie circuit
The Pink Floyd and Syd Barrett story a 4-hour set of interviews with all the usual suspects
Quest for Fire I have replaced my original LaserDisc copy of this, but retained the LD's cover scan. Did you know Desmond Morris worked on the body language/gestures and Anthony Burgess, no less, supplied the "special language" aka grunts?
Shortbus which picked up very mixed reviews, doubtless because of its use of sexuality
Tom Waits Burma Shave this has to be interesting, given his tendency to go off on amazing tangents in between the "tunes". (I do recommend his performance in Queens Logic if you missed that.)
The unbearable lightness of being who could forget that hat?
Les Valseuses which (roughly) translates as "balls" — or did, back in 1974 when Blier's film came out. I liked it sufficiently to copy my VHS tape to a DVD, but am hoping this is a much better transfer
Vampyros lesbos I notice Dennis Price nestling among Jess Franco's cast!
Where the buffalos roam Much as I have enjoyed Hunter Thompson's journalism over many years, I have higher hopes of this than for the Terry Gilliam oddity that was "Fear and Loathing" — I found that unwatchable and gave it away. (I believe I'd received it as a gift, too...) Look how young Bill Murray was
I can see clearly now department
When we ventured out along the river by the "Bridge" at Shawford on Sunday, komplete mit the new camera, I rapidly realised that I needed a lens that was, how can I put this, zoomier? Meatier?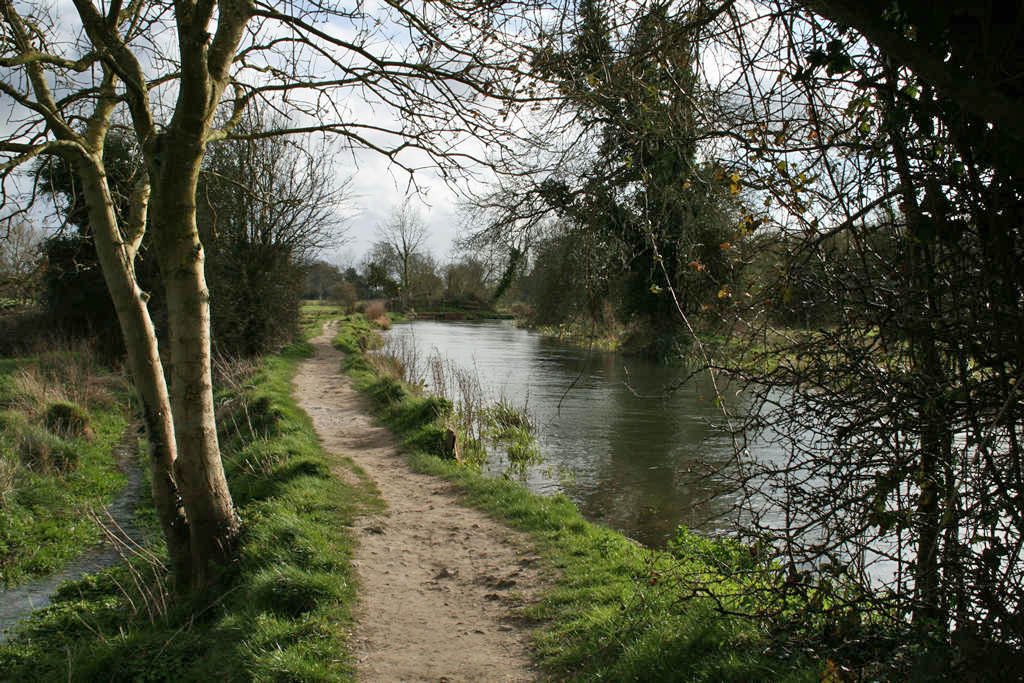 The reviews in the April edition (how does that work?) of "Digital Photo" looked at eight contenders for my bonus, and awarded their golden star (or whatever they call these things) to the Canon 70-300mm f/4-5.6 which has added image stabilisation (we trembly old pensioners need stuff like this, you understand). So round I scurried to Jessops to pick up one of these fine toys and a suitable bag for camera, standard lens and telephoto zoom. Oh, and a spare battery and a UV filter. That saw off rather more of the bonus than the DVDs above, but luckily I still seemed to have a little something left over.
Ooh look! There's an Apple store. Let's just pop in and read again about their Aperture 1.5 digital photo software for managing, editing, and archiving all my pretty pix. Yep, I'll have me one of those please, and the Apple Pro Aperture training manual to go with it. (Paid for on a supremely neat Fujitsu wireless PDA that I just had to tease them about for not having their own in-house Apple point-of-sale solution. And which emailed me my till receipt — a first for me, in the UK High Street.)
The shilling or so left over at the end of all this (and, come to think of it, a handful of books I've not yet even admitted to) went towards today's delicious lunch of fresh Lemon Sole from our new "FishyCo" wet fish shop that has taken over the TV repair outfit that that nice Mr Hoskyns used to run on the Bournemouth Road.
It's all "go" being a pensioner, and now, it's all gone!
Day 137
Footnotes