2015 — 7 August: Friday
And so to "Any Other Business?"1
R.I.P. "Uncle" David
Still a black heading, though not my uncle, of course. Unsurprisingly, I've learned more about Big Bro's brother-in-law — reading overnight emails from he and his "Bene Gesserit coven" (my nieces) in the last couple of minutes — than in the preceding four decades. I hope, in due course, they will say similarly nice things about me! I will be speaking2 on their behalf at David's funeral, which is being held in a newer chapel but actually at the same crematorium as Dad's funeral 40 years ago.
Christa and I revisited it on the first anniversary of his death, to see the book of "remembrance". We never went again, but I expect I shall still be able to find it. And, if not, I have a new dominatrix-in-a-box I can ask as I get nearer.
Now...
... what about some breakfast? What indeed? It's already past time for lemonses and, having fended off yet another solar panel sales chap with yet another Indian accent, I don't wish to spoil my appetite for today's lunch, do I?
[Long pause]
A chicken tikka at "The Wheatsheaf" in Braishfield hit the spot nicely, followed by tea and an amiable chat while browsing Len's Grauniad and learning far more than I needed to know about some lady entertainer named "Peaches". Not to mention a summary of what I missed by not watching last night's TV. Source and snippet:
Goedele, a Belgian sexologist and UN goodwill ambassador for sexual health, says Britain is bottom of the class when it comes to sex... Goedele turns up with her vulva puppets and her fanny wallchart, which she pins up on the board. No one can accuse her of pussy-footing around the subject — she dives3 straight in.
Should they think of renaming this "newspaper" the Groiniad?
Moving hastily on...
... I found another excellent "3 Blu-rays in one package" deal at my habitual US supplier (CDUniverse) yesterday, and shot off my order for the combination of Soylent Green, The Omega Man and Logan's Run, to replace DVDs of these venerable films. (These films were based on Harry Harrison's 1966 "Make room! Make room!", Richard Matheson's 1954 "I am Legend", and William F Nolan's 1967 "Logan's Run"4 respectively.) $26-58 (inc. postage) will, with luck, fail to trouble any of Brenda's revenue-collecting thugs.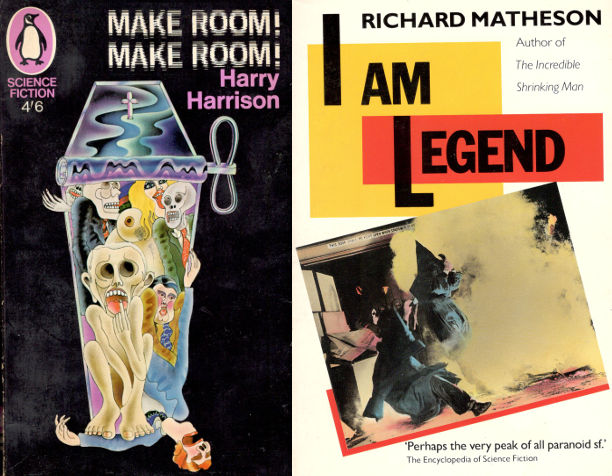 The startlingly apt cover Alan Aldridge did for the Harrison title is one of eight he designed in 1967 for Penguin "to give their SF imprint a fresh feel". Personally, I hate the font he designed. To me, it looks just like the poorly-adjusted analogue video I shudder to recall from "Max Headroom" in the 1980s.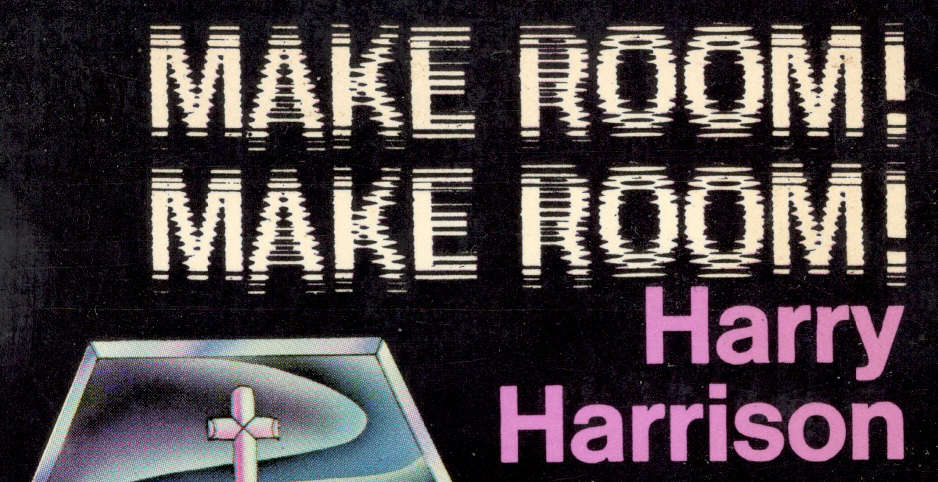 It was lettered for him by Harry Willock. Just sayin', is all.
Having just said yesterday...
... that I can easily go a year "without writing a single snailmail" today's post means I now have to write to what was Christa's bank (which is getting out of the Probate business) to confirm that my own Will is no longer valid, has been replaced, and no longer appoints them as my Executor. Fair enough.
After all, it's not as if you can be your own Executor, is it? :-)
"Inspired" by this...
... single panel from "Watchmen" accompanying a "New Statesman" piece by David Thompson from January 2001 in which he was asserting that such comic books "put the adolescent preoccupations of contemporary art to shame"...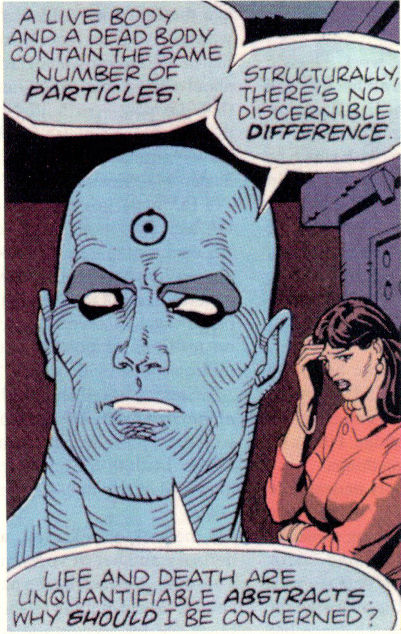 ... I decided to re-watch my Blu-ray of Zack Snyder's 'director's cut' this evening. Partly to see whether my initially somewhat-jaundiced opinion of the film version has changed in the five years since I last saw it. 80 minutes in, I'm going to call it a day, as it were, for tonight. But I shall resume because I was enjoying the ride. Incidentally, the snatch of comic book dialogue above makes it into the film, albeit a little truncated. Now, here's what Harlan Ellison had to say, writing quite some time ago:
As the science-fiction movies of the Fifties reflected Cold War paranoia, so do the comic books of the Eighties mirror and interpret our contemporary fears and obsessions. In Concrete, we deal with individual identity, the cult of celebrity, the venality of the common man and woman; in Batman: The Dark Knight Returns, we suffer the terrors of urban blight, random street violence and the alleged impotence of the average citizen; in The Watchmen and V for Vendetta, we are permitted to extrapolate the menace of multinationals running amuck, government by secrecy, the instability of society in the nuclear age....
"Concrete" is another long-time favourite of mine.
This was a fascinating story, too. I never knew that two consecutive instantiations of "Lord Elgin" were quite so, erm, rapacious.
Footnotes