2013 — 26 August: Monday
Personally, I've never been one for face to face networking, and was always happy to leave "all that sort of thing" to Christa. I have enough trouble with Ethernet. However, the evidence of things like Facebook (and its variously-failed predecessors) suggests we are, of course, "social" animals.1 Not wanting to defy that myth,2 I've cunningly arranged tea and a biscuit this afternoon at Ye Figge Emporium.
After all, I don't think I've set foot outside the house since some Friday afternoon shopping :-)
My next little batch...
... of BBC radio downloads edges me yet closer to my 20GB monthly cap, but there's light at the end of that tunnel. Besides, now that I know how to constrain the downloads, there will be no repeat of the unfortunate incident...

... of the excess Prom files earlier this month. (The nearly 7GB grabbed on that occasion included the whole of some ghastly Wagner opera. Not going to happen again.)
Talent v Success
Neither is an issue I've had to grapple much with, but this was an interesting piece:
Whether it's Joshua Bell playing masterfully to a swirl of indifferent commuters, or a brilliant film that gets a bad review and barely makes a dent in anyone's consciousness, talent in its pure, beautiful form can be overlooked or misunderstood. Meanwhile, success — which by nature is bottomless, fathomless, and therefore keeps even successful people constantly on the hunt for it — keeps getting the attention. The two continue to be spoken of interchangeably, when in truth the first is the real deal, and the latter is simply the fairy dust that sometimes gets sprinkled on the real deal, and other times gets puzzlingly sprinkled on the mediocre, or the fraudulent, or the happened-to-be-there-at-the-right-time.
I had forgotten...
... until reminded by this piece ...
Compare the prose of Fish with that of a high priest of academic gibberish: the Anne F. Rothenberg Professor of English and American Literature and Language and the director of the Humanities Center at Harvard University. Homi K. Bhabha writes, in a typical passage, "The politics of difference lives on to rethink the minority not as an identity but as a process of affiliation ... that eschews sovereignty and sees its own selfhood and interests as partial and incipient in relation to the other's presence." This is not Fish.
... that Fish's essay on the unbearable ugliness of Volvos appears as chapter #18 in "There's no such thing as free speech" (which I picked up some while ago). And I'm not sure what to make of Jacoby's claim that David Lodge drew upon Fish for his character Morris Zapp, either.3 In fact, I'm reminded of that Kissinger put-down about the viciousness of academic politics being precisely because the stakes are so small... I have my chum Geoff to thank for that one.
Still, it seems fair to conclude that Professor Jacoby may be an eater of fish, but is not altogether a fan of Fish :-)
Not fish, but BBC Radio 3 is about to feature George Crumb's celebration of the whale, Vox Balaenae. Inspired, I should have realised long ago, by Roger Payne's marine recordings and his own album "Songs of the Humpback Whale". Haven't played that for years!
Returning refreshed...
... from the Figgs, I now face an arduous evening quite largely devoted to Pink Floyd on BBC Radio 2 in various shapes and forms: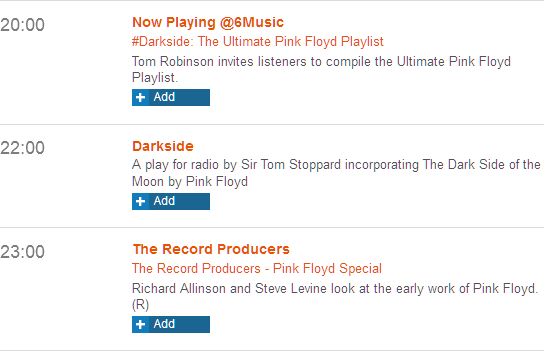 A tough job, but somebody has to do it. Better make something to eat first, of course. There's already been an hour of David Gilmour chatting to Roger Scott about "Dark Side" in the 6Music "Classic Albums" slot at 04:00 this morning. I've just snaffled that, too. Then Gideon Coe's doing a special at 22:00... the days are just packed!
Not for the...
... first time, I've been forced to give up my bookshelf-scouring for a particular book and have now ordered a second-hand replacement copy of the original hardback (rather than my AWOL Dover paperback reprint) from Atlanta, Georgia for less than I originally paid 22 years ago. I'd taken the Friday off and shot up to London a week ahead of a family trip to the 1991 Acorn Computer Show (at which, somewhat ironically, I bought Christa a brick-sized PC/AT clone [made by Tiny Computers] for her growing freelance career). Here are the titles...

... I picked up during my retail therapy and 'relaxation' after beating my head against the brick wall that was a week-long IBM Hursley Lab Baldrige MDQ assessment. (The lost sheep is the Herbert Klein.)
Footnotes