2013 — 24 March: Sunday
Judging by her "Subject" line1 in last night's email, my helicoptering number #2 niece is a fan of the TV show "Friends", which I used to watch en famille. Since she's obviously not content with merely hitching a ride on a two-seater Spitfire, but is now all too ready to cast nasturtiums on the England cricket2 team, this is naturally my cue for a rare chance to attempt some intercontinental Uncle-type humour. I can do that :-)
Rachel: Have you seen the cricket score? NZ look pretty set right now, although it's only Day 3. Don't want to rub it in but if we beat England, your public (well, those interested in cricket, of which I am not convinced you are one of them) will rip them to shreds...
Me: I only like the sort of crickets whose ears are in their legs (as proved by the fact that, when you slice 'em off, and shout "Jump!" they can't hear and thus just sit there on their stumps... geddit?)
That'll (help) learn her. It's what she gets for calling me "Mr Computer" when the correct term is "Uncle Computer". Meanwhile, the barometer is slightly up, the thermometer slightly down, and the tea as yet undrunk. And a doctor is calling for more to be done (by the guvmint) about tackling "nearly untreatable" TB. It must be time to re-read Betty MacDonald's "The Plague and I".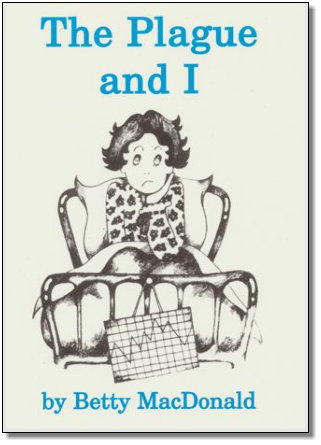 It was her earlier "The Egg and I" that introduced the world to Ma and Pa Kettle. This one3 — first published in 1948 — dealt amusingly with her grim time in a pre-antibiotic TB sanatorium. (One of Dad's younger brothers was in just such a Swiss sanatorium as a child, picking up enough German there to be able to impress Christa many years later, but left with enough lingering bone damage for a lifetime of surgery.)
Not for the first...
... time has Cerys Matthews caught me, as it were, with my music-collecting trousers around my ankles. Today's shameful example (when she played "Lady Grinning Soul" and I said to myself "That's Bowie, surely?") was the awful realisation that I've never got around to replacing my vinyl copy of his 1973 album Aladdin Sane so only have my minidisc dub of it (r031). Hence my newest credit card has just been exposed to Amazon's MP3 store for the first time and — get this — the 30th anniversary remaster I found there is now 'all growed up' into a double album. Excellent.
Though how it can be almost exactly 39 years since I bought that vinyl (while studying ICL 1900 Series assembler programming at their Radley House training place in Ealing just a month before I met Christa) baffles me.
It was the launch...
... of the BBC's hi-def satellite test transmissions that prompted me to get my original Humax hi-def receiver. I had already by that point (in 2006) equipped myself with an external DVDO video scaler — partly to cheer myself up (with her approval) in the wake of Christa's penultimate round of major cancer surgery — to squeeze as much video quality as I could out of all my non-HD signal sources. This was before the UK launch of Blu-ray, of course.
This Tuesday, the BBC is replacing the HD channel by BBC2HD (though I, for one, would much prefer it if they replaced BBC1 and/or BBC3 by BBC4HD). They can't argue "lack of room" as they've already advertised a spare 24x7 HD channel on DTT Multiplex B. But, of course, having overspent by many millions on their move north to Salford...
Meanwhile, I've only just learned how to persuade a test card out of Freeview (it's a low-quality, standard definition one stuffed full of JPEG compression artefacts and thus hardly worth bothering with).
A chum has just drawn...
... my attention to a wickedly-funny parody of the final "Twiglet" movie. It made me laugh out loud several times. But that could just be me.
Footnotes