2013 — 8 January: Tuesday
Do you suppose1 that Big Bro has remembered to wish Mrs Big Bro "Happy Anniversary" some 41 years later? :-)
Just askin'. Meanwhile, does anyone want to buy a mosquito-infested place to build spaceships? One (occasionally careless) owner. (Link.)
As we look more closely...
... so the world gets ever more peculiar. Proof:
Recent observations of oscillatory features in the optical response of photosynthetic complexes have revealed evidence for surprisingly long-lasting electronic coherences which can coexist with energy transport. These observations have ignited multidisciplinary interest in the role of quantum effects in biological systems, including the fundamental question2 of how electronic coherence can survive in biological surroundings.
As for angels dancing on the head on a pin, or (controlled) quantum tornadoes on a chip... Let's not even go there.
The lovely pink clouds of the earlier morning sky have, alas, all now subsided into a uniform, somewhat dull, grey. Midwinter tends to be like that, I seem to recall. Still, I have a lunch date to look forward to, and shall prepare myself for it by munching some breakfast. It's only 08:50 after all. [Pause] Better not forget to stuff my next crockpot, either, lest I go hungry into the night. [Further pause] Stuffed!
As often happens, my...
... return home after lunch was met by one of those "While you were out, we tried to deliver..." postcards smirking at me on the doormat. Since they also say "allow 5 hours" before collecting, but the depot closes at 17:30, I currently predict an early morning expotition ahead of tomorrow's planned ramble slightly further a(muddy)field.
I've long lived my life to a musical background but, when the BBC National Orchestra of Wales was in full flow with Stravinsky's sublime "Firebird", I just had to stop, turn up the wick "to eleven" and let it wash over me. ("Eleven" in this case was, as I discovered by checking when I hastily muted the applause, a mere "+02dB" so I still had 13 in reserve.) There's little point in listening to a full orchestra at less than a realistic level when the music is as glorious as that.
Yum. Nice crockpot.
While the rest of it now chills down in my well-practised kitchen routine I can finally turn my attention to all those 'World' music tracks, having dispersed all of Bob Dylan's "Theme Time Radio Hour" more sensibly. Although there's some fine old music, the real attraction of his radio show was the informed and witty commentary he threw into the mixture. The CD compilations merely reproduce the music without the Value-add of the Dylan anecdoterie. Pity.
But, speaking of music, Mr Postie did manage to leave both a credit card bill (I could have done without) and a double-CD on my doorstep...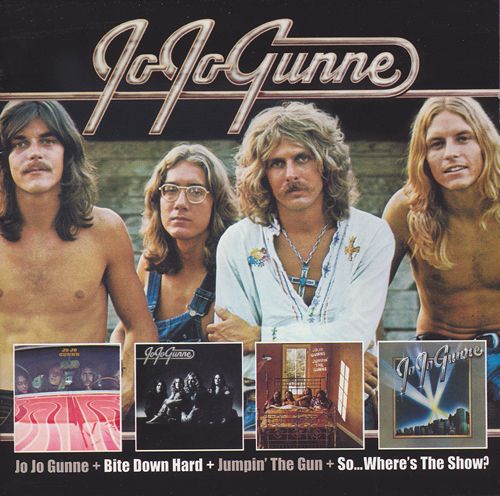 After singer-songwriter Jay Ferguson left the excellent West coast band "Spirit" this group Jo Jo Gunne became his next venture, though for some reason I've never tried their material until now. Fingers crossed. Four vinyl albums from the early to mid-1970s on two CDs for a mere £7-08 is pretty hard to beat. And not the end of the world if the music sucks, either. [Pause] It's far from sucky, which is more than I can say for my most recent audio toy...
I'm not happy!
Can you believe I need to return my hunky Audiolab CD/DAC to Dr Audio T? I decided just this evening to swap it with the NAD CD/DAC currently upstairs in the 'reading room' so I could use its multiple digital inputs with the minidisc and digital radio up there. But I've just discovered — the hard way — that that room is so quiet, and the 'reading' chair is so close to the audio stack, all I can hear when I power it on is a subtle, but very (very) irritating hum from its mains transformer. Granted, at any reasonable volume of input signal from radio or minidisc, or even CD, the hum is masked... but that isn't the point. £750 bits of kit with 115dB S/N ratios ain't supposed to hum, surely?
Hum. Mains hum. In this digital day and age. Incredible. Takes me right back to 1972, and my very first Amstrad amplifier. Grrr!
I'm currently very much enjoying a performance of Kurt Weill's "The Threepenny Opera" (the Sendar Fraies Berlin Orchestra conducted by Brückner-Rüggeberg) which — from the neatly typeset label — I see I snaffled from a borrowed CD on to a very decent TDK SA pseudochrome cassette (for Christa, naturally) on 27 November 1988. I would have been not quite seven years old when this performance actually took place. I admit I only rarely listen to my embarrassingly-large stash of lovingly-recorded cassettes these days, but their playback remains perfectly satisfactory. And it's nice to hear German in the house again, to be honest.
Footnotes