2012 — 11 June: Monday
Well, there was obviously a fair amount of rain overnight1 but, since I slept well for the first time in over a month, I don't care that much. Nor, as I listen to the current currency blather about the Eurozone Spanish rescue (by what sounds to be the application of an enormous sticking plaster and the nominal encouragement to "keep calm and carry on") do I feel greatly reassured about the stability of the noble experiment that is global capitalism.
Personally, I point the finger all the way back to the idiotic market deregulation kicked off under the ridiculous "trickle down" theories first prevalent on both sides of the Atlantic nearly 30 years ago. As for the idea that rational market behaviour might be adversely affected as human greed and stupidity inevitably come into play... well, we can forget about that. However, again I don't care that much. As eny fool kno, the rich have to be paid more and the poor have to foot the bill.
Always.
Madness. Ever onward. It's already time for my next cuppa.
Uncle ERNIE...
... to the rescue, with two of his minimum-sized dollops of tax-free goodness coming my way this month. I think this is the longest into a month I've got before remembering to check. Meanwhile (at 10:30) it's a rather cool 9C out there, and raining hard.
Say what you will...
... about some of the items in Benedikt Taschen's publishing warehouse, you can't accuse him of not having a sense of humour. This morning's delivery, courtesy of a dripping and bedraggled Mr Postie, had an amusing reversible dust jacket. Though why anyone would find "The Principles of Critical Philosophy" selected from the works of Immanuel Kant offensive, and thus in need of disguising, is totally beyond me. Click the pic if you dare: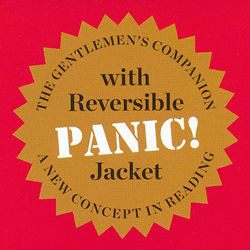 Benedikt Taschen's brainwave
Blimey! It's nearly time for lunch already. Must be the effect of my singular cup of real coffee. I updated my copy of the Firefox web browser, and am now irritated by its changed page scrolling behaviour. Why must programmers tinker? And why don't they make it easier to untinker? It's not as if they always get everything right, after all.
Call me weird, but — try as I might — I can find absolutely no compelling reason to hang on to Christa's March 1989 copy of the National Curriculum Council Consultation Report on English. I mean, it's not even well-written :-)
Decisions
Junior very kindly offered me this useful comparison between my current ISP and BT. (Link.)
It's been a miserably wet day, so I'm going to tuck into a nice, hot, chicken tikka masala and then contemplate an episode or two of "The Mentalist". It's somehow already managed to become 18:25, but hasn't managed to stop pouring with rain. Yuk!
Found this little...
... clipping from the Grauniad tucked away in a tobacco tin used to house staples and a pencil sharpener. The font dates it to the late 1980s, at a guess. Can't be more specific.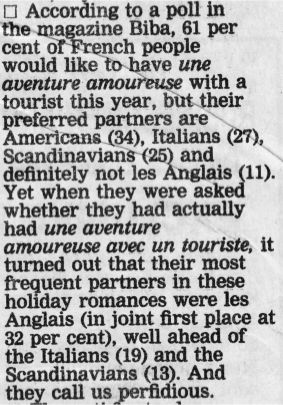 Perfidious Albion, indeed :-)
OK, I get that all the "Mentalist" episode titles have "red" in them. Except this "Aingavite Baa"... until Mrs Google reassures me it means 'red water' in the Shoshone native American language. Just a little too tricksy for me. Director Stephen Gyllenhaal, take note.
Footnote