2012 — 28 May: Monday
(Obviously) I don't sleep with my glasses on.1 I also keep the brightness of my bedside clock/radio's large green digits minimised. So there I was thinking "Oh, it's only 6:30" when I heard a large lorry outside. It was, of course, 8:30. Tut, tut.
A mere 24.4C down here as Monday lurches into action. And the first cuppa (for 36 hours) deliciously disappears. I occasionally like to see if I actually can live without regular tannin infusions. Besides, cold filtered tap water is fine during hotter weather.
Aside to Christa
Five of your fabulously-perfumed dark red roses popped out more or less overnight, as did half a dozen poppies (two of them in previously uninvaded locations). And I've already had to trim a couple of stems of the vine to discourage them from covering the back door. A bit of sun, a bit of rain, and it's once again a living jungle out there. I have yet to fight my way into shed #1 to dig out any gardening tools. Shed #2 is well-protected by encircling undergrowth. Weeds are (as I always told you) flowers of unrecognised virtue.
I've read...
... all of these, but I disagree with the order, and would probably rank others above several: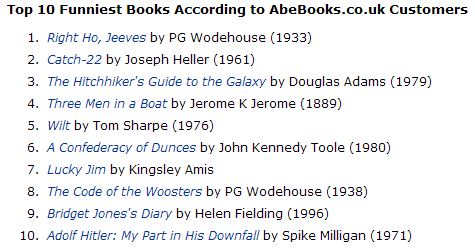 Not a bad list, though.
Len has recently been waved off bearing a spare DVI-D lead, an hdmi-to-DVI-D adapter, the Spears & Munsil test Blu-ray, and my HDFury dongle.2 If he can't put all these to productive use in his new system he's not trying very hard. I shall find out over lunch this Friday how he's managed. I also have my next walk pencilled in for Thursday in some hopes of it being just a little cooler than yesterday's. Between now and then, I suppose I'd better fit in another trip to the care-home for the sake of what's left of my conscience.
Democracy?
For Tony Bliar to say that the relations between politicians and the media can sometimes be unhealthy strikes me as more than a little fatuous. He it was, after all, who cosied up to the fragrant Mr Murdoch in search of endorsement. Don't people remember?
What little remains...
... of dear Mama's cognition — and that's really not very much — is still quite interesting, though not in any good way, or even a way that's conducive to extended conversations. For example, she doesn't mention her other son (Big Bro) unless prompted, though a prompt usually triggers a few phrases, the gist of which being that she doesn't like him living in NZ (as he has since 1970, of course) and that she doesn't really expect to see him again.
Since she's generally not exactly clear who I am, or where she is, or why, or for how long, or why no-one else visits her (she's outlived just about 100% of the family) and is perpetually puzzled by the enigma that is the corridor outside her room, I conclude the termites have been dining long and well on her synapses (apologies to the late Christopher Hitchens).
I drove gently back avoiding what looked like a frenetic motorway and quietly conversing with Christa on some of the richer ironies with which Life tends to be splattered. When I wasn't busy admiring the hordes of pretty young things and their choice of lightweight summer garb. (Personally, I find little to dislike about skin-tight, ultra-short, shorts more [or less] enclosing an admirable little bottom. The bigger ones... less so!)
What's that, Mrs Landingham? Time for tea? Yes, why not.
Footnotes