2011 — 19 December: Monday
Cautiously opening the front door1 I conclude I shall not be stepping out on to my frosty drive for a while. I discovered yesterday just how little grip my shoes offer. No matter — my cuppa will keep me defrosted.
Nothing...
... changes. I have the BBC Radio 4 main news on. Death of revered / hated / feared communist leader. Closer examination of would-be home buyers. Disappearance of easy credit. Is 30 the new 20? Need to teach the academic basics. Saab files for bankruptcy (I nearly won a Saab Turbo over 30 years ago just by using some colourful language). HMV losing pots of money (they could do well to examine their High Street pricing policy). Oh, and it seems we have to start taking Life seriously at some point. Bit too late for me.
Let's shift back to music and dial the DeLorean back to a very hot day here in early August 2007: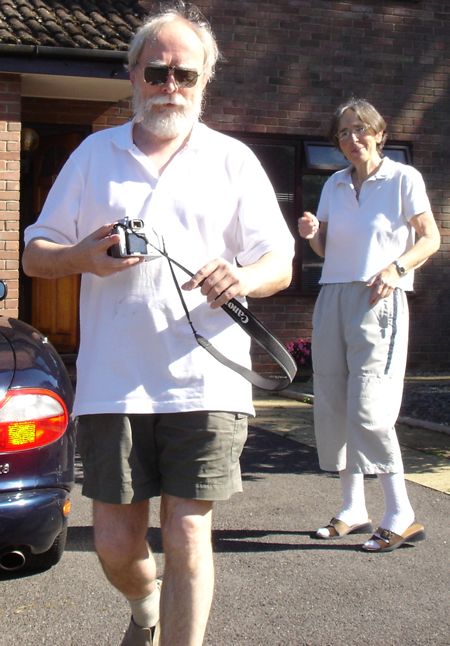 I gather rain is supposed to start spreading from the West. I can hardly wait. Yesterday's return drip/trip included rain, sleet, hail, and very low, very bright sunshine full in my face. Not to mention a whole bunch of drivers who didn't seem to see anything idiotic in all sticking closely together in the right hand lane, quite often leaving the left hand one largely empty (not that I would dream of ever creeping cautiously past them except on the motorway bits 'cos I still recall some of the Highway Code). Most odd.
Having safely...
... returned from the first of today's adventures (and, yes, it was raining and there was lots of spray on the motorway) my next two decisions are what to have for lunch, and whether to visit the care-home this afternoon. Exciting stuff, heh?
[Rather long pause]
And now, after a busy afternoon spent installing and configuring and chasing down drivers and what-not, this next bit of rambling is being typed in on a new toy, and squirted both wirelessly and (compared with the Android Tablet PC) effortlessly from the comfort of the lap that appears when I sit in my reading room over to my Texan webserver.
"Just like that," as Tommy Cooper used to say. (More details here.)
Footnote