2010 — 7 September: Tuesday
Right. Let the waiting-in1 commence. Although I'm perfectly happy to live here, I don't like having my freedom to come and go constrained by an unspecified delivery time. Never mind; I still have ten cartons of bits 'n' bobs to unpack from the present batch. I also have two missing metal shelves to locate from a final wheeled trolley. They can hide, but they can't run.
I've exploited the free distilled water on the car this morning to clean all its windows. The rule of Nature around here seems to be "If it doesn't move for a minute, weave a cobweb on it". The first cuppa is a distant memory and there's some lovely Dvorak violin music sawing away as I contemplate asking Mrs Landingham "what's next?" The time is 08:41 and the garden waste lorry has just drowned out the following bit of piano stuff.
Digging through an endless pile...
... of ancient material (also known as the contents of various boxes and piles of stuff in my study) has obviously put me in a vaguely historical frame of mind. So — purely for fun — I thought I'd excavate an occasional item from Times Past. For example:
I'm going to be 'holding the baby' all next week while Christa takes lessons on glowing in the dark. The poor old new cassette deck isn't going to know what's hit it. (Explanation: I'm currently retaping my entire lp collection (for about the third time) through the new machine and selling the albums — some 950 or so last time I counted. The process can only be done in reel (?) time and I've so far managed about 250...)
This memory was triggered when I found the sheets on which I'd noted who had bought, or expressed an interest in, which of my many vinyl albums they wanted to buy. The money raised went into the CD fund. Christa was then on the point of a week of radiotherapy2 prior to her first cancer surgery. The "new machine" was the first of my three splendid Aiwa ADF-770 cassette decks.
Meanwhile, having noted that I'm delighted with my new Class D Rotel power amplifier, my chum Brian has found a chipset from a defunct outfit and sent me an interesting set of links about it. Ridiculously cheap and insanely good seems to be the general opinion. Link 1. Link 2.
No sign of Mr UKMail so far. Nor of those missing metal shelves. It's about time (10:05) for some breakfast.
Red face dept.
The answer was (almost literally) underfoot. I've been using the two shelves to raise three PCs slightly above the carpet. Here's one of them: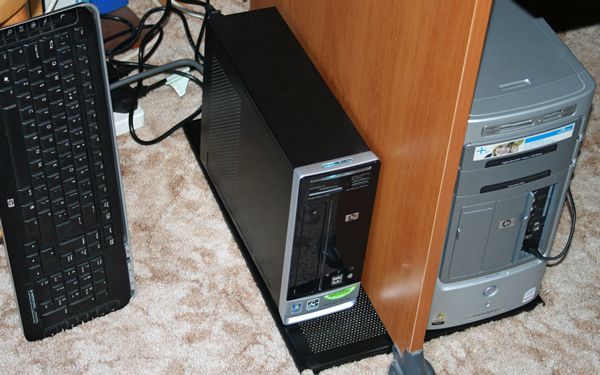 Silly boy!
I've never read a book by John Grisham, but this piece is nicely written. It took him three years to write "A time to kill" which was turned into an excellent film.
No flipping!
Finally, the complete "Larry Sanders" TV show is coming to DVD — in the U.S., at least. 2,800 minutes of comedy bliss.
This is extremely...
... irritating. No sign of a bookcase delivery and a frozen salad that suggests I turned the fridge thermostat in the wrong direction. Grrr. It's 14:43 but I'm not prepared to hang around here for much longer. I've got things to do and people to say "Hi" to.
I managed to miss the fact that the 1951 film "People will talk" was "DVD of the week" back on 22 July:
It's a romance filled with comedy that ranges from the blithe to the angrily satirical — yet it's one of the most aesthetically sophisticated movies ever to emerge from the high-studio era.
I couldn't agree more. Christa and I both enjoyed this fine film.
Later
Cuppa and biccies with R&E? Check. Bookcases delivered? Uncheck. Next eight cartons retrieved from the warehouse? Check. Evening meal? Uncheck. But that's now my priority task. It's 19:04 and I'm officially starving.
My chum Zeno just sent me this link, produced by the son of a school chum of his. Fascinating and scary. Shaken, and stirred.
Footnotes