2010 — 6 September: Monday
Hello, pension. Say hello to bank account.1 The two films were "Tuck everlasting" and "Redwoods". Thanks, Mike.
G'night.
Pretty pic
I linked to a "Wired" article (their semi-regular prediction that the web is dead) a couple of weeks ago. This time, I thought I'd show the splendid accompanying graphic (credited to Andrew Odlyzko using Cisco estimates) as it's both deliciously garish and hard-to-believe...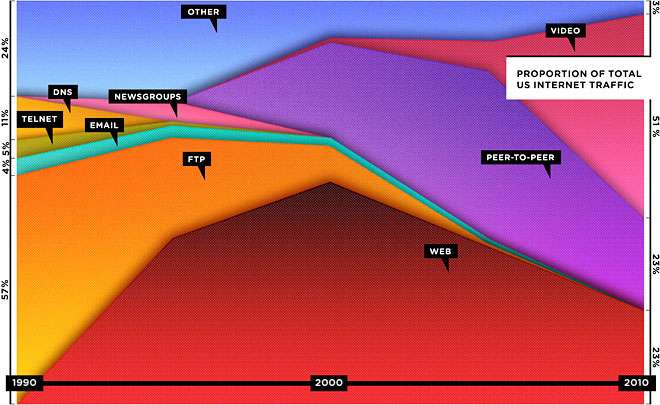 ... unless you simply discount the ever-growing volume of Russian email trapped in my "Spam" filter, which so far today has exceeded "real" email by a factor of seven. With video and peer-to-peer running wild2 at 74% of the total it's little wonder the media giants are so hot on encryption and copyright issues. What's "Other", I wonder?
Time (09:14) for cuppa #2 and a bit of breakfast, don't you think? Then I can think about the excitements of a new day of cartonic lugging.
Plumber is icumen in
A little parody can sometimes go a long way. Sadly, I was unaware of this delectable morsel by AY Campbell. It would have come in handy when Brian was replacing my central heating system this summer: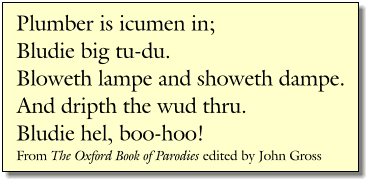 It would have made Christa giggle, too. As would this charming chap!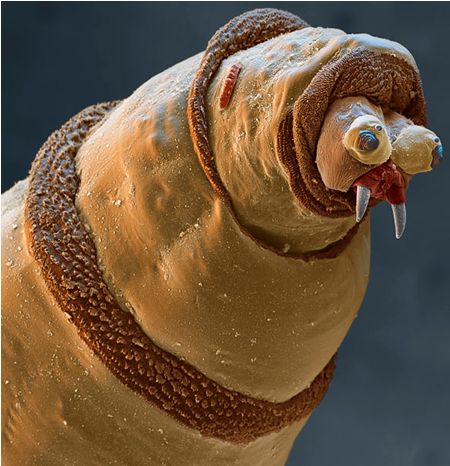 Who said evolution doesn't have a sense of humour?
PCO returns
This Wednesday, at 22:15. Excellent. And Kathryn Tickell. Mighty cool. Link.
As the shades of afternoon threaten to descend (like the forecast heavy rain later) I can now glare at another 16 cartons all waiting for me to unpack them. This is a game whose attraction has already long since dissipated. Time (11:57) for a soothing cuppa. What — I wonder — are the odds of tomorrow's third attempt to supply undamaged bookcases looking like?
After a healthy snack lunch made messier than strictly necessary by the splattering my polo shirt took as I peeled back the stubborn lid of my little tin of sardines, I'm now listening (while steadily unpacking cartons and remembering the story of Anne Fadiman's daughter's hamster, Silkie) to William Orbit chattering on BBC 6Music. As he doesn't read music he turns everything into MIDI files. I know an ex-IBM alpaca farmer in Wales who does that, too.
Cause of mighty oath...
... nearly 34 years ago. As I mentioned, we were quite dismayed when we received our first-ever annual mortgage statement...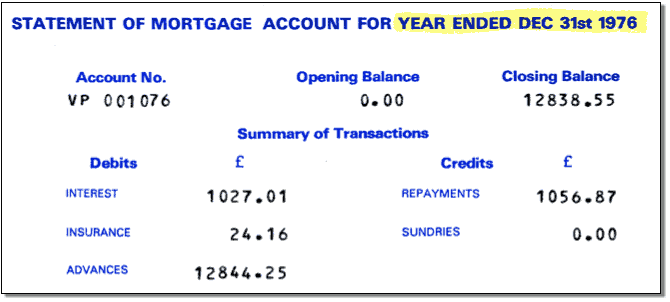 ... to learn that we'd managed to repay a mere £5-70 of capital and £1,027-01 of interest! Hence my various forays into freelance journalism and hi-fi reviewing, followed later by numerous self-teaching training manuals3 and packages.
Cause of mighty whoop...
... is a phone call from niece #3, busily sorting through dear Mama's house contents. She has, indeed, found the book I gave to my Dad for his birthday. It's a hardback first edition of C Northcote Parkinson's spoof biography of Horatio Hornblower. Not that I really need any more books in my house. It's 15:54 and what I do need is another cuppa. This is quite dusty work.
Said cuppa being too hot to drink — and bearing in mind the distinct possibility of my being stuck here tomorrow awaiting Mr Staples' latest bookcase delivery — I've just nipped out to bring back the third batch of eight cartons. That will definitely do for today. It also looks very much more like that promised rain is about to drop in, as it were.
Later
Well, I don't much care for walking in the rain, but I have no objection to wallowing in a nice, hot bath. Besides, short of using industrial grade kit, how else am I going to manicure and pedicure my various talons and claws? It's 20:39, and my next treat will be a nice, hot cuppa. Let it rain!
Biting the (CD storage) bullet
Recently, I've been agonising about whether or not to keep all my CDs somewhere in my living space rather than stashing them all up in the loft. And if so, where exactly? Yes, I know I've spent many hours of my life ripping4 them all to high-quality VBR MP3s and loading them into iTunes on my iMac. But who wants to boot up a 24" iMac just to use it as a giant iPod? I've also considered, but discarded, the idea of a Brennan JB7 player — not least, because it includes an amplifier, and I'm hardly short of those hereabouts. Plus, there's a certain undeniable pleasure in loading a physical CD into my gorgeous NAD CD player.
So, although there was no "Eureka" moment in my recent bath, it's belatedly occurred to me that there's absolutely no reason I can't simply rehouse all my CDs in a series of nylon CaseLogic folders just as I've already done with all my DVDs and Blu-rays. What's one more data field on a database between friends? And the physical space-saving is fantastic.
I think I may just have identified my next winter project... and, after all, everyone needs a hobby. My order has just gone off to "DiscountDiscs" via Amazon for an initial six cases, each capable of holding 280 CDs.
Footnotes