2010 — 1 June: Tuesday, or rabbits again already!
Mysteriously, it's 02:50 or so. I'm recently back from a meal and a film displayed with Mike's new Epson projector. Mighty fine, but (as suspected) just a tad deficient in the black level department. I guess we both now know why PLUGE wasn't demonstrated to us a couple of weeks ago. No matter; I suspect a simple touch of backlighting behind the screen will fool the eye into doing its own stopping down. I'm quite tempted, I must admit, but I fear the nasty plumbing business must come before any further video pleasure.
We watched the strange but largely true story of 1960s record producer Joe Meek in Nick Moran's 2008 "Telstar". A bravura performance, to be sure, from Con O'Neill but not exactly an upbeat piece of cheerfulness. Quite reminiscent in some respects of the Alan Bennett-scripted 1987 "Prick up your ears" telling Joe Orton's almost equally tragic tale.
Ho hum. Let the carton stuffing recommence in just a few hours from now. G'night.
Waking, as I...
... relatively recently have, to a sea of drizzle, I can hear Christa saying "The garden needs it". Whether she'd approve of the present ratio of weedy enemies to flowery friends out there is another matter. I have my beady eye on a particularly large and aggressively-spreading bramble (by the no-longer-used back door) whose main stem is over an inch in diameter. Meanwhile, Donna Summer's "I feel love" is doing a grand job.
Here's a pleasant picture puzzler from that recently-discovered pile. From the visual clue (the red Thermos), we were obviously getting ready one sunny morning for a picnic expedition, but exactly where and when is currently lost in the mists: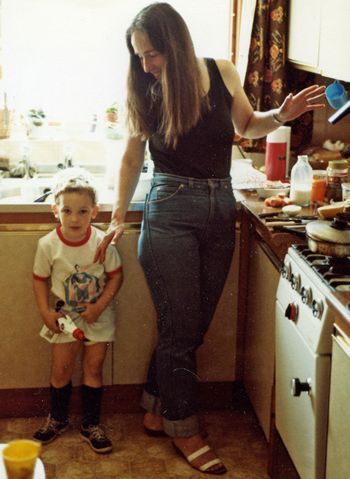 Christa and Peter during picnic prep
Usually the seaside, of course. It's 10:45 — on with the show.
Boffoonery!
I've just lost my MP3 download virginity. Those terrible tempters at Amazon gave me a two quid "promotional discount" and it didn't take me long to alight on this little gem: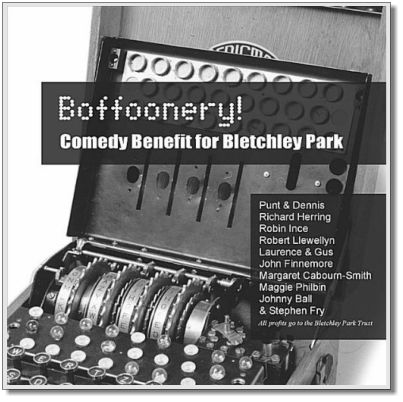 So I'm now laughing in a geeky good cause.
Where were you on...
... the 13th July 1996? Well, Officer, judging by Christa's inscription inside that big, fat, expensive "Duden" I'm about to chuck out, we must have been on one of our regular bookshop tours of Oxford.1 (Oh, the sinfully tempting pleasures of Blackwells Art Books.) Right. Lunch should have cooled to the point where I can safely ingest it, then the next batch of cartons is ready to roll. Better do some more supplies shopping on the way back, too. Ye gods, this is a slog (and is also proving something of an emotional roller-coaster ride as I empty Christa's study). Still, it has to be done.
Ansible strikes again
I always get at least one good guffaw out of David Langford's delightful monthly newsletter. This month:
J. Neil Schulman, whose 1979 sf novel Alongside Night features 'the collapse of the American economy due to massive government overspending', announced on 21 May that he plans a copyright infringement suit against the US government for stealing his plot points and using them in real life. Co-defendants will include the Federal Reserve Bank, the European Union, the International Monetary Fund, General Motors, and the country of Greece. Sample smoking gun: 'I have Europe issue a common currency in my novel called the "eurofranc" — the European Union then goes and issues the "euro".'
Jolly good luck to him, say I. I'm hungry; perhaps that's why it's already 18:39 or so?
DAB limps on
Even if I could somehow divert all the Viagra-related spam email from my Google junk pile into the UK's pathetic joke of a digital audio broadcasting (DAB) system to, as it were, stiffen its sinews I still think it would be rubbish. They have long since reneged on their promises of high bit rates, and stereo. So I fully agree with the biting comments here, including this one:
When I want an expensive radio broadcasting MPEG-1 layer 2 (MP2) mono broadcasts at a bit rate of 128 kbps or less with a low battery life and which is already therefore based on obsolete technology, I will certainly buy a DAB. No competition really, if you want the worst available and to pay a lot for it.
Of books and wives
I must say, I now know a great deal more about Christa's book-purchasing habits than I ever did before. She was a bit of a devil for dictionaries of all kinds. For example, on what was (as it turned out) our last-ever trip to Oxford together (scene, in 1974, of our memorably-hampered first-ever picnic) while I was buying the Acheson that I'd mentioned, look what she bought: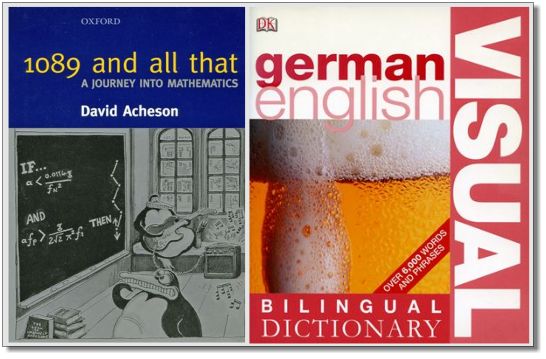 I shall, of course, be keeping it, if only for purely sentimental reasons. I see it claims to contain over 6,000 words and phrases. There is a theory, championed by the late Hunter Diack in the 25-page introduction to his interesting book "Test your own wordpower" that the idea we only need an 800-word "Basic English" vocabulary is — how shall I put this delicately? — complete rubbish. I agree. You can find one of Diack's tests linked from here.
A cad (I have my dark suspicions) borrowed my original 1975 copy of this many years ago and never returned it. This was a shame as I'd been keeping a note of my own test scores on the first page as I did each one. However, on an IBM trip to Dublin in April 1990 (and during a bomb scare that expelled us from the office for 90 minutes) I managed to grab a second-hand copy2 in the branch of "Forbidden Planet" I spotted in Dawson Street. I returned there the following day to buy a deliciously wicked parody of Little Nemo by Vittorio Giardino, but that's definitely another story. As are the two evening visits I made with my Marketing colleague to a lively gay bar for some excellent draught Guinness. I was recovering from 'flu at the time, by the way :-)
Footnotes