2006 — Day 12 - city of dreaming spires, and Blackwells bookshops...
Christa and I first visited Oxford together a little over 32 years ago in the summer of 1974, before we were married. Mum and Dad sent us off with a picnic hamper from Harrods (I kid you not) and I can still remember the vividly-striped beach shirt I wore! Perhaps I should offer a prize for identifying the car?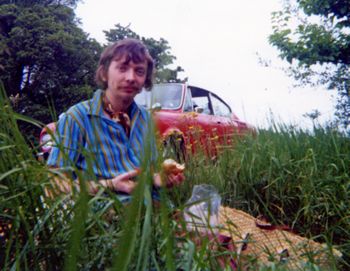 The picnic en route to Oxford, June 1974
Updated trip report to follow, therefore...
So, are the spires still dreamy?
In a sense, yes. Read on.
Just before we set off, I got an email suggestion (from one who obviously knows) that we should check out the Pitt Rivers museum. Geoff, we shall leave our visit for a warmer day, even though I have never seen a shrunken head, and despite the fact that one of my heroes (Tim Hunkin) has built a collecting box for the museum! But thanks for the tip.
In 1974, I bought a copy of the Last Whole Earth Catalog, so I know from my database (see how sad I can be?) that the date of our trip was 1st June. Today (bear in mind I am something of a completeist) I found Taschen's wonderful one-volume collection of Winsor McCay's Little Nemo, 1905 - 1914. I had spent five years visiting the "Dover Books" shop in London to get hold of their irregularly published but sumptuously-produced six-volume set. They were a little marred by editorial sniping about correct sequencing. Today's acquisition definitively caps my McCay collecting.
More to come, but FilmFour is about to start showing The Quiller Memorandum. Gotta dash!
I note that Chris Petit writing in my 2004 edition of the Time Out Film Guide incorrectly attributes the film to Len Deighton. Rather heavy direction, but fascinating for the forty year old look at some of what was then West Berlin to the adult member of our household.
The other gem was 1089 and all that by David Acheson. Any maths book that starts with a Steve Bell cartoon on its cover and ends with Euler's formula gets my vote (or, in this case, my £13.99).

Beautiful, isn't it?
15 November 2006