2010 — 24 January: Sunday
Having just surfaced, as it were (yawn) I now await news of Mike's debugging before I will know if the walk for today is "on". It's 08:59 and counting. No rain, lots of cloud, and some signs of a sunny thing up there somewhere.
No walk today. So, next item... that crockpot needs stuffing. See to it, will you? Can't I have a cuppa first? Yes, but get a move on. We haven't got all day. (We have, actually!) [Pause] Right, stuffed! Ready for breakfast, yet? Nope. Well, don't leave it too long...
Peter thought Avatar was "awesome", by the way. Though whether that verdict applied more to the CGI or to the story I couldn't possibly say. On with the show. I have some overdue emailing to catch up on. It's 10:45 and the sun is actually shining.
The sky is blue...
... as I munch my lunch — at 14:17 or thereabouts — having giggled at the piece by Alan Coren's daughter. Source and snippet:
People say that divorce is the second most stressful thing to experience, below bereavement and above moving house. Well, I have just moved house and let me tell you: it's top. Bereavement is sadder, but at least nobody turns up and hangs your curtains upside down.
I note (belatedly) that "learning to drive a car on the UK's moron-crowded roads" doesn't feature on the Holmes and Rahe stress scale.1 Actually (and I admit I guffawed when I equally belatedly realised it) the "stressful life events" purportedly time out after a year in any case. So, no more of Holly Golightly's "mean reds" for David then. Yippee! :-)
Another good guffaw. Jarvis Cocker has just told us (that miniscule subset of this grateful nation listening to a minority BBC digital radio channel, that is) that today is "officially"2 the most depressing day of the year. He's turning out to be another excellent DJ, by the way.
And it's 26 years since the launch of the first Apple Mac. Good grief! (Remember that hammer-swinging female?)
Lacking resolution
Not that I have the slightest interest in the rubbish spewed ceaselessly out of that nice Mr Murdoch's satellite TV broadcasting system... but, having kept half an eye on television technology since the mid-1960s, I was interested to find this brief (and sadly light-weight) description of the way his proposed 3D TV system works, on the "Which?" web site:

Naturally, the BSkyB page is describing this as "high definition 3D". Well, they might say that, but I couldn't possibly comment. Well, not without knowing a lot more about that "special panel". And here is the perfect visual accompaniment. You have to admire the way our brain extracts meaningful patterns from such seemingly random input.
It never rains...
... but it pours. I was just (17:20 or so) drawing the curtains at the back of the living room and noticed what looked horribly like a couple of damp spots on the ceiling, vertically below the position of the relatively new radiator in Peter's room. (That sorry saga was here.)
Sure enough. On clearing a path to his radiator, and finding a wet carpet and a few bits and bobs, here's the current situation, complete with the faithful red bowl I used last time: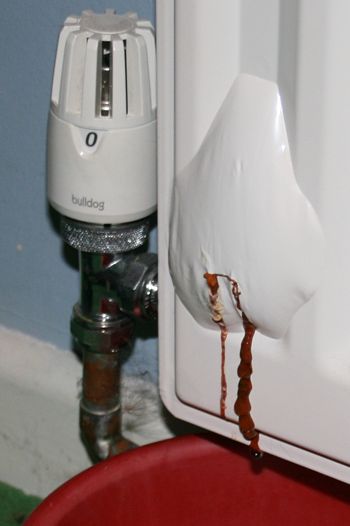 I can really do without this aggravation! That looks awfully like a manufacturing defect3 to my untrained eye. I've called my chum Brian the plumber, of course.
Imitation versus flattery
My chum Brian the programmer just pointed this item out to me. Glad I didn't shell out for a Lexicon Blu-ray player as it's some $3,000 more expensive than my Oppo. And yet, if the article is correct, it is actually nothing more than an Oppo chassis, drive and electronics in a new physical case, labelled "Lexicon". Amazing.
Right. Time for some potted crock. Though I can't say I have much of an appetite at the moment. It's 18:48 and I'm rather fed-up!
Flotsam and jetsam
Guess what I found when I rescued a couple of soaking boxes of papers from the vicinity of Peter's damp carpet? This had been safe in the loft for years, but bringing stuff down to sort through it obviously unleashed the local equivalent of the curse of the Mummy's Tomb. Mercy me, it's 35 years old! Look at that handwriting. Mind you, I still don't edit much, either...
I got paid for this, you know :-)
Footnotes