2009 — 17 May: Sunday
Tonight's picture of Christa dates from the late 1970s on one of our numerous holiday trips over to her parents' place in Meisenheim: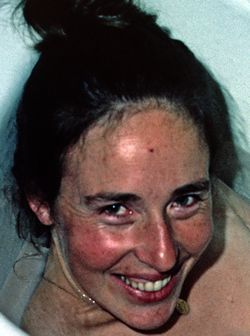 Christa in Meisenheim, late 1970s
I note she's smiling about as widely as I was while watching Brian Blessed make a delicious fool of himself as chairman of HIGNFY on a Freeview channel ("Dave") that I don't think I've ever watched before. A quick burst of Reg Dwight on the BBC hi-def channel has sent me back upstairs however, though I still have to nip down to do the dishes before I can call it a day.
Well, it's clear (starry) and quite cold outside at the moment, though Mr Weather predicts a lot of rain hereabouts (until, basically, next Thursday, I gather).
Time (00:42) for some sleep. G'night.
Drip, drip
There's (currently, at 09:47) a bright blue, sunny sky. But having just opened the skylight, all I could hear was the sound of the recent rain gurgling down the gutters. Time for a reflective cuppa and some OJ.
Fuller's Earth
I bought and read my first book by (Richard) Buckminster Fuller back in 1972 while still pretending to be an engineer. And I still have a 1969 Pelican collection of his essays...
Next we are going to take away from all the countries of the earth all the politicians, all the political ideologies and all the political party workers of every kind, and we are going to send them all off1 in satellites for a trip around the sun. As long as the politicians are absent, everybody on earth who has been eating is going to keep right on eating, and with all political barriers down the prospects of arranging to take care of the needs of the rest will accelerate, and humanity everywhere on earth will prosper.
... so I read a WSJ piece by Terry Teachout (their drama critic) with both interest and some disappointment. I resented (for example) the implication that I'm a "brainy technocrat" — I admit that, by comparison with some of my fellow travellers I could be called "brainy" and (ditto) a "technocrat" but the author clearly uses the phrase as an insult. But I was completely charmed by one of the accompanying illustrations. It's from the National Portrait Gallery, Smithsonian Institution, and I deduce it was painted as either a cover or an illustration for "Time" magazine (which I actually subscribed to for a year back in the late 1960s).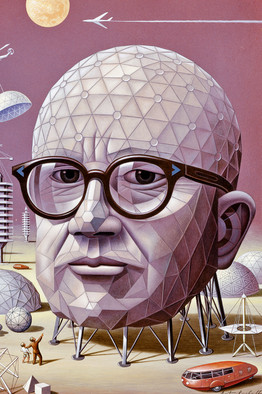 It's well-nigh perfect. Right. Time for a spot of breakfast. It's 10:29 and further rain clouds are piling up.
As the morning ends, I've now heard the late Ned Sherrin cantering through a range of his theatrical anecdotes, and learned that 88-year-old Peter Sallis would choose as his Desert Island luxury a Meccano Number 7 set. Nice.
Get down, Koestler, get down
I've mentioned before my theory that, if you have enough books knocking around your house, you eventually get to hear their authors on BBC Radio 3. Today's example is the poet Fleur Adcock,2 whose delightfully rude collection of medieval poems ("The Virgin and the Nightingale", mostly in Latin) is gathering dust somewhere since I last looked at it. She's on Private Passions at the moment. I was pleased to deduce her identity before looking at the Beeb's web site.
With the scanning of the cover of "Syriana", I can declare the letter "S" more-or-less3 complete. It's time (13:34) for some lunch.
I know I shouldn't, but...
Buried on this shameful page is a little nugget about a former Home Secretary not having a TV licence... Schadenfreude is such a useful word, isn't it?
Can you see...
... what it is yet?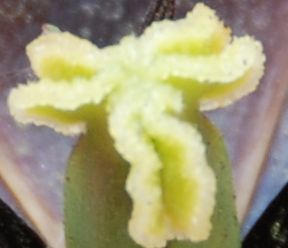 Floral naughty bits
A picture taken by Mike on our walk two Sundays ago up near Beacon Hill. It will have to stand in for the walk we're not enjoying today.
The devil finds work...
Having read the amusing transcript of the latest "opinion" by Clive James (here)
and then the somewhat meatier piece by Heather Brooke (here)
it didn't take too much effort to skim through her blog (here)
and go on to sign the petition (here).
I have my cardboard suitcase packed, and await the 3 a.m. knock on the door by the secret police!
Tanner '88
It's just turned 22:28 and I've just scanned the cover art of my Criterion collection two-DVD set of "Tanner '88", which brought back some happy memories...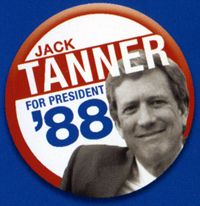 I had this to say about it 21 years ago (to be precise, on 13 May 1988) to my friend Carol (who was then living in Florida to be near her elderly parents):
Did I mention the wonderful spoof TV programme directed by Robert Altman and co-scripted by him and Garry Trudeau (Mr Doonesbury)? It was called something like Dark Horse '88 and was all about a fictional Democratic presidential candidate called Jack Tanner. Guest appearances on his campaign trail in New Hampshire by various real life players. I gather that the 90-minute version we saw was cobbled together out of a series of shorter segments that the producers have been running in the US and that they hope to continue to run this "shadow" candidate throughout the real campaign. Trudeau's one of my heroes.
I was also sorely tempted to buy it when I spotted it on LaserDisc in the Florida Mall4 in late October 1992 while on an IBM-sponsored holiday "prize" but it was a little too rich when spread out over four 12" discs and good sense prevailed. We'd already bought a new suitcase just to accommodate various books and LDs that were only available in the Land of the Free.
It's 23:32, and the music on BBC 6Music is as wonderful as the rain is horrible. Hatches battened!
Footnotes