2009 — 16 May: Saturday
For tonight, a picture of Christa "on the rocks" somewhere on the Guernsey coastline, taken in the summer of 1977: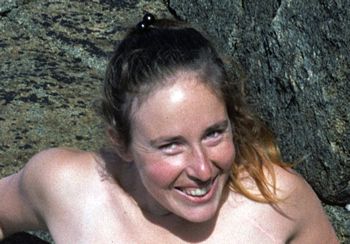 Christa in Guernsey, 1977
As for the film Year of the Dog — it's a wry little comedy set in a dog-eat-dog world. Very different from Best in Show but none the worse for that. And, for the trivia buff, the Peggy character's boss is played by the son of physicist Abraham Pais, who wrote the rather wonderful 1982 "Subtle is the Lord" (a biography of Einstein). Woof!
Time (01:18) for some sleep. G'night.
Getting off to a...
... sluggish start (at 10:30) but not missing much, as the rain shower that's just ending is pretty horrible. But I'm delighted to learn that the Berlin production of the wonderful "Producers" has got off to a good start.
Creative gardening
This is just brilliant:
In Rutland, where fellow Tory Alan Duncan agreed to pay back nearly £5,000 of gardening expenses for tending the small plot around his constituency home, a 3ft pound sign was carved into his lawn and filled with campanula and violas.
Duncan initially reported the incident to the police but quickly changed tack, preferring to pass it off as a joke. "At first I thought: 'Oh no, this is getting nasty.' But actually they've been quite funny. These are serious times but at least in the middle of it all we can have a bit of a laugh at this one."
But Heydon Prowse, editor of the politics and culture magazine Don't Panic, which was behind the stunt, wasn't laughing. "We were outraged in general by all the expenses claims coming out. Alan Duncan was a nice easy target. The flowers are a nice Tory blue. We thought about it."
More sinister digging
This, on the other hand, is horrifying:
The powers that give 'Commissioners for Revenue and Customs' access to the ID cards audit log were buried away in orders laid before Parliament earlier this week — at the same time as the full extent of the expenses scandal was emerging...
Phil Booth, of the NO2ID campaign, said: 'It would be hypocrisy of the highest order for politicians so reluctant to come clean on their own personal finances to pass legislation that would let the taxman snoop through all of ours...
It comes after Jacqui Smith's announcement earlier this month that members of the public will be expected to have their fingerprints taken at the Post Office or in high street shops and pharmacies when they sign up for a card or passport.
Briefly back to Berlin
Did you know that Charlotte Rampling is the daughter of our oldest surviving Olympic gold medal winner from the 1936 Berlin Games? Godfrey has just turned 100, apparently. Gosh! (Source.)
But avoid Moscow (whose mayor, Yuri Luzkhov, has described gay parades as "satanic"). Has he read Dennis Wheatley's book, I wonder? (Source.)
(Much) later
Busy day, to the accompaniment of, among other things, the David Edgar play, a fascinating "Archive Hour" about the poetry archive, some wonderful Sufi music, some fabulous jazz, and now (as I tear myself away from the PC) the prospect of no less than three episodes of HIGNFY more or less on the trot. It would also have been a pretty fine day for a walk, dammit, the way things turned out. Never mind...