2009 — 9 February: Monday
Another nasty forecast for tonight, though it seems likely to be rain in this little patch. I can date tonight's picture of Christa with some "precision" having taken a gander at some of the books visible behind us. It's after the 5th of November 1999 ('cos that's when I bought Projections 10) and before 20th January 2001 ('cos that's when I bought Projections 11, which isn't on the shelf). Logical, Mr Spock: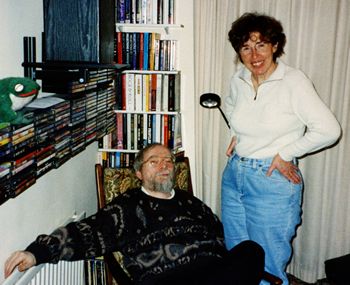 Christa and David
G'night.
Rhinoviruses
Rumour has it we each get two batches of the little horrors1 per year. I note, therefore, that I was overdue. Doesn't make the symptoms any more pleasant, of course. As I said to a chum yesterday, I just simply refused to be ill while I was nursing Christa; I have less incentive when it's just me, it seems. Mind you, these ailments are both commonplace and seasonal. It is mid-winter, after all. I cannot avoid all human contact and there are plenty of coughers and sneezers around.
Still, hot cuppas help. Meanwhile "Start the week" is surprisingly entertaining as it dances around the issue of freedom of expression. "Everybody is looking for an excuse to be offended so they can air political grievances."
Contributions to world culture... dept.
I recall, of course, the opinion of "Otto" (the gloriously stupid ex-CIA thug in the 1988 film A fish called Wanda) that the British contribution to cuisine was the chip. Likewise, it seems, Bernard DeVoto declared a dry martini the "supreme American gift to world culture." (Source.)
This made me smile — thanks, Ute!

This, too, made me smile — even if it's half a dozen years too late, rather mealy-mouthed, and not now going to make much difference: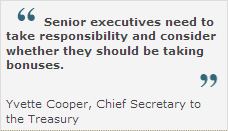 Footnote