2009 — 25 January: Sunday
Tonight's picture of Christa and Peter reminds me of the logistical nightmare that all parents setting out on car trips with youngsters experience... I must say, the oil beneath that Skoda (which was by then, at seven years, fast reaching the end of its useful life) didn't encourage us to go on very many long trips. Hence the busy freelance writing projects to earn enough to buy the little Honda we'd taken a shine to.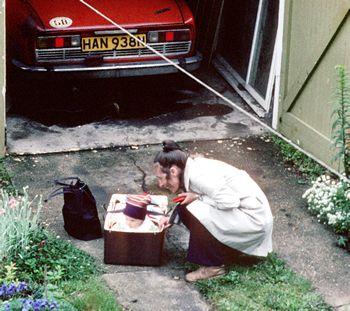 Christa and Peter in Old Windsor, 1980
It's 00:26 or so and will soon be time for the last set of meds for the day. I made a stab at the Kenneth Branagh modern Shakespeare film on the HD channel earlier, but lasted less than twenty minutes. Apart from that, it's been a day for peaceful tinkering on various PC projects and files. And lots of excellent music.
Yawn. G'night, at 01:26 and fully-medicated.
Tell me something I don't know!
They are having a run of bad luck with my server's disks. It's 09:52 and all's still not well (email and web servers):

Signs of an unslipped disk at 10:56 — but for how long, I wonder?
Gosh!
[Lord Myners] also told [the Times] he could see no economic justification for the exponential rises in pay over the past 20 years. Bank executives should decide for themselves whether to pay back their bonuses or lose knighthoods, he added.
The distant sound of a door slamming shut on an empty stable...
Time for a spot of lunch while I listen to tales of potential dishonesty in the House of Lords. How can that possibly be, I wonder. I thought that the "great and the good" were supposed to know, and behave, better than the "great unwashed" they so often clearly despise.
Later that day
Web server and email seem to have settled down in the last few hours. The BBC 6Music Freak Zone is bubbling away and I've decided on tonight's meal, but not yet tonight's entertainment. The finger continues to improve. I have actually been able to do some typing with it. Thank you to the people who've kindly used Googlemail to confirm they can reach me during the out(r)ages. It's a good job we don't ever rely on these PC things, isn't it? Somehow it's nearly 18:00 and I'm hungry again. Probably means I'm not hibernating (I was amused to learn that French peasants did until the 19th century — can one entirely trust information delivered via "QI", I wonder?)
It seems one can:
Until the 20th century, few people needed money. Apart from salt and iron, everything could be paid for in kind. Economic activity was more a means of making the time pass than of making money, which might explain why one of the few winter industries in the Alps was clock-making. Tinkering with tiny mechanisms made time pass less slowly, and the clocks themselves proved that it was indeed passing.
Tonight's entertainment?
I've just finished watching all the "extras" on disc 2 of Snow Cake. Absolutely magical. Now, about that cuppa... And finishing off the smoked salmon in a sandwich before it goes the way of all flesh. Yum! It's 22:30 and, I must say, it's been a pretty good, soothingly productive day. And now Guy Garvey's playing a fabulous piece by Nusrat Fateh Ali Khan and Michael Brook. Try getting that onto your average national radio playlist. I like 6Music.
I have, quite deliberately, avoided the Julie Walters drama about assisted suicide. It was enough watching the (excellent) Hugo Blick monologue last September.