2008 — 2 September: Tuesday
Indian summer? Pah! I actually switched the heating on briefly last night. Time for tonight's picture of Christa: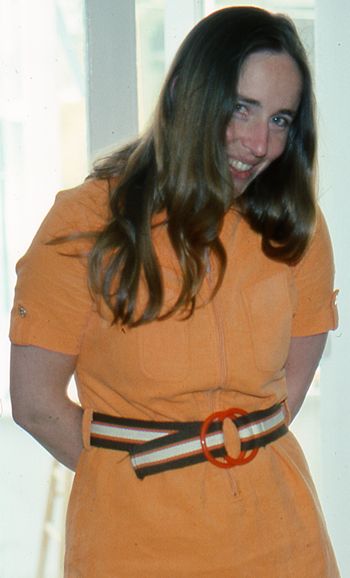 Christa in the Old Windsor living room, again in 1976
Must get some more supplies in later today; hope the rain stays away.
One of my favourite writers is Alan Plater. And his "Beiderbecke Affair" was much enlivened by the actor (Terence Rigby) who played "Big Al". I'd missed the fact that Rigby died a couple of weeks ago. (Source.)
G'night. <Sigh>
Dismal science... dept.
I've just been reading a long piece about the continuing gender bias in American higher education and society (here) and turned, for light relief, to today's Guardian. Fat chance!
Faced with six decades of what at best may be called a patchy record, and at worst would be described as brief sunny interludes between economic storms, was the second lord of the Treasury really saying that the pricking of Britain's housing bubble and the gumming up of the City was worse than everything that had gone before?
Still, it's good to know that our bosses continue to look after themselves so well, isn't it? "The average pension of directors in Britain's top 100 companies was more than £200,000 in 2007, when the average for workers was just over £8,000." Directors can also accumulate their pension in half the time, and retire at 60. How cool is that for the little lambs? (Mint Sauce!)
By the way, I thought two of the three Hugo Blick monologues I watched last night were excellent. I was less convinced by the one with Bob Hoskins. Sheila Hancock's performance waiting in a Zurich room for her euthanasia cocktail and gathering her thoughts for a final message to her husband made me howl a couple of times (but smile a little, too). Very poignant stuff for me, at least. I would have been discussing it with Christa, I'm sure, if she were still here.
Noon soon... dept.
I have an early afternoon walk planned; the shopping is safely gathered in; the black bin retrieved from over the road; the laundry has done its drying thing; Mr Postie has bypassed me1 today; ERNIE has just coughed up his little bounties for both me and Christa, bless 'im; and I have a Friday lunch-date with young Len to look forward to. Actually, it's about time to say "Hi" to the MQ mob, too. We shall see.
Dammit! I forgot bananas. I can remedy that when I top the tank up.
Clive James is a class act, particularly when writing about Europeans. I was completely fooled by Stokowski:
As opposed to some of the other European con men, Stokowski was fake to the roots. Erich von Stroheim at least knew how to pronounce the word "von" before he stole it. "Leopold Antoni Stanislaw Boleslawowicz Stokowski" undoubtedly had a Polish background somewhere in the rear distance, but his real name was Leopold Anthony Stokowski and he was born in England. His first wife, Olga Samaroff, was really Lucy Hickenlooper. She had met the right man. Stokowski made up the whole thing. Even his accent was made up... And whether or not Stokowski ever slept with Greta Garbo — his personal testimony on the subject might be comparable to the Hollywood restaurateur Mike 'Prince' Romanoff's personal testimony that he was a Russian nobleman who shot Rasputin — there can be no doubt that the conductor could read the dots.
One of my first "Classics for Pleasure" vinyl albums, bought in Cambridge 37 years ago, was "Stokowski conducts" for a wonderful "Ride of the Valkyries" long before it was used to such stunning effect in Apocalypse Now. (Mind you, a little Wagner goes a jolly long way in my opinion.) Right! Time for walkies...
Is Amazon psychic...? dept.
I mentioned the late Terence Rigby and his appearance in Alan Plater's gentle Beiderbecke comedy plays above, though I wrote the entry about fifteen hours ago. I've just returned from a pleasant little trot around Hinton Ampner, checked my email, and here's Amazon telling me that "We've noticed that customers who have purchased or rated "The Beiderbecke Affair" or other films in the ( R ) > Rigby, Terence category have also purchased "Who Bombed Birmingham?" on DVD. For this reason, you might like to know that "Who Bombed Birmingham?" will be released on September 16, 2008."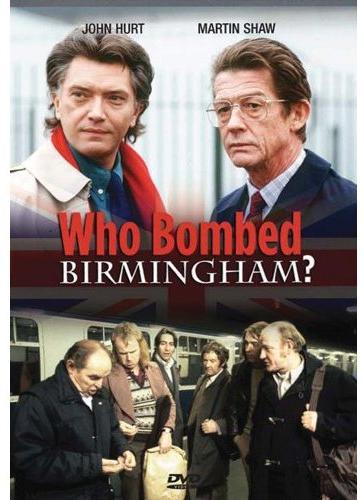 Of course, it's hard to see how people have managed to buy an unreleased DVD of a 1990 TV film, but let that pass. The film's IMDB entry makes it look most interesting. Seems it was probably at least partly instrumental in getting the original convictions quashed. I notice Chris Mullin MP was involved, too (being played by John Hurt in the film). Mullin did an excellent job (with Alan Plater) on the screenplay of his novel A very British coup back in 1988.
Time (18:04) for an evening bite or two, methinks.
Later!
I reckon Sue Perkins will win "Maestro"...
Footnote