2008 — 21 November: Friday
Hoping for another walk later, but first tonight's picture of Christa: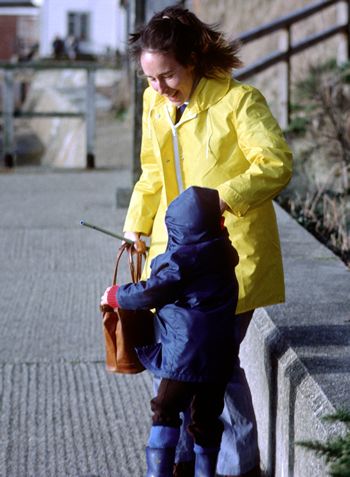 Christa and Peter at Netley
As I mentioned just over a year ago, we often visited the grounds of the Royal Victoria Country Park in Netley, and loved to walk along the sea wall.1 We often took visitors there, too. As I've said before: happy days. G'night.
Wrenched, I was...
... wrenched from the arms of Morpheus by the cruel jangle of the phone. So now I'm stuffing my face as fast as I can with breakfast and will shortly prep a packed lunch and head off into the wilderness. (We're relying on the BBC's feather warcast to keep us dry.) I must say, I got quite enthusiastic about using my little Dyson last night, and various nooks and crannies are significantly less dusty this morning.
It's also been "glass bottle" collection day today (already). I didn't bother, however, as my contribution to the recycle mountain would have been precisely two items in a month: a Lidl marmalade jar and a tiny bottle that had held Waitrose cooking wine. (Hic.) It's 09:28 and looks a little dour out there. "The quality of Ginzburg's right hand makes for the most bell-like 'campanella' I've ever heard," says the continuity lady on BBC Radio 3. What does she mean, I wonder? (Liszt's Paganini Etude No 3 (La campanella) played, if you please, in the year I was born by Grigor Ginzburg.)
Back, and on my next chill-dissipating cuppa
It never actually rained, but nor did the sun get to do much shining. Another six miles added to the healthy total (our rough estimate is around 750 miles in the last year, which ain't too shabby). So now to start the weekend. It's 16:23 and twilight is definitely occurring out there already.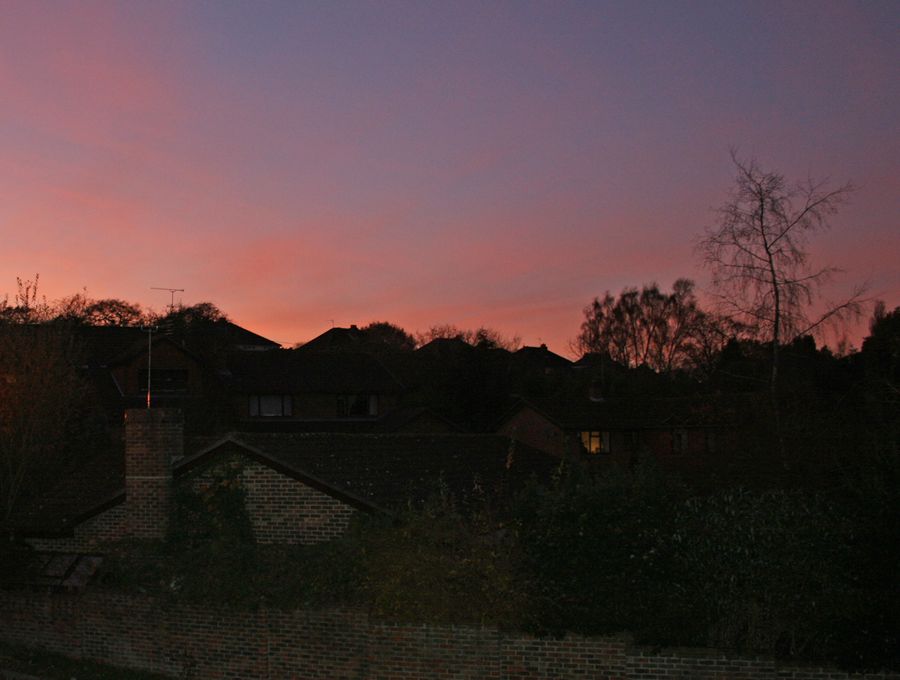 Shepherd's delight, methinks. What a time of year. The motorway was horribly busy, too, says he who cunningly avoided it. I think I may just have to start reading Little Dorrit as I now wish to know what happens next! (The same thing happened with the excellent 1994 David Lodge-scripted "Martin Chuzzlewit" — the version with Paul Scofield.)
Time (20:59) to see what kind of chaos Jack Dee presides over on "Have I got News For You".
What's that smell?
Back in March I noted a New Yorker piece by John Lanchester reviewing "Perfumes: the guide". It had a lovely snippet by Luca Turin describing Lancôme's Trésor. A couple of days ago, Angus Trumble got around to reviewing the same book in Mr Murdoch's rag. Or, to be precise, in The Times Literary Supplement. There's a trenchant dismissal by a gentleman from North America as the single comment so far.
I have just re-installed Winamp on my HP Media PC (taking great care to minimise the selection of various "bloating" options). It's so nice to have direct access to several thousand CDs (27,079 tracks and counting) and, if I ever re-discover how to set it to shuffle play, I shall once again be in audio heaven. My NZ Mac enthusiast will probably wonder "why doesn't he run iTunes and be done with it?" Well, my history of that application running on Windows is not much happier than running it on my iMac. And the iMac isn't physically near the hi-fi system up here in the study. For "industrial strength software" I find it far too easy to crash or lock up OSX when syncing my iPod, too. But how did it suddenly become 23:52? And cold, too!
Footnote