2007 — 3 November: somewhat misty Saturday
Time now (07:50) and I'm just having the day's first cuppa. Natalie is awake; Peter not yet. I must go get some more fruit juice1 for Christa before we set off to the hospice. I think I'd rather do that early, given the likely volume of Saturday shopping traffic, so I fear Peter's sleep may soon be disturbed. I'll drive them in to see Her later this morning as they need to return by late afternoon. A pity, but I understand.
Juice, and other sundries safely obtained, and a neat reverse parking back onto the drive that only took three attempts. Brief demonstration of the noisy nonsense that is Top Gun — yep, the same film with which I destroyed the beloved Celestion Ditton 66 speakers all those years ago when playing the LaserDisc variant to a New Zealand niece. I've called the hospice to check on the sort of night Christa had: not brilliant, alas, but more comfortable after another aspiration of Her tum. And She's had a few Rice Crispies (as has Natalie, come to that).
OK, time to gird the loins and set off into the traffic yet again to pop in and say "Hello, my love" and introduce Natalie to Her. Big, big smile of delight and friendship, 'cos that's exactly how my Best Girl is with any new friend of Peter or me.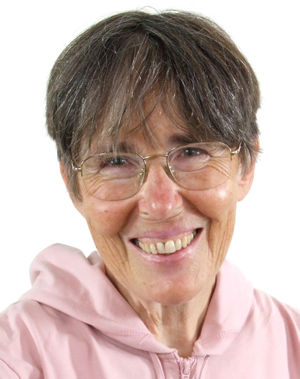 Christa's delight
At Her excellent suggestion, I drove back from the hospice via the Royal Victoria Country Park in Netley. We stopped for a 30-minute wander along the water front, as we've done as a family many, many times in earlier years. Beautiful sunshine, mild; how She would have loved to be there with the three of us! I've picked up a few more sea shells to take in this afternoon to show to Her. Back over the toll bridge and Bevois Valley, Thomas Lewis way, etc. then it's time (12:53) for my next cooking lesson, and then back to the hospice it will be before the youngsters hit the return trail.
Spicy Cajun chicken sauce, fried chicken breast, onion, green pepper, yellow pepper, rice and a tad or two of spice powder. Followed by half a small (250ml) bottle of low-alcohol (0.5%) shandy, and back out into the traffic. Just for a change, we returned via Allington Lane, Hursley, and Poles Lane and I discovered what 70mph up a gradient feels like on a "national speed limit" stretch. Very smooth. I also drove through the IBM Hursley site just so I could say I've done it. After all, I worked there for over 25 years...
Next task: clean up the chaos in the kitchen, I guess. And then take a look at the photos I took as they set off in the Aygo. I need a holiday! But I'll settle for a cup of tea and a nap. Am I getting old?
Evening update
Shelagh kindly rode as my co-pilot for the evening visit #3 to the hospice. My Best Girl is mostly asleep by this time of day. She is not in pain (which would leave me distraught) so I largely find my emotional state to be one of numb tiredness. This has been going on now for what seems to be such a long time, and my poor Christa seems to be slipping away (just as I know She will, of course). But it is so hard to accept this, and yet it is beyond — utterly beyond — my power to do anything about it. I have never felt more sad, nor more helpless, in my entire life.
I know She's insisted I look on this as a relief, an end to pain, a blessed rest after such a struggle. Amazingly, driving still helps just as the ambulance transport drivers assured me it would (another 56.7 miles added today, in total) and (while I am driving) I even find myself singing to myself just as I used to do as a passenger. The ditties tend, I admit, to the obscene, and feature reflections on idiot cyclists and pedestrians wearing dark clothes, carrying no lights, and veering around seemingly at random (or, at least, somewhat dopily). Other drivers2 (apart from the obvious Boy Racers, the size of whose exhaust apertures seem to express a degree of wishful thinking) tend not to be the problem.
We stopped off in Asda to allow me to make a complete cods of parking, and nip in for some smaller fruit juice bottles for my thirsty lady. She shall have them tomorrow, come what may.
Footnotes