2008 — 22 October: Wednesday
Mustn't forget I have that lovely root canal filling to look forward to later today! (As if I could.) I've just watched a rather gloomy weather forecast, too. It looks as if the days before the weekend are going to be pretty horrid. Oh well; tonight's picture of Christa will cheer me up: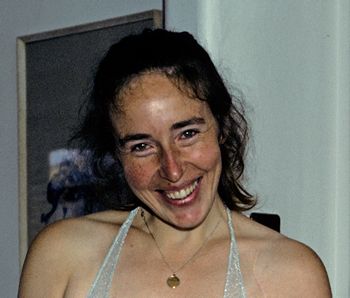 Christa in the Old Windsor living room, circa 1978
Well that, and the news that Glen Hansard and Marketa Irglova (the charming real-life couple from the film "Once") have an album out together. It's 00:12 and time for some sleep, methinks. G'night.
Elisabeth Luard is on "Midweek"...
... and sounds very similar to Eleanor Bron. Libby Purves never sounds any different! The sun is shining, too. Time for breakfast. And a chance to ponder the most recent email request for a copy of one of my old recordings. Yesterday's little expedition was actually in hopes of finding another USB external sound card as I gave my previous one to my main co-pilot. (Mind you — radical sudden thought — I suppose I could always try using the "media" capabilities of the "media PC" downstairs. I grant you it's the one PC around here that runs [limps] under Vista, but how hard can it be?)
Mervyn King (who really ought to know, as manager of the Bank of England) has for the first time said in public that Britain is most likely1 entering a recession. This, despite all the money his outfit is printing and giving away to all those lesser banks. Can you hear the wolves howling as they descend from the hills?
I doubt if Nero fiddled while Rome burned, but he obviously left a descendant:
Mouradian claims he was in charge of deciding how the pooled money was to be shared. For the second half of 2006, the bonus purse contained £1.43m. Two members of his team received payments of £60,000 and £47,000, while another was given £2,000. The remaining desk employees were awarded nothing. However, documents submitted to the court show that Mouradian awarded £1.32m — or 92% of the total bonus pool — to himself.
He's in court because he feels he was short-changed!
Nearly time for the drill
Or to get the bit between the teeth, as it were. Just had a call from dear Mama's younger sister. There's been a cash offer for the house that belonged to the oldest sister — the one whose funeral I took the aunt from Northampton over to last month. "Did I think it was a reasonable offer?" Well, given the remarks from the governor of the B of E, yes I have to say I think it was a low but realistic offer. The house is just over 50 years old. It's a three-bed detached on a nice corner plot, but needs rather a lot of work doing internally.
Into every post-dental episode2 must come a little cheer. Today's is via Mr Postie: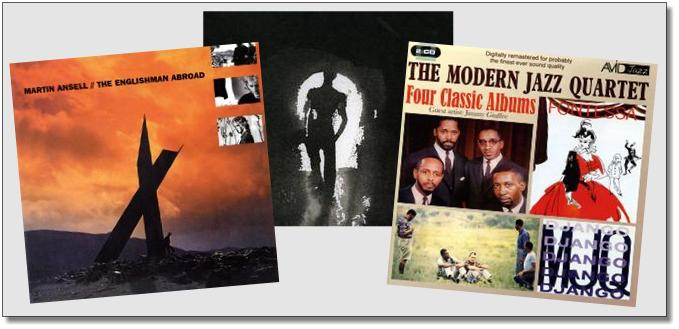 Suddenly it's 12:54 and time to think about a spot of lunch. I will let the Aaron Copland finish first, though. He's a composer I feel I should like more than I do, somehow. These CDs? Well, I heard some music from Martin Ansell the other night on Radcliffe and Maconie. No! It was while I was doing one of my irregular "search the Interweb to see what Rupert Hine's been getting up to lately" fishing expeditions — when I saw the names involved with this album (recorded at the time of Tina Turner's "Private Dancer") the decision to buy was not difficult. (Check out the titles here!) I was already aware of the forthcoming Nitin Sawhney (London Undersound) from a couple of months ago, and the MJQ is, well, the MJQ. At £3-99 for this double CD it was also a no-brainer.
By the way, I revisited the picture of Christa above earlier this morning, to see if I could Photoshop a slightly better skin tone. In doing so, I suddenly realised it clearly shows the scar on her left shoulder from the surgical repair to her socket and tendons back in the summer of 1974. It was that surgical intervention that kept the poor girl in the UK long enough for me to persuade her to marry me and relocate here rather than returning to Germany and a post-graduate teaching career. A very smart move on my part — trust me!
Time to call in on...
... Roger and Eileen for a "ketchup" chat. It's 15:52, but the sun is drooping and has very little warmth to it. Nope; slight change of plan 'cos Roger was feeling a bit sub-prime. Plan "B" therefore swung into delayed action. In days of yore, when my dentist was where Waitrose now is, I would always reward myself for being a brave lad (that is, showing up, albeit with gritted teeth) by popping over the road to Jonathan's nearly adjacent Arcade book shop — yes, even when I was overdue back at the IBM orifice. My new dentist, a splendid youngster with a double-barrelled name, hoists his shingle above my GP's surgery a couple of miles away, so the book shop has been bypassed somewhat in recent years.
Obviously, this won't do, will it? So I drove somewhat circuitously there, and snaffled the following glittering pair:
I yield to nobody in my admiration for English literature's "performing flea", but am only really familiar with his Jeeves stories and, of course, his marvellous autobiographical writings. Ned Sherrin was always both amusing and erudite, too. I used to buy dear Mama an annual subscription to the "Oldie" until she complained about the back pages filling up with ads for Viagra "and other filth", at which point I called it a day. (The last thing I remember buying from one of their back page ads, by the way, was "Promise me you won't laugh" — an excellent set of cartoons by the late Lawrie Siggs.)
Speaking of erudition...
... or, perhaps, lack of same. My American friend sent over to me (forwarded from gawd knows where) a mild tirade that suggested, not very subtly, that there just might be a racist agenda at play from time to time in her forthcoming election. I've extracted just the following interesting comparisons. I must say, I do occasionally wonder what would be the educational requirements specified if ever these "top jobs"3 were advertised...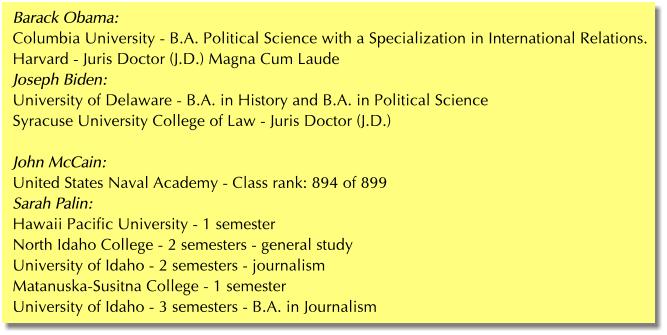 In later news...
Having heard Mark Kermode suggesting that the "Bond" movies are now the better for the "Bourne" movies (and Kermode, recall, thinks "The Exorcist" is just about the best movie ever made, bar none!) I decided to re-watch the first of the Matt Damon "Bourne" films this evening, and I must say I thoroughly enjoyed it. Christa and I went to Harbour Lights a lot in the 1990s, and we saw Tom Tykwer's 1998 film "Run, Lola, run" there. We both thought Franka Potente's performance in that to be rather beguiling. It is still odd to watch DVDs at home without Christa by my side, but it's also still enjoyable.
Footnotes