2008 — 10 August: Sunday
Tonight's picture? Christa, Peter, and dear Mama about to set off for a walk in Saville Gardens, having just driven there in that brand new (and amazingly clean) Honda Civic (paid for by a spot of freelance writing for the bit of ICL I had recently transferred out of). I had been busy, busy!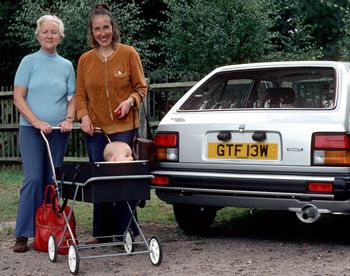 Christa, Peter, and dear Mama, 1980
With luck, and providing the rain holds off for a bit, there's a chance of a walk in the New Forest later today. Fingers crossed.
G'night at 00:11 or so.
And good sunny morning...
... at 08:33. Mind you, some idiots noisily drove off last night at about 02:30 having been kind enough to leave an engine running and a car radio noisily on for long enough to ensure my complete wakefulness. People can be remarkably thoughtless at times. Perhaps they will have been lucky enough to have a puncture on their merry way? I need to load some breakfast and a packed lunch to prepare for my own merry way.
Amazing! There's a discussion about 3D films and their history on NPR's "On the media" and one of the participants is one Ray Zone, who features twice in my little library as the penultimate author (alphabetically, that is). I didn't know that the director of House of Wax (probably not Vincent Price's finest hour) was directed by a chap (André De Toth) who only had one eye! Now that's what I call a piece of ironic trivia.
After attending services at a government-approved church in China, Dubya is calling for greater religious freedom. Now that's what I call an oxymoron. And hearing that one of the people behind the release of the Pentagon Papers has just died...
Anthony J. Russo, a shaggy-haired, countercultural, unemployed policy wonk when he teamed up with Daniel Ellsberg, a more button-downed antiwar figure, to leak the voluminous, top-secret government history of the Vietnam War called the Pentagon Papers, died Wednesday in Suffolk, Va. He was 71.
...perhaps it's time to re-show that wonderful 1977 TV series Washington: behind closed doors? (Now that may well have been Jason Robards' finest [12] hours.)
Still sunny
It's now 10:06 ("Car Talk" has just started) and the weather looks very promising. Breakfast is on-board, a packed lunch is prepped, and I have a few minutes before my chauffeur is due to arrive. Mind you, I still have to get dressed, extricate the camera, find the boots, and fill the rucksack. Should all be do-able. No delays showing on the "traffic" site, either. Off we go...
Barometer dropping...
... but it didn't stop us enjoying a re-run (walk, that is) of the very first route I undertook in this new, post-Christa world I now inhabit. Only a couple of minor showers, and trees to shelter under during them. Plus a couple of grass surfers — a sport I'd been unaware of. Three congenial companions, a lunch stop at a trig point (that's Mike's replacement GPS unit sitting on top of it, by the way) — click the pic to see the original unit's state (that's to say, after it had fallen off the roof of my car and then, we assume, been squished by one or more vehicles as it lay on the road for the twenty minutes or so it took us to realise what had happened and return to find it) ...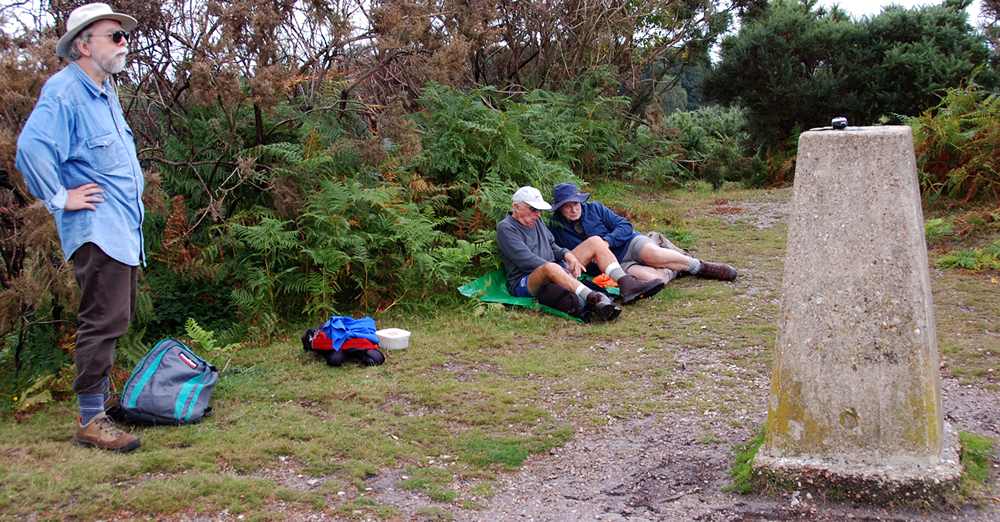 The poor, battered old Garmin
... a coffee stop on the way home, and back by 15:30 or so. Nice blast of cobweb-dispersing fresh air; thanks, gents. Now we've got Judie Tzuke's lovely 1979 song "Stay with me till dawn" on the Radio 2 pops programme. Followed, alas, by the moronic "Duke of Earl".
From above, heh?
It looks almost as if the BBC's Hi-Def channel has something on worth watching tonight, at 21:00 — and a clever webpage here about it. Goodness me, time (19:11) for a bite to eat, and some more domestic chores. And time to contemplate the list of tasks Big Bro has just suggested for when he turns up in a week or so. I predict a few more miles on my little car...