2007 — 16 November: Friday again already?
I'm trying something new today. (It is today, as the time is 00:38 or thereabouts.) I'm going walkies in the New Forest, after driving down there co-piloted by Mike P. I hope he's better at navigating down there than he was in Southampton in the summer... This will be after the morning driving lesson, and the subsequent bungalow cooking fest that will serve us up a delicious bacon and egg and fried bread lunch. Well, that's the plan in any case, and I've remembered to get the bread out of the freezer. (Though I now remember I've forgotten to bring the black bin back in through the garden gate.) Goodness me, Christa will1 be tickled pink I think.
Mind you, if it stays as cold as it was a couple of hours ago, I'll be fairly rosy-cheeked too, I suspect. Better get some sleep, I suppose. And recharge the camera's spare battery as the things tend to run out quite quickly when it's so cold.
You know it's cold when... department
The porch thermometer (at about 07:35) tells you it's -5C and everything is beautifully, crisply outlined in a white morning coat of frost. I think one of the Early Day motions (I believe that's the phrase) will be to clamber aloft2 and fetch down my warm winter anorak. I suppose I should pop all Christa's jackets and coats up there too, along with Her neat array of shoes currently parked in our hallway downstairs. I wonder, though, how easy it will be to negotiate our loft ladder with coats in one hand and a fresh batch of tears in my eyes! (Debussy's L'après-midi d'un faune [nicely depicted here] has just finished on Radio 3 and isn't helping.) Well, it is, actually, in a funny sort of way. Sniff. Sorry about that.
Come on now, Mr M. Time for some breakfast to up that blood sugar level.
Who knew...? department
That parallel parking was reducible to a handful of simple steps that I can actually do? Now that's a pleasant surprise. I've decided I prefer pleasant surprises these days. Christa's £50 Premium Bond has arrived in this morning's post... I knew it was en route but it's still very poignant. Letters and cards and emails fall into the same category, but even as I weep I'm ever more heartened to discover just how many people shared my opinion of my Best Girl.
Bitter sweet joke... department
We were always joking with one another, Christa and I. Because She was six years older than me (which occasionally sent gently anxious ripples across Her mind, though never mine) I told her that, statistically speaking, we'd be more likely to fall off the perch together. She eventually came to believe me, so I moved on to suggesting that perhaps we'd better give our marriage fifty years and then see if we wanted to renew it. To get me to shut up, on our 18th anniversary She presented me with the simple engraved paperweight that still sits on top of the right hand speaker in the living room...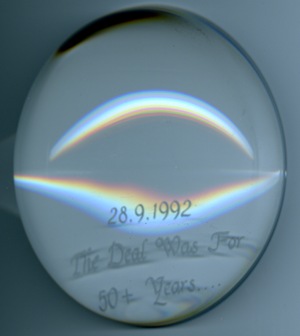 28.9.1992
The Deal Was For 50+ Years...
Later that afternoon...
A pleasant 12.7 miles or so down to Newbridge, over the cattle grid, park at the side of the road, and away we strolled for the next five miles or so. Thank you for suggesting this, Mike, and for your quietly sympathetic company on our little jaunt. I still think my return route was more straightforward, but at least we got back safely ahead of the Friday evening hordes. (Whether I will show the world the picture of the pig is yet to be decided.)
Meanwhile, Junior (who is now back in the UK and will drive down tomorrow when the jet lag has subsided a bit) proposes to put himself at my disposal for the whole of next week to give us both a chance to sort through our emotions, share our memories, and see what we can manage by way of a funeral service for our Dear Girl. The funeral director can't do much arranging before this Monday, of course, but I'll be doing what I can this weekend to contact Christa's many friends. They don't all have access to this Interweb thingy, it seems.
Footnotes