2008 — 22 June: Sunday
Tonight's placeholder picture shows Christa in the Old Windsor living room, 32 years ago. Vaguely visible behind her, apart from a variety of audio cassettes, are (on the floor) the portable Sony stereo radio-recorder that I bought (for £88) in 1972 — the same model that one of our heart transplant surgeons used in the operating theatre (now there's trivia for you!) and (on the shelf) half of the Videosonic PD2 Dolby B encoder / decoder that I bought in 1975 to complement the most expensive non-Dolby Hitachi cassette tape deck I could afford at the time (courtesy of ICL):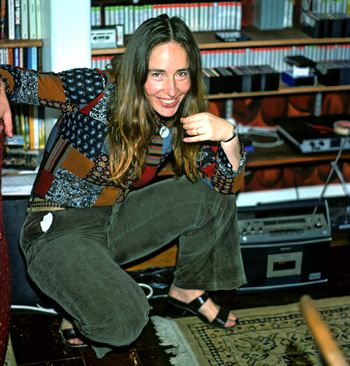 Christa amidst some early hi-fi in Old Windsor, 1976
Midsummer. How can that possibly be? G'night, at 01:03.
Life imitates a poor movie... dept.
Idly browsing the Torygraph web site where they're currently putting forward a "real cost of living" index to supplant the lying nonsense put out by the State (and as the State's own index excludes both mortgages and council tax, "lying" is a mild adjective) I was amused by the following:
The Old Bailey heard this week how Zoe Kenealy from Kenley, Surrey, attempted to hire a neighbour to murder her husband, Timothy, hoping to clear her debts with his £33,000 life assurance policy. In what might be seen as a sign of the times, she also attempted to borrow the money to finance the hit, claiming she wanted to do up the bathroom... But Kenealy really should have realised the whole misconceived venture was doomed when even Northern Rock turned her down for a loan.
Education as football... dept.
It seems it's not only the Benighted Kingdom whose educational system could use a good kicking. I've heard the phrase "no child left behind" from the land of our transatlantic cousins, but (having now seen the "concept" expressed in terms of football) it becomes clearer how fatuous it is:
All teams must make the state playoffs and all must win the championship. If a team does not win the championship, they will be on probation until they are the champions, and coaches will be held accountable. If after two years they have not won the championship their footballs and equipment will be taken away until they do win the championship.
Another fine piece here, too! Right. Time for breakfast.
Good news! Next week's guest on Desert Island Discs is my heroine, Posy Simmonds.
Scanning away... dept.
You know what? I think I'm getting quite good at this slide-scanning skylark. Or, at least, cleaning up three decades or more after taking a less than brilliantly exposed shot!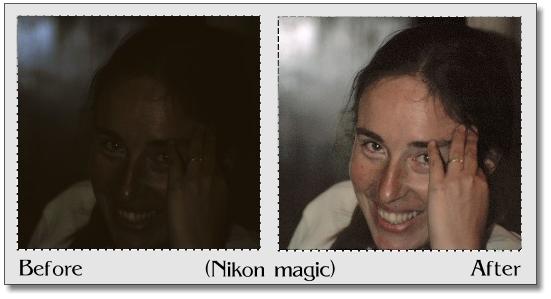 What still boggles me, at least slightly, is how effortlessly these 35mm slides are turning into data files that are each about the same size (20MB or so) as the original capacity of the hard drive on my beloved Acorn A440 RISC machine back in 1989. Well, it's 15:45 and I fancy another cuppa, so time for a tea break.
In between scans, the terrible trio is formulating the logistics for a walk somewhere tomorrow. Watch this space, as it were. Goodness, it's already 18:08 and the tum is suggesting I do something about it. Don't want to miss the Freak Zone though, do I? (BBC 6Music.)
I must say (at 22:40) this chap Guy Garvey (from the group "Elbow") is a very amiable DJ (6Music again).