2008 — 29 April: Tuesday
Again too tired (at 00:32) for more than a simple placeholder entry. I've been busily ripping CDs and also scanning DVD artwork. Busy busy. Yawn. G'night.
What to do?
It's bright and sunny, has obviously been pretty wet overnight, and is now 08:03 — choices include a walk in the New Forest and some new TV setting-up for a new user. Plus the question of lunch (and whether it's a packed one or not). All these decisions.
Had I "kept up" my (essentially) schoolboy French, I'd get rather more out of this web site. But I got the gist of this (rear) entry:
Aujourd'hui, j'avais rendez-vous pour une simple IRM pour un petit kyste aux ovaires. Comme prévu, une infirmière me pose un cathéter, puis elle me dit : "Retournez-vous, je vais vous insérer un peu de gel par l'anus, ça ne sera pas trés agréable". Ça c'était pas prévu.
Right! Time (08:46) to start packing that lunch. Oil prices up. Oil company profits up. How much money do these people need? Or want? "The frog does not drink up the pond in which he lives." Yet we behave as if we have a spare planet or two tucked, as it were, in our back pocket.
Speaking of ponds... And our early experiments with a fountain (I was in charge of the electric stuff, you understand, not the onsite installation):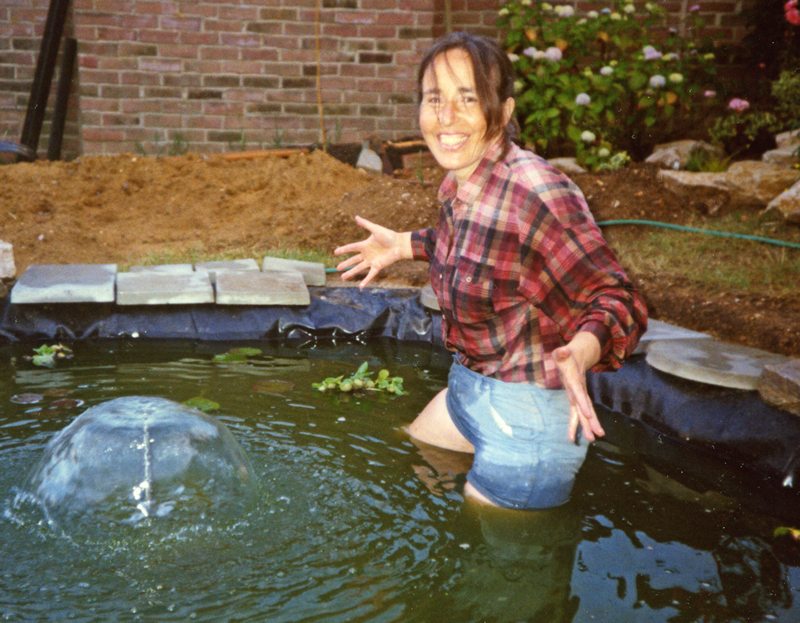 Horrid weather...
... put paid to a longer walk (and is still making the prospect of supplies shopping very unattractive at 17:00) so we settled for just over a couple of miles around Southampton Common, giving my slightly gaudy new jacket its first real (and successful) outdoor trial...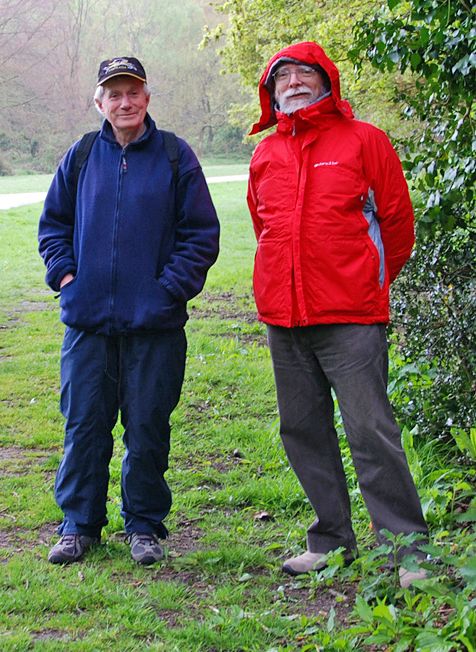 ... as we crossed to The Cowherds and back. I was first in that pub in mid-November 1982, as revealed by a snippet from my books database:
Doonesbury Chronicles — Courtesy of Ken Goddard's US girl friend — 1982/11/13 — Trudeau, GB
Expanded Universe — Courtesy of Ken Goddard; this was limited to the US — 1982/11/13 — Heinlein, Robert A
I think I've been there once more in the past quarter of a century, though we must have driven past it at least once a week on average.
Ken was a contract1 technical writer information developer at the Hursley Lab when I joined in 1981; he subsequently left to become a freelance agent of these strange creatures. We met up in the pub for me to collect the two books that his US girl friend had very kindly obtained2 for me, and then brought over to the UK. Our paths didn't cross again until November 1996 when he was a member of the audience listening (and occasionally laughing) as I was giving a talk about Java at the annual gabfest of the ISTC in (of all places) Beaumont, Old Windsor, where I'd begun my computing career back in February 1974.
Freesat snippets
Thanks to Brian for this link.
The BBC Radio 2 DJ has just told us that in seven weeks it starts to get darker in the evenings! Made me laugh. Still, as I listen to the pouring rain, let me offer a belated thanks to my mad Midlands Aunt, too...
Although I don't much like being out in the rain I quite enjoy the sound of it splatting against the window as a) I like to kid myself it's cleaning the glass, and b) the sound always reminds me of my childhood holidays with my Aunt Peg and Uncle Graham in the Midlands. Not that it always rained but — when it did — they had no problem with me having my nose stuck in a book all day without telling me it was "bad for my eyes". They kindly hosted me for a fortnight a year, and had a very relaxed attitude to, well, just about everything, really. Including getting me accepted into the "grownup" section of the local library, not minding when I wished to change six library books every couple of days, driving me around Army & Navy Surplus Stores (during the 1966 World Cup match) looking for headphones, letting me stay up until I was actually ready to sleep, snacking at odd times, walking their dog (I must be one of the few people ever to have been bitten by a golden retriever that had known me for years), spreading my beloved Meccano all over the bedroom floor...
Buried treasures... dept.
Many years ago, there was a local store in Eastleigh called "Mr. Gee". One of its employees, Steve Gibbs, shook himself free and set up "Pinpoint Music", the so-called one-stop CD shop. Since he was both local, and a specialist, I tended to buy many of my CDs from his little shop. This is the back of the insert of the first "Now..." title on CD. To my astonishment, Wikipedia suggests "The Now 4 CD is now extremely collectable and with the item being so rare, it can frequently attract bids of up to five hundred pounds on internet auction sites as fans complete their Now CD collections." (It cost me £11-99.)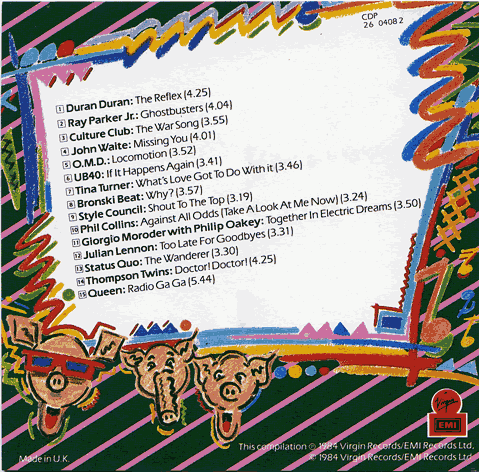 I bought it purely for the Ghostbusters track, which Graham Meech and I had both enjoyed hearing while on a business trip in Texas and Florida in the summer of 1984, while testing the draft of the first edition of the CICS Application Programming Primer on a "batch" of batch COBOL programmers. He bought the vinyl single over there — I waited a few more months for this CD compilation.
Footnotes