2008 — 21 Feb: Thursday
It's 00:40, all of a sudden, and I'm drooping quite fast. Very cold outside, too. Bed is beckoning, as it were. But first a kitchen photo of the pair of us. From evidence in the rest of the shot (trimmed here, but including one of those Sodastream fizzy drinks makers) and from the quantity and colour of my hair(!) I'd carbon date it to the early 1990s, and not later1 than 1992. I can't remember who took it, though it may well have been Junior: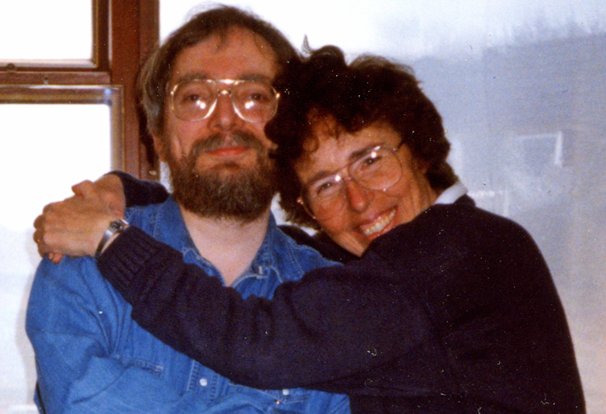 I've now watched the first hour of Cranford, and enjoyed it. I note it's produced by the ladies who worked on the wonderful 1995 production of Pride and Prejudice. This was preceded by the 10 minutes or so that I managed to tolerate of Run fat boy run. Oops.
Shades of "The Prisoner"... dept.
Remember the old "I am not a number...." routine? Well, I am not a blogger, and this is most certainly not a blog. But students in the computer science department of Carnegie Mellon analysed a set of popular blogs, not unreasonably looking for the ones that made for the most cost-effective reading. Turns out, the algorithms used are closely akin to those for disease outbreak detection. Here's their Top 100. How many do you read, I wonder? But it's a pity they missed "3 quarks daily".
Amusingly, my route to this, admittedly three-month-old, story was via a well-written examination of "9/11" conspiracy theories on Utne Reader. Look for "Towers of Babble". Question is, why do I find the ranking of blogs more interesting than the WTC attacks?
Ever met a philosophical duck, by the way? I did, here. Oh well, time for brekkie!
Killing me softly with his song
I remember the late Derek Jewell (I believe he was the Sunday Times jazz and popular music critic in the early 1970s2) rating this song, as performed by Roberta Flack, very highly indeed. Oddly, though I also adore it, I can now report that it does not reduce me to the helpless puddle that her other classic did, two weeks ago.
All good things must...
A year ago, Cathy G put me on the trail of MacUser magazine. They carry a story about the demise of HD DVD after Toshiba's dignified exit from the format's development and support. The piece offers me a new synonym for bribe:
Universal had been exclusive with HD DVD since the format's launch in April 2006, while Paramount initially supported both HD DVD and Blu-ray. Paramount and DreamWorks switched to HD DVD-only in August, reportedly after receiving a $150 million payment from the format's supporters for "promotional consideration."
As it happens, my relationship with the magazine is now under threat on this orange letter day: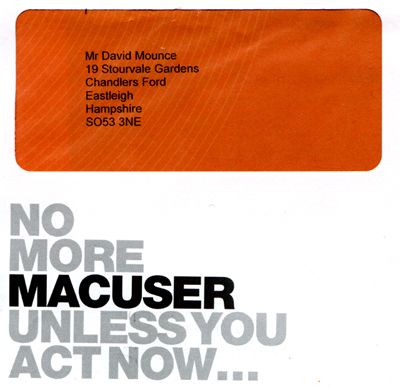 It puts me in mind of that fabulous National Lampoon magazine cover — the one with a picture of a dog with a gun to its head, and the tag line "Buy this magazine... or we shoot the dog".
Blowing in the wind...
Or should that be "Satellite of love"? School physics was never as interesting as this in the 1960s: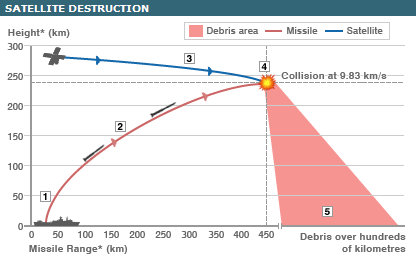 Though I've used the BBC's graphic, I trimmed off their typo! Besides, I pay my licence fee, and they can see above where to find me. (And I'm still cross at the way their stupid, unnecessary DOGs threaten to burn on to my plasma screen.)
Oh dear. A gently muted "pop" from the vicinity of the microwave suggests the freshly-acquired NZ liver and bacon may have just gone critical. If so, I will soon be finding out how to clean mashed potato from the inside walls, I guess. Smells good, whatever happened down there. Still, the fuelling needs to occur (it's already nearly 14:00) before my next little trip can safely do so. Wish me luck.
Late breaking news: it was actually very tasty, thank you, Sainsbury's in Eastleigh.
Chipping away at the melancholy
I've decided (consciously or otherwise) that being a widower has no bearing on the pleasure I get from a good, long browse in a good, well-stocked bookshop. And hence my little afternoon outing down to the Borders in Southampton. There's almost as much pleasure to be derived, in all honesty, from casually watching other browsers, seeing how young parents still try to inculcate (or perhaps "instil" would be more appropriate?) a love of books and reading into their children. So between WH Smug at lunchtime and now I can add the following items to my little lists:
Book and magazine collector magazine,3 for its items on Theodore Sturgeon and Mike Hubbard (the man who drew "Jane").
The Word magazine, for its interview with Alan Moore (who is married, though I'd never made the connection, to Melinda Gebbie).
Personal Computer World magazine, because it's their 30th anniversary edition, and I can still remember the thrill of reading their very first issue. Besides, it used to be edited by David Tebbutt, whose path crossed mine back in those distant ICL days.
Family Guy and Philosophy, edited by J Jeremy Wisnewski. I have a weakness for books that attempt to use modern pop culture to shine light into dustier corners, but I hadn't realised Blackwells actually has a "Philosophy and PopCulture" series! My, tertiary education must be quite good fun in some places.
Taking the proverbial, by Geoff Rolls who examines the psychology of proverbs and sayings. I learned the word "paremiologist" quite quickly!
Still spitting at sixty by Roger Law. "Producing satirical puppets to order is probably a shade more interesting than canning peas, but after a while it too can get monotonous."
The Prophet by Kahlil Gibran. Purely to have my own copy of this wise and wonderful little book.
I also pootled around the (rather pitiful) PCWorld as it was within easy walking distance, but there was no sign of that tiny tasty laptop. Aside to Christa: the little pyramid of bricks opposite Furniture World is once again plumbed in and being used as a fountain. Toys 'R' Us has become a car dealership. But your Staples is still going strong. And it's an incredibly liberating (anti-melancholic) feeling to drive back home under, as it were, my own steam. Thank you again for this final birthday present, my love.
Now (23:30) watched the second hour of Cranford — not entirely a barrel of laughs. But amused to see the name of one of my heroines in the credits: Posy Simmonds did the title design. And Big Bro's been having problems with his new over-heating Toshiba laptop, though he's back online with a new system motherboard and cooling fan (which runs non-stop — clearly modelled on Bro himself).
Footnotes