2007 — 12 October: Noli Tintinnare
Please don't ring for a while. The sick bowl was deployed last night from one o'clock or so at one-hourly intervals (though, as far as I could tell, and after talking this morning to a triage team GP, maybe for a purely "normal" upset tum) so we both need to catch up on our beauty sleep more than somewhat.
Recent update: Alas, it's now 17:35 or so and we await a visit from a duty GP within the next hour to try to assess what's going on (or, more to the point, not going on) with Christa's poor ol' tum. I need the reassurance of having Her seen by a GP rather than the uncertainty of living with my ignorance, to be honest. The out-of-hours service that kicks in when the surgery is closed (that is, all weekend) is fine, but they're not the set of doctors familiar with Christa, and I worry I might omit some vital clue in recounting her medical history to each new doctor — we've yet to see the same one twice, and they're not exactly under-worked in any case.
18:45 and I now have my further instructions. Stop the metaclopramide, stop the senna, increase the Movicol. Only take the ibuprofen with food, though paracetamol is OK on an empty tum. The amitriptyline is OK as long as She's OK with it. Possibly restart the steroids on the original (4x2mg) dose tomorrow morning. And call the out-of-hours service if there's stomach pain, cramp, gripe or colic to take their advice on having a district nurse visit to fit a nasal tube (a nasal driver, I think it's called) to help alleviate pressure in the tum... Drink plenty. Eat what you can, or feel like.
You can see why I'm abstaining from alcohol, I guess.
Today's first adventure
Was to have been (and hopefully still will be) the delivery of our new car. Fingers crossed. She's here! Spot the photographer (click the pic):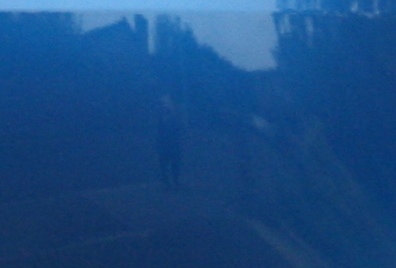 Isn't she lovely? And only 14 miles on the "clock".
Next lesson? Monday afternoon!
Lofty acts of derring do... department
Three firmly-fixed lamp holders are shedding a great deal more light into some of the darker corners of our loft now. I have three more to go, but they may have to wait for a day or so. I've also shifted down several lumps of old hi-fi and video kit that I suspect chum Brian will be able to help me disperse to new ownership:
VT-1000 tele video tuner (for high quality analogue audio from terrestrial analogue TV)
Pioneer DV606D (an early [1998] but highly rated Region 1 DVD player, plus 110V transformer — shown here)
Pioneer MJD707 (non-LP minidisc recorder)
AMC AV81 (8-input audio [analogue] and composite video switchbox — shown here)
Sony PS-X600 stereo turntable (for ancient vinyl LPs, with Audio Technica AT20SS cartridge)
Panasonic TU-DSB30 Sky digibox (for Sky satellite TV and radio — shown here)
Approximate cost when new: £twiddly-umpty or so (I must be mad!)