2007 — 5 Mar: safely attached
With thanks to Mike P (and apologies to anyone who's received attachments in Thunderbird emails from me as inline in the past) I have made the one-line fix to my email:

    user_pref("mail.content_disposition_type", 1);

Where it had been "0". Obvious, providing you know where1 to look!
And, speaking of knowing where to look, precisely one reader spotted the slinky in yesterday's "study" assignment — in a typically "type S" brain fashion, deciphering an adjacent book title, looking up its new style ISBN, and reporting that to me.
Gawd help us all department
A senior editor at US News and World Report, journalist Dan Gilgoff, (author of The Jesus Machine: How James Dobson, Focus on the Family, and Evangelical America Are Winning the Culture War) is talking right now on NPR's "Fresh Air" about the way US election candidates are finding it expedient to appoint religious out-reach co-ordinators to woo the votes of the "evangelicals" who basically retreated from active voting back at the time of the Scopes monkey trial. My goodness!
Further improved PLUGE-hole department
If SuperFi's email speaks truth, Mr Parcelforce will shortly deliver a new enigma wrapped in a mystery. That Helios DVD player with concomitant alphabet soup:

Recent evidence of unsuspected acquisitive streak department
It occurs to me I've been remiss in my noting, though not everything in the following list is new, exactly:
The Big Con by David W Maurer. This is a 1999 reprint, and a (second hand) bargain at 50p that's in somewhat better condition than my 1962 edition, of the classic text from 1940.
It helped open peoples' eyes to the existence and tricks of grifters (confidence tricksters) and their underground language. One of Doc Maurer's (many) fans and correspondents was SJ Perelman (a Marx Brothers screenwriter, among other talents). Sadly, when Prudence Crowther (editor of Don't tread on me2 — a collection of Perelman's letters) went in search of "the other end" of their correspondence, it turned out Maurer's will (he died in 1981) had called for the destruction of his entire archive to protect his many pen pals, not all of whom were on good terms with the law. This is at least as big a shame as the destruction of Saki's letters, let alone many of Jane Austen's.
W Somerset Maugham selects the world's ten greatest novels Surely a fully self-explanatory title.
This copy dates back to November 1963, which is (judging by her pencil note in it) when She who must be adored picked it up in Gothenburg, Nebraska during her year in an American High School as an exchange student. It surfaced during the recent shelving-related earthquake in Her study. Nothing to do with me, and I'm ashamed to say I've read only two of the ten novels that feature in Maugham's essays.
The Ultimate Book of British Comics by Graham Kibble-White. These are comics of the Beano (think: The Bash Street Kids), and Topper (think: Beryl the Peril) variety, rather than, say, Tommy Cooper
AppleScript: the missing manual by Adam Goldstein. This looks pretty straightforward. Watch this space
The Mac Xcode 2 book by Michael and Dennis Cohen. At the more heavyweight end, being a well-written description of all those fancy program development tools that Apple put on the Mac OS X DVD but neglected to pre-load for me. Here's hoping
Reefer Madness (£2 in Fopp)
The Trial (£2 in Fopp)
The magnificent Ambersons (£7 in Fopp)
Blast from the past department
Having reminded myself, on St. David's Day, of my school entrance exam, I thought it would be amusing to unearth an appropriate "snap" from Mater's family albums. Here's one I nicked earlier, showing (L to R) me (in the new school's uniform, natch), Dad (I'd forgotten his bow ties) and Big Bro (in, if memory further serves, exactly the same rig I remember him sporting on our holiday up in Shapinsay in summer 1959):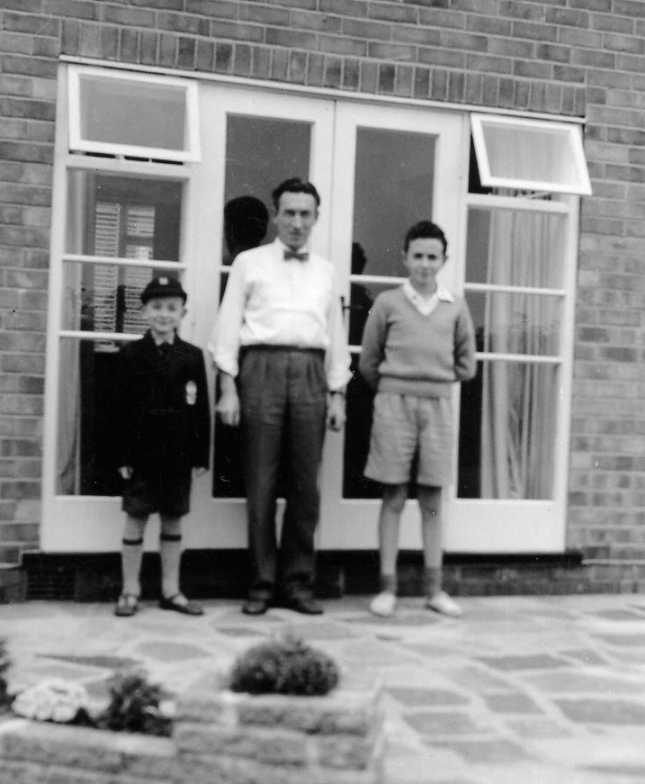 Day 122
Footnotes