2016 — 1 June: Wednesday — rabbits!
Some mornings1 there's really only one piece of music to kick off with: David Gilmour's collaboration with The Orb. It eases me back into consciousness, somehow. Just don't ask me to explain how. Perhaps it's more to do with the synergistic effect of that all-important initial cuppa?
In a couple of hours...
... or so, it will be time to mount a determined assault on either or both the Post Office depot and the reloaded shelves of Waitrose. Mrs Hubbard's cupboard cannot be further denied. (Or, to put it another way, one must shop in order to eat.) I think I've deduced what's in the "parcel too big to fit", too. A book. (Now there's a surprise.)
I had no idea...
... the University of Oxford houses the Centre for the Resolution of Intractable Conflict. I suspect it shares at least one attribute with the job that Mencken predicted would ultimately be named "obsequial engineer": the unjoyous prospect of continuous full employment. Oh, good grief! Source and snippet:
What would happen, [Atran] asked, if a Christian or a Jewish child was raised by a Muslim family, one that believed in Shariah law and jihad? The commander had two responses. If the child was from a Christian family, he or she would grow to be a devout Muslim. But not the Jewish child. Jews were from hell, and no amount of godly instruction could alter that. The commander then asked if Atran was Jewish, a fact that the translator unwisely confirmed. Sensing an unwelcome change in the conversation's tenor, Atran excused himself and slipped out the back door.
That Chronicle essay...
... led me to thoughts of the "selfish" gene. I bought my copy of Dawkins' book — the version on the left here — a while ago now...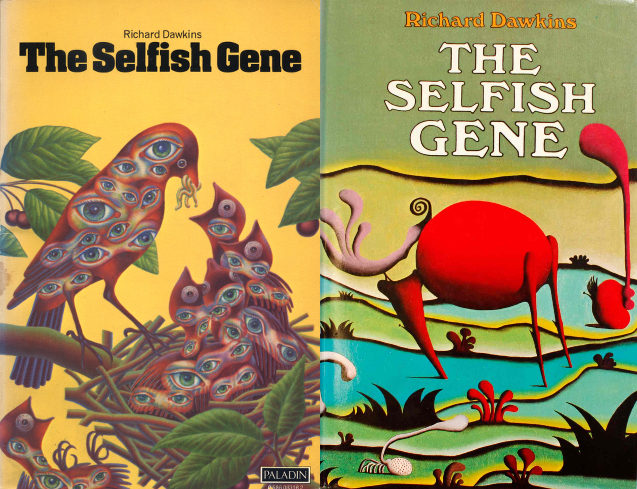 ... in October 1979, in fact. Its (to me) ghastly cover is horribly reminiscent of a childhood illustration of Argus the many-eyed watchman that obviously scarred me for life, since I still remember both it, and the nightmare it evoked, from my primary school days. I was unaware of (and would at the time have been unable to afford) the original hardback edition with its splendidly surreal cover art (by Desmond Morris). I found that in the Grauniad's excellent 40th anniversary piece here.
An apologetic pop-up from...
... my NUC's Ubuntu system prompted me to try running the good ol'...

'sudo apt-get update'
'sudo apt-get upgrade'

... pair as I do, on occasion, to refresh the Raspbian build on my Pi2 webserver. Nothing ventured, and all that. Somewhat to my surprise, it picked up 20 packages it wanted to do "stuff" to. I let it go charging ahead. And I'm now restarting it to see what falls apart. This is in aid of an intermittent problem with the VLC media player, it seems. Currently about the only application I run!
As happened...
... with Tony Judt, today's postal collection from the depot was a book by a chap I only heard of after his death: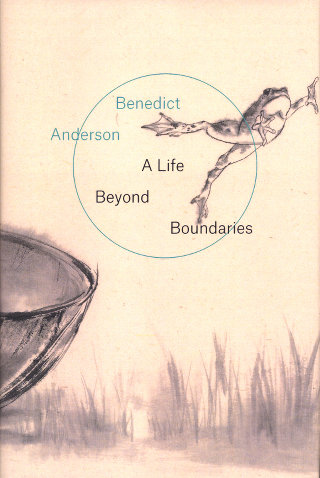 This "intellectual memoir" of a Westerner well and truly steeped in the East came out first in Japan and, indeed, the author initially refused to contemplate an English translation. [Pause] Just nipped out to talk to a man about a roof (mine, as it happens). Water is getting in where I don't want it to, in two separate places. Time to call in an expert (to turn it into an ex-spurt?)...
Some obscure lady...
... named Ursula LeGuin offers up a piece of Henry James (!) as a contender for Thog's Masterclass this month:
"But we have, you know, as Van says, gone to pieces" she went on, twisting her pretty head and tossing it back over her shoulder to an auditor of whose approach to her from behind, though it was impossible she should have seen him, she had visibly, within a minute, become aware.
I took "The Left Hand of Darkness" with me on a holiday in Oban in July 1971. That seems a lifetime ago now.
Comment on this seems, erm, superfluous! (Link.)
Although I picked up...
... this likely pair on a swift trip into Eastleigh...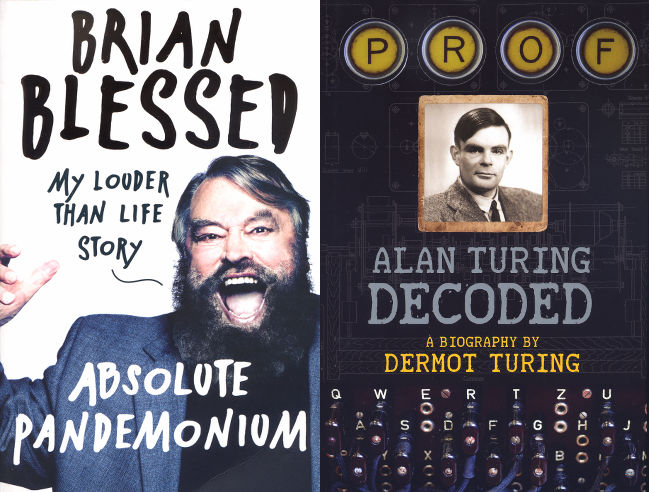 ... I've actually spent much of the afternoon poring through a pair of interesting Linux magazines. And listening to music, of course. The day has been uniformly grey, with 10/10ths cloud cover, though no rain so far. Flaming June, heh?
Just installed...
... what seems likely to become my default music player: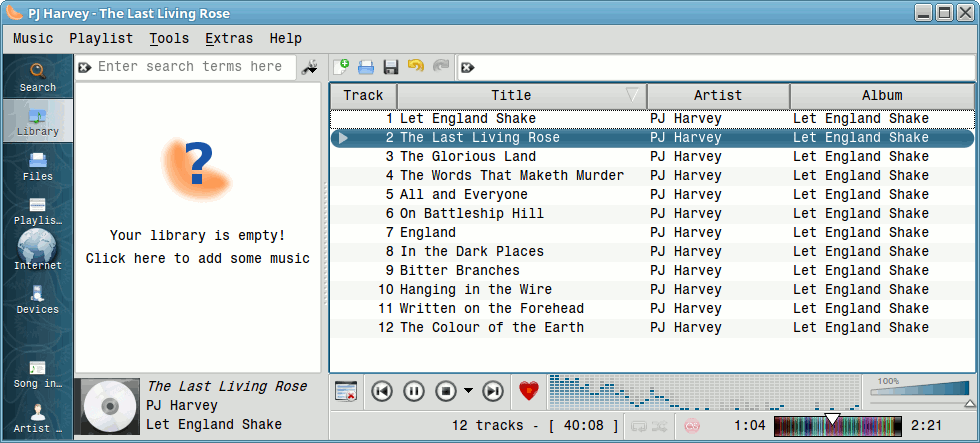 The latest build of Clementine. Simple, lightweight, versatile. I like it.
Footnote