2015 — 14 December: Monday
Glancing down at the system panel1 I see there's a spot of Linux quantum indeterminacy creeping into BlackBeast. Why else would my four virtual deskspaces all now be clustered on the right where, until now, they've been happy to live on the left (as it were)? Spooky. If they jostle for position during system startup, something must have changed.
Still letting rip...
... I see. Not that I disagree; far from it, though I'm less sure about her characterisation of the corporate business model as "vampiric" — that's just the innate kindly nature of capitalism, surely?
... too many young feminists want their safety, security and happiness guaranteed in advance by all-seeing, all-enveloping bureaucracies. It's a sad, limited and childish view of life that I find as claustrophobic as a hospital ward...
If today's young women want to be passive wards of the state, then that is their self-stultifying choice. One cannot impose a dynamic, expansive, metaphysical vision of existence on timid minds who crave the miniature, like porcelain bibelots of frogs and sparrows. My advice, as in everything, is to read widely and think for yourself. We need more dissent and less dogma.
Professor Higgins would have agreed. But what the devil is a bibelot? :-)
Is it too late...
... to start thinking about all the Xmas shopping I haven't done? As usual. Still, as I've said before, at least I no longer have to wrack my brain to think of a birthday gift for Christa in a couple of days from now. [Pause for mind-blowing thought.] She would have been 70!
Having weighed up...
... the work involved in scanning, trimming, scaling, and re-assembling, an image of the cover artwork of Randall Munroe's latest delightful magnum opus, I opted instead...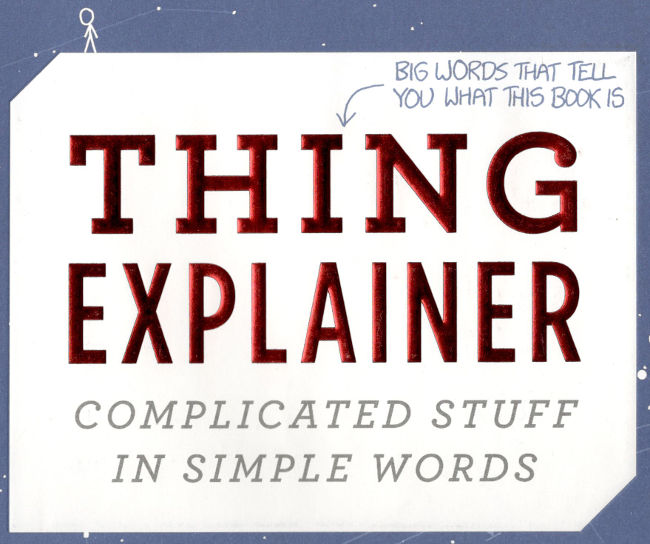 ... to show just its title block. I bought it — after paying in the latest Uncle ERNIE — not so much to have "Things" "Explained" as to encourage and support the chap, who strikes me as being very much in the mould of Tim Hunkin. I loved what he did with the re-ordering of Asimov's Three Laws of Robotics. (Link.)
Aside to Christa
Your daffodils are about six inches high. But the ones planted in front of the Police and Fire HQ along Leigh Road are already flowering!
As twilight once again...
... deepens I find I don't mind shutting my blinds and drawing my curtains at this time of year because it shuts off my sight of neighbouring houses with their varying degrees of disagreeable Xmas light shows. Just call me Scrooge!
My monomaniacal focus...
... on finishing off this ghastly videos data prep for input to Kodi has brought me (good grief, it's already gone 20:40) to about the mid-point of films and TV shows starting with "W". But that's it for today: I've had enough. If weather permits, tomorrow's walk will blow away any cobwebs. This time of year (between the anniversary of her death in November, and her birthday in mid-December) is still quite hard work. Though it's nowhere near as horrid as it was a few years ago, thank goodness.
It's been sobering to note just how many titles I'd bought for Christa and me to watch together that still remain to be watched solo. Plus, of course, I've bought and watched many titles since she died that I know she would have enjoyed very much. Films and cinema-going was always a major family pleasure as we were both film buffs. Peter, less so, though he likes what he likes...
Footnote