2015 — 25 October: Sunday
Peering1 at the controller of my life — the kitchen worktop calendar — suggests (as does the temperature hereabouts) that Summer Time is at an end...
I shall just have to wait to see what the various bits of domestic electronics claim the time is tomorrow morning before I leap to any conclusions or, indeed, leap around adjusting any clocks. It's certainly too late now to be sure of getting them right tonight. G'nite.
Just before...
... a section of Haydn's "Clock" Symphony kicks off, the BBC Radio 3 lady confirms that yes, the clocks went back last night. I thought things sounded a little quiet out there this chilly morning. No matter. The extra time allows me to add a little "Seven months later" update to my notes on Probate. And emails I've been exchanging with Big Bro (to keep him in the loop) suggest we share the same fundamentally-low opinion of our splendid tribe of Civil Servants on both sides of the planet.
Right! Enough of the dead past. Time for breakfast.
Blimey!
It's a go(o)d job I'd finished my cereal before reading this clap-trap:

Now...
... ain't that the truth?
The greatest evil is not now done in those sordid dens of crime that Dickens loved to paint. It is not done even in concentration camps and labour camps. In those we see its final result. But it is conceived and ordered (moved, seconded, carried, and minuted) in clean, carpeted, warmed, and well-lighted offices, by quiet men with white collars and cut fingernails and smooth-shaven cheeks who do not need to raise their voice.
Not that I was thinking of a certain lame apology by an unrevered ex-leader. Scialabba, incidentally, has some interesting things to say about CS Lewis in his essay "An Honest Believer" which you'll find in his (downloadable) "Divided Mind" (PDF file). I still recall Simon Phipps trying to convince me of the virtues of Lewis's godawful theological SF trilogy that I bought, read, and soon thereafter discarded, while still at school.
As (late) lunch approaches...
... an Amazon Logistics elf has just followed up the earlier work of his Auto-Ripping colleagues. First, a triplet of fairly recent Annie Lennox CDs I'd been unaware of:

And also this Joni Mitchell double, which somehow sneaked quietly under my radar in 2002: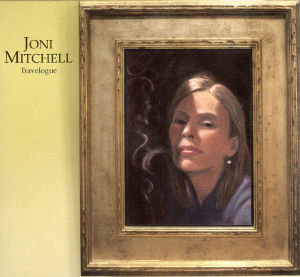 Considering, as it were...
... times past, or perhaps pastimes, come back with me to this week exactly 20 years ago and that week's letter to dear Mama:
If I say this comes from a disrupted decadent Rachmaninov, I wonder how long it would take you to work out that I bought a copy of the Anagram Genius program at Friday's Acorn Show in Wembley and applied it to david and christa and peter mounce? That one only scores 72%, however, compared with the 75% of a padded non-destructive chairman, let alone the 76% of I am not an advertised punched-card, or (my favourite, for use when the bathroom is engaged): Heavens! Damn it! Drat! Darn! Occupied. And who said computers were useless??? (Today's envelope is addressed by a version of the labels I've prepared for Christa to use.)
I had three days off in total last week. On Monday we went down to Hurn for Peter to have a go at snow-boarding (like having just one large ski) and then popped into Bournemouth to sniff the sea. Then on the Tuesday off we went to London for the usual half-term bookshop treats. Although I've just spotted a (rare, permanent) job for a Corporate writer with the BBC, the fact that it's in central London is a considerable potential fly in the ointment, as the train journey (in First Class, and off-peak) served as a timely reminder. As for the Tube — my dear, don't even ask! Still, I shall send off an application form just for the hell of it. It might be quite good fun to work for the Beeb, don't you think?
Weds and Thurs I must have been back in the Lab, though it seems ages ago already. And on Friday, to the Acorn computer show for piles of leaflets and the odd bit of software. Funnily enough, I've just been told at work that I'm to get a new toy within the next couple of weeks, after using the same beat-up old 386-based PC for about five years: a 100MHz Pentium2 with a 17" screen, 32Mb of RAM and 1,000 Mb of disk. An ideal chance for me to see whether I should now say farewell to the Acorn machines I've been using at home since 1989. (Peter, needless to say, is green with jealousy as his machine only "does" 75Mhz and has only 8Mb!)
So we're on the downhill run to Christmas yet again marked, as usual, by no money left and no holiday left. And tomorrow I'm seeing our local Co-op insurance agent as he seems able to undercut my present annual buildings insurance premium by a jolly useful £100 or so (locally, our postal code has been weighted because of some subsidence in recent years — we're unaffected at #19).
No reply from dear Mama, of course, but already by then I was reconciled to the idea that she didn't "do" replies. By contrast, the BBC did reply... but only to tell me that a Corporate re-organisation had nuked the job. They promised to keep my details on file.
I'm still waiting :-)
The ghastly thing...
... about reverting to what I still think of as "GMT" is the simple fact that, with today's sunset at 16:54 it means that by what I still think of as "tea time", it's now pitch-dark out there. Not to mention pretty damn' chilly. Brrr.
TrackMeNot? Really? (Link.)
Footnotes