2015 — 18 August: Tuesday
Given an earlier fascination of mine — filching1 time some 44 years ago on the Hatfield Polytechnic's then-new dec PDP10 mainframe to "simulate" the Buffon Needle method of estimating the value of pi — I suppose it was predictable that I'd find this Ubuntu / AWS Cloud story so, erm, interesting. Click the (excellent, Wikipedia) pic for the details: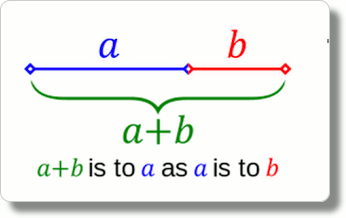 Withdrawing my head...
... back out of the Cloud, I shall fire up my grill shortly to cook a sausage or two as the basis for a snack lunch later today. Then fire up a combination of Google Maps and the Highways Agency app to re-check traffic stats and "road incidents" nearer my time of departure — since dear Mama always used to predict I would be late for my own funeral I shall regard this as a practice run. (I clearly didn't inherit my sense of humour from her.) Then I shall take my newest dominatrix-in-a-box out for her, erm, road test. Colour me soon to be gone.
Big Bro recommends the Basingstoke route. Len, who's been regularly calling in on a chum in Basingstoke hospital, recommends anything but the Basingstoke route. Perhaps I should drop a needle on an American flag?
Too late for me?
I could certainly have made good use of this while fighting with that big, fat nVIDIA graphics card and the Philips 40" 4K display a couple of months ago, methinks: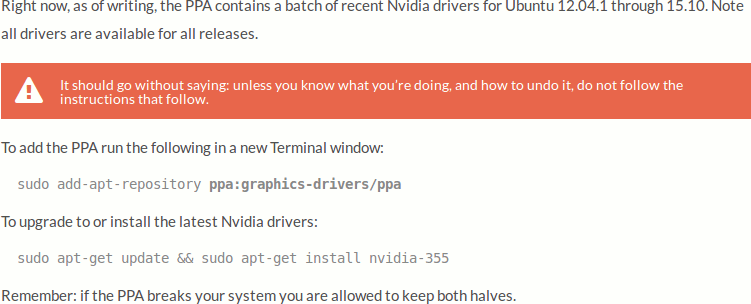 That last line made me smile.
I find it curiously...
... easy not to respond when people wish to "stay in touch" using tools like LinkedIn. Today's example: a repeat invitation from an ex-colleague from IBM Hursley now in "the Austria area". I also find it curious that they don't always accept my simple (and I think polite) "Thanks ever so much, but no thanks". (Shades of Lizzy's attempts to reject Mr Collins' inept proposal!)
Speaking of rejected proposals: a chap from Mr Toyota's body shop says he would charge me "about" £1,500 to fix the Yaris back bumper's duelling scar. Since that's more than 50% of the trade-in price I was offered by Mr Mazda a couple of weeks ago for the whole enchilada, that's another item for the reject pile. Junior agrees. Vigorously.
Yet another list...
... of the 'best' 100 SF and fantasy novels. It's been assessed by Liz Lutgendorff in New Statesman. There are (many) notable omissions and (for all I know, since I haven't read them all) some dubious inclusions. Ms Lutgendorff certainly makes valid criticisms, but at least we agree on the high quality of "A Fire upon the Deep".
These three titles, delivered mere moments ago...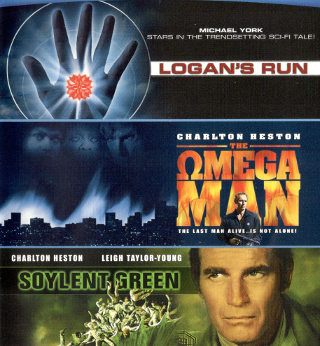 ... didn't make NPR's list. But three Blu-rays for $26-58 inc. shipping is pretty fair.
[Long pause, while I drove safely and simply up the A34, then East on the M40, turning left at Maidenhead and sticking like a limpet to the A404 all the way to the Milton Chapel which — as eny fule kno — is just before you get into Amersham. I arrived with 15 minutes to spare, parked both my car and my chewing gum, and was promptly greeted by name by the "celebrant" who noticed, she said, that I was grasping a sheet of paper and wondered therefore if I was "David".]
My return journey...
... from the crematorium — after a well-conducted, smoothly secular service at which I managed to deliver "the words" on behalf of the absent NZ clan — was supposed simply to retrace my "steps" of just an hour earlier. But my route lurched (shortly after High Wycombe) off the A404, on to the M40 heading (with all the other lemmings) into London. Madame had said "take the second left" but we must agree to differ on definitions at that point. She had stepped in and chosen a "better" route. Well, Madame, I beg to bloody differ!
So first I got a nice leisurely closeup of several miles of 50 mph average speed check carriage repairs on the M25 (which, in my defence, I did at least get on to heading South). I managed to avoid going to Heathrow, but was so busy trying not to, while also not getting any nearer London, that I missed the signs that could have led me on to the M4 westbound. Ho hum. I figured I could always just stop for a cuppa if I ended up at Gatwick. (Christa once made a similar error, but 40 years ago. She always used to curse UK road markings, and had a particular contempt for the South Circular.)
I finally heard "Southampton" and an opportunity to take the M3. So I wriggled desperately across lanes to do that. Condemning myself to a nice leisurely closeup of a lot more miles of 50 mph average speed check carriage repairs on the M3. Yes, including Basingstoke. I got off at the Marwell exit as I was thoroughly cheesed off with my fellow drivers and didn't like the look of the "40 mph" signs and the three lanes of solid slo-mo traffic. My smartest move of the whole expotition.
But look what was waiting...
... for me on my front doorstep as my reward when I got back to Technology Towers: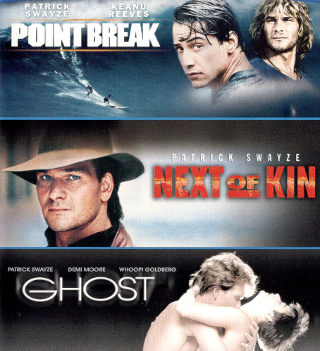 Another triple set of Blu-rays weighing in at just $19-38 this time. I don't know "Next of Kin". The other two replace DVDs that had, in turn, displaced LaserDiscs. And, indeed, pre-recorded VHS tapes back in the day.
Footnote