2015 — 16 June: Tuesday
Hard to grasp how it can already be nearly half way through the year.1 No effect, of course, on the unrelenting need to refill the food store. I've run out of cinnamon buns! I shall fix that appalling deficiency later this morning.
First, another gentle delve...
... into some even earlier diary pages just for fun, and then I'll resume life in the 21st century. Recall, I had just (February 1974) switched from engineering to computing, and was then working as a trainee instructional writer for ICL at their Education and Training HQ in Beaumont, Old Windsor. My landlady was the vicar's wife, a German lady and now young mother named Barbara:

17 Apr 1974: introduced by Barbara to her friend Christa 
22 Apr 1974: 3 hours of politics with Christa
23 Apr 1974: 2.5 hours of women's lib with Christa
01 May 1974: My turn: Zen, English lit and Pink Floyd with Christa
15 May 1974: To see "O Lucky Man" with Christa, in Slough
01 Jun 1974: Picnic with Christa, in Oxford, after first meeting my parents
10 Jun 1974: We got engaged. Only my parents seemed surprised

I couldn't stop for an initial chat on the 17th with this beguiling German lady (who was moving back into another spare room at the Vicarage that weekend) as, after a squash game with young Lorna from the ICL office, I was now dashing around making myself a quick evening snack before being picked up and taken out to the cinema by young Sally, also from the ICL office. I was very young (just 22). I used to get teased about that for quite a long time. But I had lots of energy, and a real zest for my new lease of life in computing after the durance vile of nearly five years of my aviation engineering2 apprenticeship.
Checking...
... my usage of that odd term I was tickled to see that I've used it precisely once before — if my Recoll/recall is to be believed. In a letter to dear Mama!
It has rained and rained this week. Our old bones are positively aching from having to continue sleeping on the floor (which, let me tell you, gets pretty draughty unless you close the window completely) but at least we now finally have a firm delivery date — next Wednesday — for our deliverance from durance vile. I cannot wholeheartedly recommend air mattresses; they fail to get warmed up, which seems a little odd.
This was in the wake (excuse the pun) of our second Great Waterbed Disaster. Now, how about some breakfast?
I don't know...
... what effect the bottle of "Best Before 2006" Soy sauce will have on the ecosystem of the local drainage system it has just entered, but rather that than test it on my own internal ecosystem. Nothing lasts forever. I now have a fresh bottle for my continuing kitchen/chemistry lab experiments with rice and fishy things. And the belt of my jeans is already satisfactorily looser. Two lady drivers did their best to carve me up in the Waitrose carpark. One simply ignoring the dotted white line across "her" bit and shooting (as it were) across my bows; the other apparently unaware of the spatial dimensions of her car.
I clearly retain my powers of psychic invisibility.
I thought this...
... a bit of a bargain3 (two Blu-rays for £7-88 total)...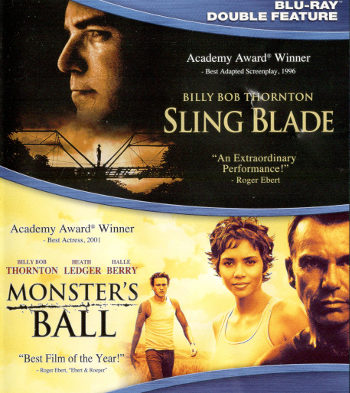 ... after flying all the way across the Pond. And "Sling Blade" has an 'atmospheric' music soundtrack by Daniel Lanois.
This has to be ...
... a joke. Surely? Please?
... education secretary, Nicky Morgan, is appointing a school behaviour tsar, Tom Bennett, to eliminate "low-level disruptions" in class. These disruptions have been identified in Whitehall as passing notes, swinging on chairs, playing on mobile phones and "making silly comments". Morgan, a dead ringer for Colonel Cathcart in Catch 22, works out that these misbehaviours cost pupils precisely "38 days of learning a year" and they must be stopped.
Better not make a silly comment.
It's been a while...
... since I found the first (of an eventual five) books of cartoons by Ron Cobb:

And there's a nice story attached to the pair of "recent" acquisitions, too.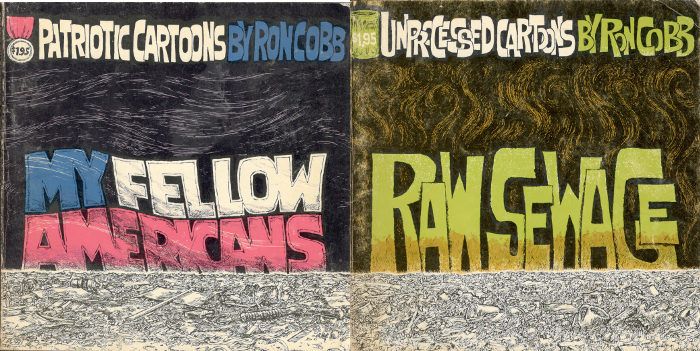 It struck me as so serendipitous — and does still, 20 years later — that I mentioned it in one of my weekly letters to dear Mama. No reaction, of course:
Had one of those about-as-likely-as-winning-the-National-Lottery events last Friday. One of my chums, on a business trip that was taking her across Georgia in the middle of nowhere, stopped at a tiny secondhand bookshop in a hamlet of about 300 souls last week and got from a junk box for me (for 75¢ each!) not one, but two, long-out-of-print cartoon books that I've been after for literally years!
And, on the theme of winning, Mr Postie dropped off another £25 cheque for the ol' girl's estate from Uncle ERNIE. She's done better than me this month.
Footnotes