2014 — 16 October: Thursday
And with one bound...1 the sprightly caretaker of Technology Towers tottered downstairs to make the cuppa with which he intends to face the day, and the dentist, in good time this morning. Insufficient good time, alas, for breakfast, which will just have to wait.
The piano notes are tinkling (Mozart, Concerto #27) and the sun is shining, which latter makes a nice change :-)
Profs of literature...
... continue to do what they do best: pontificate. Source and snippet:
His focus zigzags across the fields of artificial intelligence, computing history, cognitive science, narrative theory, the evolution of men and machines, and post-Turing attempts to figure out how to identify computer intelligence if (Swirski would say when) it arises. "Underlying my explorations is the premise that, at a certain point in the already foreseeable future, computers will be able to create works of literature in and of themselves", he writes.
The trick will be recognizing that we have arrived at that point: "There will never be a moment of epiphany, a discontinuous rupture, a sudden awakening" — no "equivalent of a burning bush", Swirski writes. It might not even matter whether humans will be able to recognize true autonomous intelligence in a machine. More important is whether we are ready to believe it's possible.
I missed the memo about us being "post-Turing", but am glad to know there will be no burning bushes involved.
[Pause]
Right! Now about that breakfast...
Brian drew these...
... two links to my attention. (Hardware and Software.) He tells me he NEEDS [sic] a full-blown Linux system for the ham radio in his van, apparently. No accounting for taste.
Speaking of which... having managed to extirpate the ghastly taste of the moulding gel I see that it's now getting quite near the time to saddle up for my lunch rendezvous with my birthday twin. Better two days late than never...
Returning from lunch...
... at the Fisher's Pond, I was tickled to find an email suggestion about what I could do to help make good an "incomplete resource2 on molehole.org" — by adding this link to Yves Tanguy (whom I've mentioned, in passing, precisely once in the last 2,904 days of my glorious retirement career as an online diarist). Since I've long had a soft spot for Surrealism I'm happy to oblige. (Actually, I found a "Mikael Tanguy" in the DVD Profiler data associated with Polanski's film "The Ghostwriter", too. Since that Tanguy works in the 'visual effects' area, I suppose it's just possible he's a relative.)
Shadow on the Sun
The BBC's digitised (and somewhat searchable) archive — whose OCR-ing leaves quite a lot to be desired at the moment — of past issues of "Radio Times" has enabled me, within about 90 seconds, to extract this timeline from a long-wiped series of terrifying programmes. It was an SF serial written by Gavin Blakeney; "Shadow on the Sun". I would love to hear it again. It was broadcast starting in October 1961 on the BBC's "Light Programme". At one time, Kubrick had been actively considering turning it into a film. That would have been something to see...

#1 The Coining (Coming, surely?) of the Meteorite
#2 Virus in the Blood
#3 We must go South!
#4 Winter of Discontent
#5 Count-down
#6 Lift Off
#7 Doubtful Victory
#8 Hidden Persuasion
#9 Luggage in Advance
#10 A FeaKt (Feast, surely?) of Lizards
#11 Message of Death
#12 The Inside Story
#13 Break-through

A mere 53 years ago. Crikey! (More here.)
Apart from...
... a couple of dips into some of Herbert van Thal's "Pan Book of Horror Stories" anthologies in the early 1960s (there was some overlap with SF from time to time) I've largely steered clear of the genre. And the only thing I'm aware of having seen by Wes Craven, for example, was a short segment of "Paris, je t'aime". Could this all be about to change?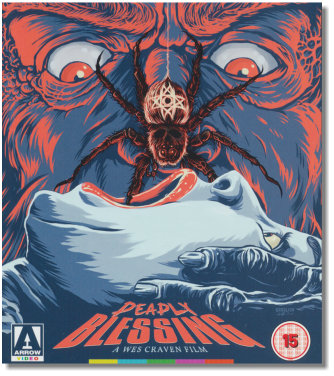 I have a suspicion, too, that what I gather is this newly-commissioned and quite striking artwork above (for the Blu-ray release of this 1981 vehicle for, among others, Sharon Stone) by Gary Pullin is work by a chap who may not be wholly unfamiliar with King Crimson's first LP sleeve: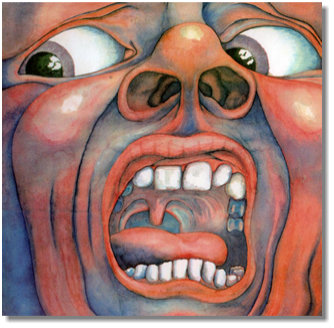 Time for an evening snack, methinks. [Pause] I couldn't resist another poke at the BBC Radio Times archive. It shows me that the version of Shaw's "Back to Methuselah" I listened to was broadcast in January 1966 on "Network Three". So now I know.
My friend Iris...
... having earlier sent me a delightful tale of a summer intern bypassing a $3 million consultant-derived 'fix' (to the problem of occasionally empty cartons of toothpaste tubes on a production line) with a $20 fan to blow the lighter empty cartons off the line and straight into a rubbish bin, what could I possibly respond with than that highly improbable tale of robots reprogrammed to throw (and catch) engine castings around to bypass a broken conveyor belt? (Source.)
Footnotes