2014 — 12 February: Wednesday
Once again lunchtime chatting has had a knock-on effect. For starters, the hint about unpinning WinSCP from the taskbar, pinning it to the fancy new "Start" screen, and then running it as 'Administrator' before allowing it to resume residency on the taskbar, now once again allows whatever the issue was with file permissions to go away — and thus let me create new files from within the TextPad session that I invoke via WinSCP. A small thing, but...
"And everybody praised the Duke who this great fight did win."
"But what good came of it at last?" Quoth little Peterkin.
"Why that I cannot tell," said he, "But 'twas a famous victory."
(from) Robert Southey's "After Blenheim"
Then there's...
... yesterday evening's choice of film, provoked by a discussion that had kicked off at "12:01" (the SF time loop film I watched on Monday evening) and ranged past other time-related, and then memory-related, items. Which brought me to "Novo" — Jean-Pierre Limosin's film about a chap trapped in the perpetual now (though aren't we all?). This was one of quite a few titles that turned up during Christa's final illness but simply got filed away (for want of a better term) until I had both the leisure and the renewed inclination to catch up. Here's what I said about it at the time:
Novo which is tagged as a combination of Memento and Groundhog Day for every Romeo everywhere!
The British Board of Film

Censors

Classification tersely informs me "Contains strong sex". Now whose opinion would that be, I wonder?
Certainly not mine. Not even regarding the 30-minute 'featurette' on Japanese photographer and bondage chap Araki that I found tucked away among the 'extras' :-)
A month's worth...
... of rain and gales still to come in the next few days? How delicious! I shall be nipping out to raid one of my offsite piggy banks on behalf of my tree surgeon in a couple of hours (hopefully ahead of Ragnarok). I'd almost forgotten how to use a cash machine. But I also need more than the things are generally willing to dispense in one lump, and I tend not to keep cash1 in the house.
For my future reference...
... the daily cash limit from the hole-in-the-wall money tree was £500, but only in the Xmas period. It's now slumped back down to £300 so it's just as well I went along armed (as it were) with plenty of ID. Nationwide (our last remaining 'big' building society, I believe) opens at 09:00 and closes at 17:00 which is certainly not what I recall2 banks doing in days of yore.
Another change: the cash withdrawal was already showing on my online statement by the time I returned to Technology Towers via the go-juice shop. And just a few minutes before the trio of saw-wielding surgeons actually arrived. The back jungle is now again alive with the sounds of botanical violence.
If I've learned anything...
... (and I'm not sure I have) it's that it generally takes me a while to learn anything. Mind you, having read Emanual Derman's alarming book "My Life as a Quant" back in March 2005, I'd long harboured doubts about the innate wisdom and stability of hedge funds and statistical arbitrage. Today, I found an interview with a hedge fund manager from November 2008. Reading it makes it abundantly clear that other people also take a while to learn anything. Of course, whether its original intent was humour isn't for me to say. Source and snippet:
HFM: And basically what you had was an avalanche where everybody's black box is being shut off, causing incredibly bizarre behavior in the market.
n+1: By the black boxes?
HFM: Well, in the part of the profit-and-loss that they were generating to the point where, to give you an example from our black box system, because we have one?
n+1: A big black box?
HFM: Actually I think it's gray, and it's not in our main office, it's off-site. And we made sure it has no arms or legs or anything it could use to enslave us. But we had a loss over the course of like three days that was like a ten-sigma event, meaning, you know, it should never happen based on the statistical models that underlie it. Why? Because the model doesn't assume that everybody else is trading the same model as you are. So that's sort of like a meta-model factor. The model doesn't know that there are other black boxes out there.
The recent film "Margin Call" is another wonderfully clear illustration of the same sort of thing. [Pause] And the back jungle is now much more like a jungle clearing. I can see all of the back garden wall, and all the houses beyond it... that were Christa's reason for planting a forest in the first place. I could care less about being overlooked, but notalot.
Fun
I enjoyed this piece.
No more trees...
... but perhaps there's a pot of gold underneath the shed?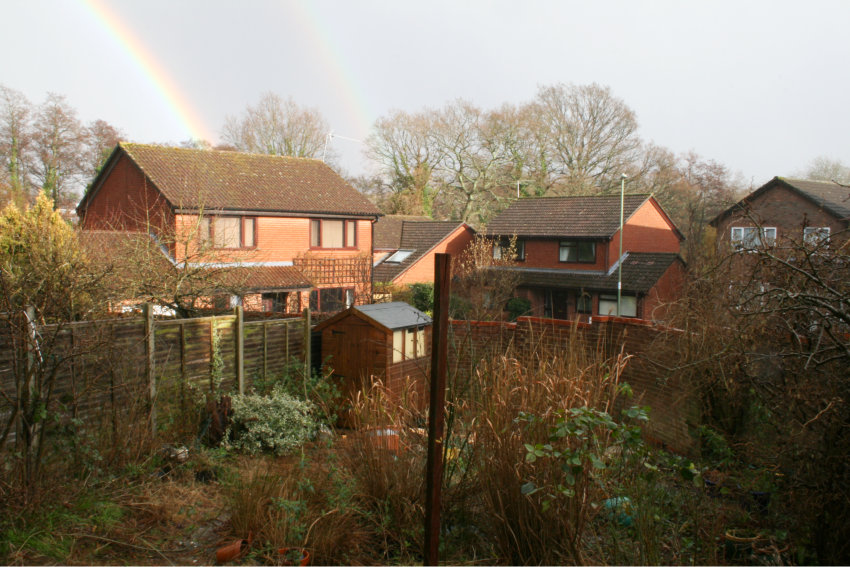 Footnotes