2013 — 17 April: Wednesday
Well, today's news1 encompasses Thatcher's funeral, Tesco's reduced profits, the end of a pair of pandas' "breeding window", measles in and around Swansea, Boston marathon bombs in pressure cookers, something about sport, and our rather gloomy weather prospects. The important news, however, is that after this week's chemo my friend Gill will be halfway through this post-surgery 'process'.
Mind boggling
I keep a picture of Christa on my little bedside table. As I was dressing this morning it struck me that I am now older (and certainly looking older!) than she was when that picture was taken (by Brynja in August 2006). All other things being equal, if I reach my next birthday this October I will then be older than she was when she died. Why this should be quite as mind boggling as it is, I have absolutely no idea...
"Grow old along with me!" as Browning put it... Besides, I've always preferred older women :-)
"We will get hit...
... by a big lump of rock" says Professor Brian Cox, "about once every 100,000,000 years". Sounding as chirpy as ever. "We should worry about [them]." Yeah, right. It's just a godly game of billiards, surely?
I re-read...
... the short piece by Clive James on Thatcher in his "Cultural Amnesia" last night. Meanwhile, here's just one of the Guardian's sensible suggestions of a better use for the obscene £10,000,000 cost of the so-called "ceremonial" funeral in London today: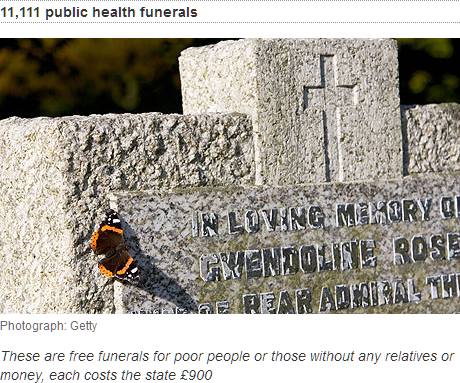 A-crockpot stuffing I will go. I'm denied my usual radio entertainment, too, as I've no intention of listening to 'events' from London this morning as I slice and dice.
Having dithered...
... quite long enough, I've just treated myself to a decent new keyboard. Made in Germany, and shipped via Ayr which is, I gather, somewhere in Scotlandland (or, at any rate, up a bit from Watford and then up quite a bit more). Actually, I was last in Scotland in the summer of 1971 staying in a small hotel (for all I know, the hotel) in Oban.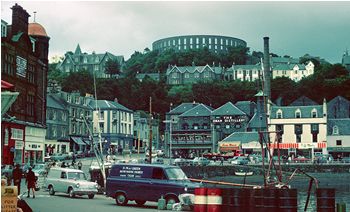 Oban in August 1971
I know it was one of the two hotels visible here, but my memory fails to dredge up more precise details. Sorry about the slightly converging verticals, too. I was quite young when I took this photo on my ancient Pentax S1A, and considerably older when I scanned the slide in July 2008.
One of the guests...
... chatting to Libby Purves this morning was Matthew Du Aime. Who he? The son of painter and author "William Wharton" whose delightful memoir Houseboat on the Seine fell into my clutches a decade or so back. Having browsed some of Shrapnel, however, I've decided against it. I'm not sure I'll ever re-read A midnight clear either.
As Clive James also said in that NYT interview:
Are you a rereader? What books do you find yourself returning to again and again?
I don't do much rereading anymore because I've been ill and feel that I'm running out of time.
Was it only Monday that I noted my irritation with a changed capacity of CaseLogic CD wallet? I've just ordered another four (having filled the original four) and am not best pleased to see the price has already crept up slightly. The collector's eternal dilemma reminds me of that old joke about what do you get somebody who has everything? The answer, of course, is something to put it all in.
Footnote