2013 — 19 March: Tuesday
Two of my favourite people1 share a birthday today. They also share my surname and quite a few of my genes — up to 50% — between them, poor devils. I've just wished them inappropriately-early 'happy birthdays' since sleep has, to all intents and purposes, fled this morning. I'm sure it will return later.
In the meantime, I shall be trying out my healed heel on a shortish new walk in between the showers in a few hours. It's been a while...
Let us celebrate...
... a chap named Charles-Hippolyte Labussière. Why so? Apparently he "literally chewed up documents while working for the Committee of Public Safety in 1794 to save accused citizens from the guillotine". Trickier to do that with emails. (Link.)
[Pause]
That's better. Another couple of hours of sleep makes all the difference. It's now a much more reasonable 08:36 and I'm ready for some breakfast.
[Pause]
That's better, too. A gentle 4.4 mile ramble makes all the difference. We walked out to St. Cross and back along the newly-refurbished old railway viaduct parallel to the motorway. Not a drop of mud to contend with. Nor any rain. [Pause] And I find I can contemplate the current hail with remarkable equanimity through my nice, snug, new double-glazed patio doors, too.
What's wrong with...
... this picture? When a young lady rang me, on my mobile, purportedly from my new bank, to tell me all about their successful transfer of various direct debits, standing orders, and payee details from two other banks (all of which I'd already confirmed online yesterday evening) she first wanted me to answer "some security questions". That was the point at which I said "This is the point at which I ask you How do I know you are who you say you are?" She said she quite understood and went on to admit that she never answered such questions herself over the phone. What's the thinking there, then? Why the hell should I? But she promptly suggested she could send me a snailmail instead, which I now know this institution is frightfully prone to do...
Since anyone hacking into my account will get only very meagre pickings, and since the questions she put to me were my address and date of birth, and since she'd used my mobile number (which even I don't know2) I can't say I was over-concerned. We parted friends, though she seemed a little shell-shocked after I'd rattled through the details faster than she could keep up. She actually commented that I seemed to know all about my direct debits etc. Is that so unusual?
Several of the "annual" direct debit collectors (including my subscription to "Private Eye") are taking their time to reply, it seems. One of the two Toyota ones is obviously moribund as it was used to pay for the Yaris and ended three years ago. The Home Serve one is probably the water pipe insurance that's subsequently become the responsibility of the water supplier since the recent change in the law. And I'd already deduced that the mysterious account that "Rudolf" unhelpfully failed to identify while assuring me of his helpfulness in failing to deal with it would have been the subscription to "Word" magazine just a few months before it went bust.
I never did fancy working in a bank... The adverts and other material from my school's careers advisor back in 1968 dangled the unenticing prospect of an annual salary of as much as £1,000 per year by age 30.
One of these...
... nifty little toys...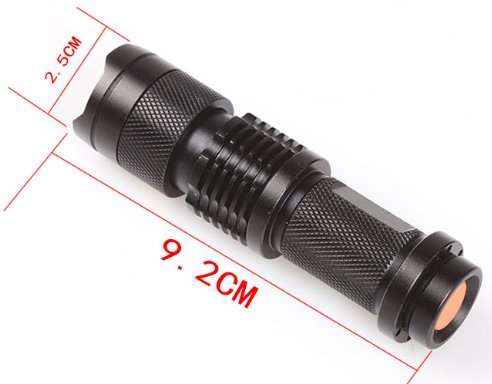 ...is now on its way to me from the Peoples' Republic of China. Just the thing for when I'm spelunking around the back of over-crowded equipment racks and wiring tangles.
It's been a while since I mentioned my CD of Scott Joplin's (second) opera "Treemonisha". Turns out I still have the only available recording. It just got a mention here by Paul Gambaccini.
Footnotes