2013 — 5 March: Tuesday
The sun has definitely got his hat on, but needs to wrap up warm on this bright and sunny — but frosty — morning. Traffic on the motorway is coming in, as it were, loud and clear. When we first moved here 32 years ago traffic noise was only rarely audible. Probably because it was so much slower-moving. Building motorways never decreases traffic volume in either sense of the word. This must be that splendid "progress" thing one still occasionally hears mentioned, heh?
I'm up and about in good time to fit in a supplies run — thus doing my own fair share of polluting, of course (though the Yaris is laudably quiet) — before my lunch date. But I shall wait until it's a tad above 0C. There are, after all, some plums to be stewed in the meantime. Assuming whoever it is around here who swipes all my food hasn't found them yet. I hid them in the fridge in an attempt to stave off the ripening process that I've discovered is merely the prelude to rapid rotting.
It seems to have taken...
... Britain's most senior judge overlong to realise that cuts in legal aid could have bad consequences. Good to know he's still got his finger on the pulse, I suppose. Or a pulse. Ironic that legal aid funding for some clinical negligence is "to be axed". Neater to use a scalpel, one would think. (Link.)
Meanwhile a chap lobbying on behalf of "Financial Markets in Europe" suggests that capping bankers' bonuses1 will push up salaries and make banks less competitive. Odd to see the gnomes of Zurich taking a lead. Odder still to see them inspiring the French to follow suit. Unsurprising to hear BoJo sounding off. (Link.)
Now, about those plums... Or can I just catch up with "Streetlaughter" (and his "gay cavalcade of comic stereotypes") first? Good to see it still going strong, though it's time for the next update (I hope).
In the happy expectation...
... of slightly warmer weather in the months to come, I've just refitted the top-venting large fan into BlackBeast (and removed the smaller, faster-running, back venting one). The two eSATA drives cannot, it seems, report temperature back to the motherboard via the new PCI card's interface. Or so 'Speccy' thinks:

While 'Open Hardware Monitor' isn't even aware of their presence: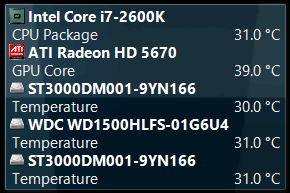 The tiny noise level "hit" is well worth it for what should be the increased longevity of the hard drives.
I must be doing...
... something right. Uncle ERNIE has just smiled on me to the extent of a further £75 this month. Perhaps that will help wipe the sneer off the face of my financial reviewer next week. Not that I'm going in with any prejudice, of course. (Well, no new ones.) [Pause] I parked next to the first Yaris Hybrid I've seen in the wild, but didn't get a chance to swap notes with its driver. It did, however, confirm my dislike for the darkened 'privacy' glass that Toyota unclearly sees as a Good Thing.
Many a true word...
... can be typed in haste:
The exploits were first reported on Friday by security firm FireEye, which urged all six Java users who have not yet disabled the plugin in their browsers to do so immediately.
And it used to be so popular, too :-)
Taking the precaution of first soaking my latest heel bandage before removing it has avoided too much bloodshed. I thought it better to wear shoes and socks for today's lunch outing. Still gloriously sunny at 16:15 too, though things are on a downhill slide now.
During the last seven...
... hours or so, I've munched a light evening meal, heard the world premiere of a new piece by Steve Reich, caught the next two episodes of the fine new production of "House of Cards", and comprehensively turned the house upside down (a) looking for a long DVI to DVI lead for Len, and (b) rewiring the internal network to daisy-chain my second 5-port Gigabit switch down here in the living room rather than springing for an 8-port model. This gives me a couple of ports "spare" for the occasional hi-tech visitor and/or to hook up one or both of my Blu-ray players to the wider webbed world from time to time for a firmware wash'n'brush-up.
I've also popped the Raspberry Pi web server back upstairs alongside the BT OpenReach modem since it doesn't benefit from being on anything faster than a 100Mbps connection. (And is a bit too easy to tread on down here.)
Oh, and I've now downloaded Robert Wyatt's version of "Strange Fruit" having just heard it played on "Late Junction". Then I thought I'd better do the same for Nina Simone's version, and then (why not?) Jeff Buckley's live version, thus bringing my total to nine: Billie Holiday (of course), John Martyn, Josh White, Mary Coughlan, Sting, and UB40 were already in my little collection.
I'm now giving serious thought to the idea of some more sleep.
Footnote