2013 — 18 February: Monday
As suspected1 putting the free Windows Media Centre pack on BlackBeast may not turn out to have been my smartest move. There was a little System Tray notification this morning that suggested it wished to apply an update — a usually harmless pastime and something I generally allow — and then, wallop!, the right-hand Dell screen was completely taken over by the application, with loss of mouse pointer, while the blasted stuff started eating its way through the MP3s collection.
It's only doing its job, right? Well, yes, but in such full screen mode, applications on Windows 8 strike me as gloriously uncontrollable and, indeed, I have just spent nearly two minutes trying in vain to select the clearly-visible "big red switch" exit icon in the top right corner of the screen before resorting to simply cancelling the underlying process. (With no warning, I might add, about any possible loss of unsaved data.) What a truly horrible application interface. They really should have been more thorough in the user testing with those of us old fogeys who want a desktop (mouse, pointer), rather than a touch-screen (gesture) control interface.
At moments like this I could almost believe the rumours that there are indeed two incompatible user interface philosophies bolted into the one, perhaps hastily-assembled, product. And — if that foul slur is true — I very much prefer the desktop interface. When I want a touch screen, I use my Android Tablet PC.
Attention to important detail; that's still what I like to see :-)
Tea! I need more tea! [Pause] And, having read the piece here, I've just placed my order. Fascinating. Better make some breakfast. Then I shall tackle my next crockpot. It's sunny after quite a frost overnight, judging by the ice being scraped off neighbours' cars.
Golly!
"Eminent QC" Geoffrey Robertson has just dropped a live "F-bomb" on BBC Radio 3 during a live telephone interview. Tee-hee. Poor Rob Cowan felt obliged to apologise to any offended listeners while the eminent QC could be heard in the background suggesting it went on all the time in court so perhaps it wouldn't destroy the BBC.
Monsieur Le Crockpot is nicely-stuffed and working its magic. And the sun is still shining. Even the blistered heel is showing some hints of improvement. (I'm wearing backless 'flip-flops' designed I suspect, for padding around in communal showers and changing rooms. Not my normal hang-outs, but the footwear is perfect for purpose so, thanks, half-Aunt Sue.) Meanwhile, I think I just heard fruit juice described as "bottled obesity". Still, I doubt it has any horsemeat in it...
I must say: I felt terribly virtuous munching my simple salad lunch while listening to guff on the radio about healthy drinking, eating, and exercising. It will wear off, no doubt. It doesn't suit me to feel virtuous all the time :-)
Having started today...
... with some perfectly horrible software, I've been enjoying an afternoon dalliance with a marvellously useful bulk file renaming utility. I do very much prefer software that simply does what it says on the tin. (Link.)
Speaking of tins, there's a tin of Brasher boot conditioning cream on its way to me, though I doubt it would or could have stopped last Friday's blister from occurring. The trick, it seems, is to wear the boots around the house to break them in gently. This could take a while as I've always developed blisters very easily.
Look out, crockpot, here I come (ready or not)! It is, after all, just past 19:02 and that rumbling sound is me.
My hero and rôle model?
I occasionally refer thus to that artistic genius Robert Crumb. Indeed I did so in this very diary a mere 2,299 days ago. I've been keeping an eye on his always interesting work for somewhat over 40 years (though I doubt dear Mama would ever have approved — so much for that 'butterfly mind', heh?) I chose, for part of my evening's entertainment, to re-watch a BBC "Arena" documentary from 1987 (though quite why I had to import my DVD from America is anybody's guess). It was scripted by the lad himself...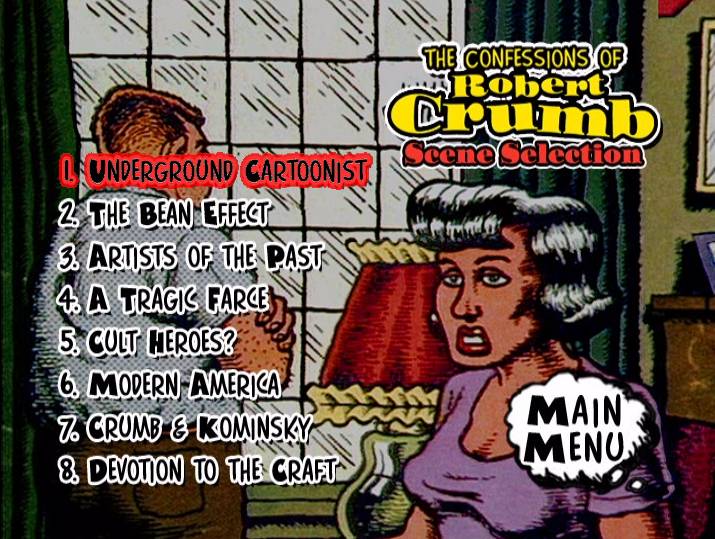 ... and predates Terry Zwigoff's fascinating film "Crumb" by eight years or so. Maybe it's time I watched that again, too. I have a nice Criterion Blu-ray edition of it stuffed with extras that didn't make it into the original cinema version — Christa and I went to see it in 1995 and I then exchanged emails on it with Carol:
From me: Had Leigh and Ann here yesterday after a weekend hockey tournament, so that was nice. Have a major-league reunion brewing in the Midlands on the 9th Sept as Big Bro and his wife show up there for a day or so. Taking it very easy here just working on a book and converting lots of bitmaps to (vectorised) 'draw' files that take up far less space and easily scale without destructive loss of resolution. Only snag is each image takes anything up to five hours to convert, so I'm running a series of batch jobs on both my machine and Peter's — both 12 mips RISC machines.
He's delighted with his Pentium, and resides in the teenage equivalent of hog heaven! So am I; Christa and I went to see the Terry Zwigoff film "Crumb" on Saturday. Utter magic. See it, and understand me a little better thereby!
From Carol: I hope also that your vacation was excellent. How is this book coming along (I assume it got some attention during this time, unless Peter's Pentium was too distracting). I guess I didn't realize how much of a Flenniken fan you were... am most interested in progress. Speaking of admired "authors," I had read a long review of the Crumb documentary in 'The New Yorker' (I assume you did also) and knew you would be intrigued.
Footnote