2012 — 16 December: Sunday — happy birthday, Christa!
In a rare1 example of being, as it were, slightly ahead of the curve, I'm preparing this initial bit of today's little jolly jotting before I retire for the (Saturday) night to my rooftop eyrie, which is slightly iffy for wireless access. The Sky box lives two flights of stairs vertically below me.
I suspect I will be up bright and early and eager to set off for home in what passes for daylight in this wintery season. I've not the slightest wish to repeat Friday's rather horrid motorway jostling in the dark — even if I do end up nailing my little navigational ladyfriend firmly in place. Probably with chewing gum.
To be continued...
... or resumed, in due course. I can add, by the way, that my laptop PC has acquitted itself much more effectively than the Android Tablet. Horses for courses, as it were. G'nite.
The operative word...
... turns out to be "resumed" (from Technology Towers here in the Deep South) after a much less thrill-packed return journey. I'm now sitting here in the quiet (broken only by 6Music) and quietly supping a cuppa as I hope the mild visual zigzags will move out across my visual field and then go away of their own accord. Always (these days) a reliable marker sign of strain or fatigue. Both of which come today from avoiding road-based idiots while straining to squint into the sun glaring off very shiny wet road surfaces. But I picked a good time of day to travel, that's for sure.
Stealing only...
... from the best, there's a bit from Plum's Jill the Reckless that fits the bill. "[David] experienced the sort of abysmal soul-sadness which afflicts one of Tolstoi's Russian peasants when, after putting in a heavy day's work strangling his father, beating his wife, and dropping the baby into the city's reservoir, he turns to the cupboards, only to find the vodka bottle empty." So it was off to the Waiting Rose with me to gather up the makings of my next few meals. Still, when I dashed back to the car the flashes of lightning showed me how very effectively the hail had cleaned the travel mud off it.
I'd been vaguely thinking of taking it to a car wash for only the second time in five years, too. [Pause] Just had a callback from Junior. Not entirely to my surprise they're not yet back home as they're buying some sports stuff for the pending ski and snowboard holiday. I was young once, I dimly recall.
I was delighted...
... to discover this little gem...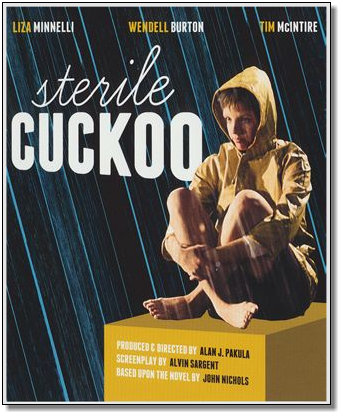 ... stuffed into the now-unused milk bottle receptacle on my front doorstep when I arrived home. The fact that it's turned up in time for Xmas is just another drop of gravy on the cake. But then, I have been waiting for its video release, quite patiently, for over four decades. It was Alan "Klute" Pakula's first film as a director. Not too shabby, that.
Footnote